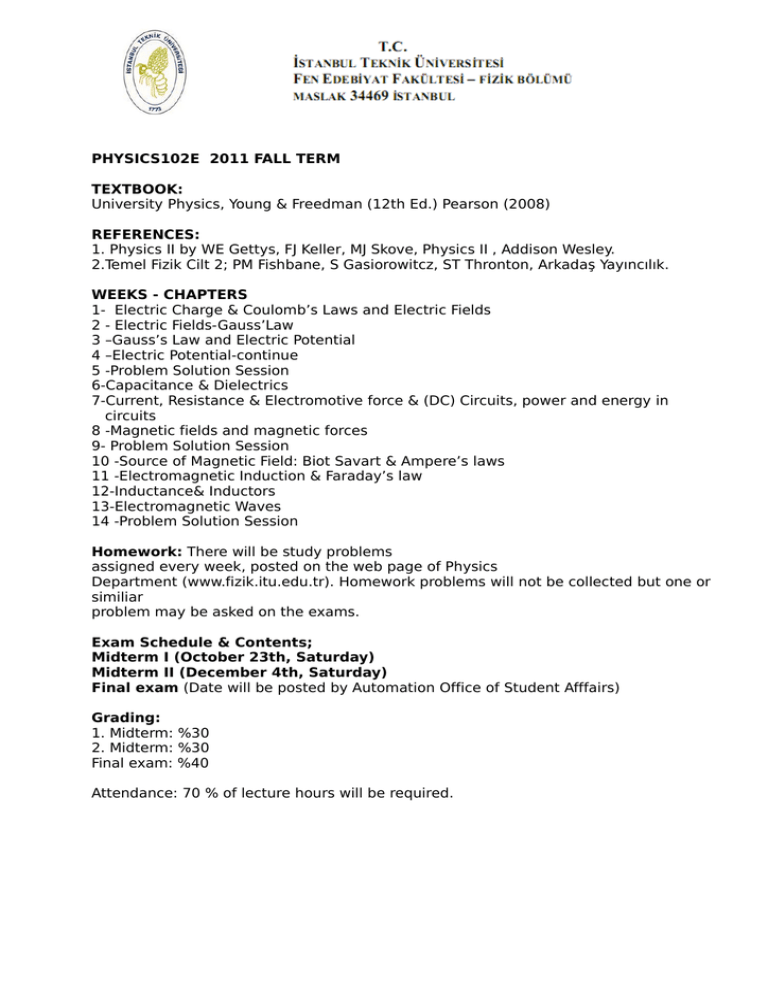 PHYSICS102E 2011 FALL TERM
TEXTBOOK:
University Physics, Young & Freedman (12th Ed.) Pearson (2008)
REFERENCES:
1. Physics II by WE Gettys, FJ Keller, MJ Skove, Physics II , Addison Wesley.
2.Temel Fizik Cilt 2; PM Fishbane, S Gasiorowitcz, ST Thronton, Arkadaş Yayıncılık.
WEEKS - CHAPTERS
1- Electric Charge & Coulomb's Laws and Electric Fields
2 - Electric Fields‐Gauss'Law
3 –Gauss's Law and Electric Potential
4 –Electric Potential‐continue
5 -Problem Solution Session
6-Capacitance & Dielectrics
7-Current, Resistance & Electromotive force & (DC) Circuits, power and energy in
circuits
8 -Magnetic fields and magnetic forces
9- Problem Solution Session
10 -Source of Magnetic Field: Biot Savart & Ampere's laws
11 -Electromagnetic Induction & Faraday's law
12-Inductance& Inductors
13-Electromagnetic Waves
14 -Problem Solution Session
Homework: There will be study problems
assigned every week, posted on the web page of Physics
Department (www.fizik.itu.edu.tr). Homework problems will not be collected but one or
similiar
problem may be asked on the exams.
Exam Schedule & Contents;
Midterm I (October 23th, Saturday)
Midterm II (December 4th, Saturday)
Final exam (Date will be posted by Automation Office of Student Afffairs)
Grading:
1. Midterm: %30
2. Midterm: %30
Final exam: %40
Attendance: 70 % of lecture hours will be required.