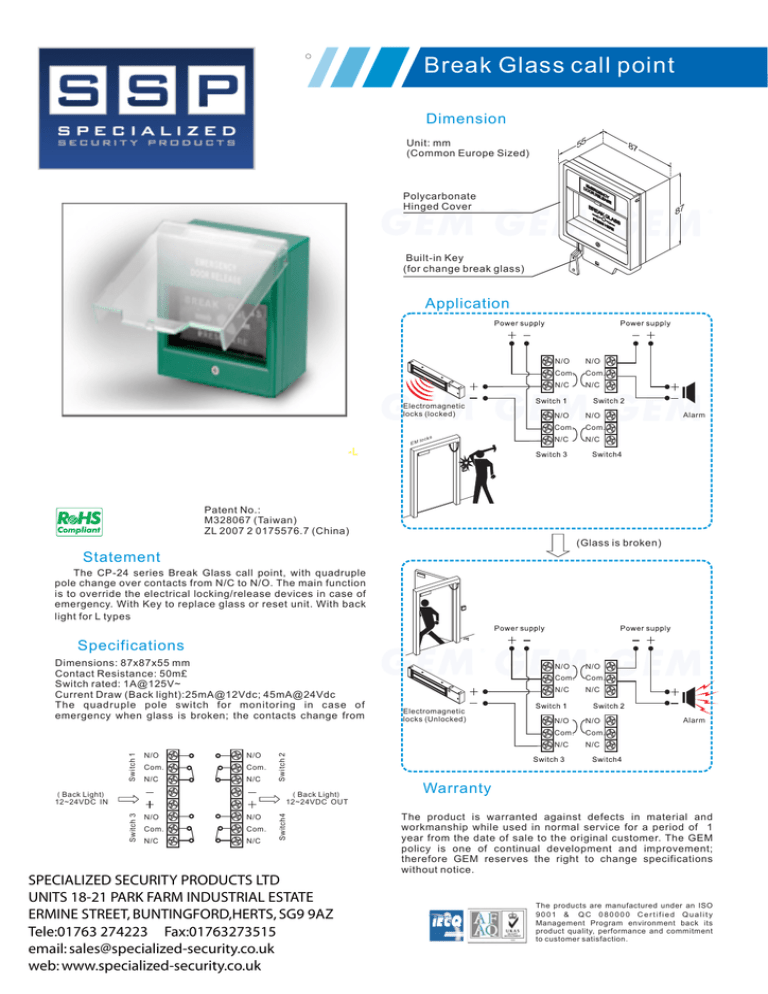 Break Glass call point
Dimension
CP-24W
Unit: mm
(Common Europe Sized)
55
87
E
DOMER
OR GE
RE NC
LE Y
AS
E
Polycarbonate
Hinged Cover
BR
EA
KG
LA
PR
SS
ES
87
SH
ER
E
Built-in Key
(for change break glass)
Application
CP-24W-L
(Back Light)
Electromagnetic
locks (locked)
-L
EM
lo c k
s
N/O
N/O
Com.
Com.
N/C
N/C
N/O
N/O
Com.
Com.
N/C
N/C
Patent No.:
M328067 (Taiwan)
ZL 2007 2 0175576.7 (China)
Alarm
(Glass is broken)
Statement
The CP-24 series Break Glass call point , with quadruple
pole change over contacts from N/C to N/O. The main function
is to override the electrical locking/release devices in case of
emergency. With Key to replace glass or reset unit. With back
light for L types
Specifications
N/O
N/O
Com.
Com.
N/C
N/C
N/O
N/O
Com.
Com.
N/C
N/C
Switch4
( Back Light )
12~24VDC OUT
Switch 3
( Back Light )
12~24VDC IN
Switch 2
Switch 1
Dimensions: 87x87x55 mm
Contact Resistance: 50m£
Switch rated: 1A@125V~
Current Draw (Back light):25mA@12Vdc; 45mA@24Vdc
The quadruple pole switch for monitoring in case of
emergency when glass is broken; the contacts change from
SPECIALIZED SECURITY PRODUCTS LTD
UNITS 18-21 PARK FARM INDUSTRIAL ESTATE
ERMINE STREET, BUNTINGFORD,HERTS, SG9 9AZ
Tele:01763 274223 Fax:01763273515
email: sales@specialized-security.co.uk
web: www.specialized-security.co.uk
Electromagnetic
locks (Unlocked)
N/O
N/O
Com.
Com.
N/C
N/C
N/O
N/O
Com.
Com.
N/C
N/C
Alarm
Warranty
The product is warranted against defects in material and
workmanship while used in normal service for a period of 1
year from the date of sale to the original customer. The GEM
policy is one of continual development and improvement;
therefore GEM reserves the right to change specifications
without notice.
The products are manufactured under an ISO
9001 & QC 080000 Certified Quality
Management Program environment back its
product quality, performance and commitment
to customer satisfaction.