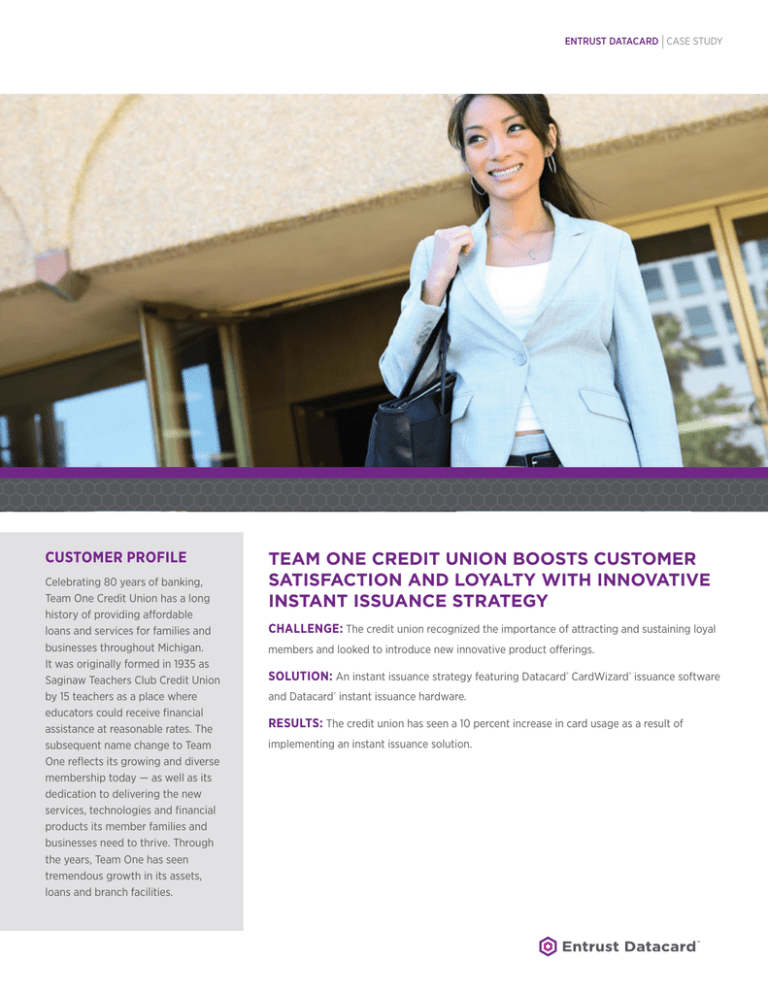 ENTRUST DATACARD CASE STUDY
CUSTOMER PROFILE
Celebrating 80 years of banking,
Team One Credit Union has a long
history of providing affordable
loans and services for families and
businesses throughout Michigan.
It was originally formed in 1935 as
Saginaw Teachers Club Credit Union
by 15 teachers as a place where
educators could receive financial
assistance at reasonable rates. The
subsequent name change to Team
One reflects its growing and diverse
membership today — as well as its
dedication to delivering the new
services, technologies and financial
products its member families and
businesses need to thrive. Through
the years, Team One has seen
tremendous growth in its assets,
loans and branch facilities.
TEAM ONE CREDIT UNION BOOSTS CUSTOMER
SATISFACTION AND LOYALTY WITH INNOVATIVE
INSTANT ISSUANCE STRATEGY
CHALLENGE: The credit union recognized the importance of attracting and sustaining loyal
members and looked to introduce new innovative product offerings.
SOLUTION: An instant issuance strategy featuring Datacard® CardWizard® issuance software
and Datacard® instant issuance hardware.
RESULTS: The credit union has seen a 10 percent increase in card usage as a result of
implementing an instant issuance solution.
ENTRUST DATACARD CASE STUDY
Percent increase within one year timeframe
20%
10%
"We are very pleased to have implemented Entrust Datacard's instant issuance technology.
We have seen a tremendous interest from our members for the customized photo option.
Personalized instant issuance is allowing us to be very innovative and offer members a service
that they previously could not get. Team One has received tremendous exposure by word of
mouth throughout the community and the card program is becoming very popular."
16%
15%
6%
5%
3%
5%
0%
Credit Card
Sales Volume
Growth
Debit Card
Sales Volume
Growth
Credit Card
Account
Growth
Debit Card
Account
Growth
Instant Issuance Benefits
• Immediate activation/usage
• Customers can select their PIN
number privately and securely
• The cost to produce and mail
cards is eliminated
• Lost/stolen cards can be replaced
quickly and affordably
• Increased customer loyalty
and retention
• Increased debit card program
participation
• Competitive advantage in
the marketplace
- Dana Tell, Vice President of Marketing for Team One Credit Union
ADVANCED TECHNOLOGY
EMPOWERS CONSUMERS
To stay competitive, companies are regularly
looking to predict consumer trends. And, with
the advancement of technologies, consumers
are demanding top-notch services tailored to
fit their needs — including convenience, faster
turn-a-round times, lower prices and personalized
products. More than ever, companies need to find
ways to set themselves apart from the competition
to ultimately increase consumer satisfaction and
drive loyalty.
Financial institutions have seen debit and prepaid
card usage increase anywhere from 14 percent
to 21 percent annually. And with consumers
demanding more from their brands in return for
their loyalty, businesses in the financial market
need innovative ideas to capitalize on this card
usage growth. By creating an instantly gratifying,
long-lasting and memorable experience —
financial institutions can seamlessly align their
needs with customer needs.
CREDIT UNION PROVIDES
"MEMORABLE" SERVICE
Team One Credit Union has branch locations
throughout Michigan. Continually striving to offer
the latest, innovative products and services, Team
One Credit Union serves over 39,000 people and
has an asset size of $422 million.
In early 2010, Team One Credit Union recognized
the need to ensure customer satisfaction with new
and modern products and services. This would not
only retain current members, it would also attract
potential members through their thought
leadership.
CONNECT WITH US EVERYWHERE
Entrust Datacard and the hexagon design are trademarks and/or service marks
of Entrust Datacard Corporation in the United States and/or other countries.
©2015 Entrust Datacard Corporation. All rights reserved.
FS14-3102-003
Demonstrating that leadership, Team One Credit
Union developed their own custom online card
application, Picture My Card (www.picturemycard.
com), that could be used in-house or offered to
other credit unions. It enables members to upload
their personalized photos to their website so that
they can place them on their credit/debit card.
In addition, they chose to implement instant
issuance, so that when members walked into a
branch to receive their personalized card, it could
be printed on-demand.
After consulting with Entrust Datacard, Team
One Credit Union decided to implement Datacard®
CardWizard® issuance software and Datacard®
instant issuance hardware. By leveraging this
technology, the credit union would be able
to offer personalized images via their online
application. Once the member chose their
background, Entrust Datacard® solutions would
then print and personalize them at the branch
and cardholders could use these personalized
cards immediately.
Today, depending on their preference, members
select either an image from the stock gallery or
upload an image on the credit union's Picture
My Card program. The Datacard® CardWizard®
software then transfers all personalization data
fully encrypted to the instant issuance hardwares
which quickly and securely prints in high-definition
color onto both sides of white blank card stock —
the personalized unembossed card.
Now celebrating 80 years in business, Team
One Credit Union provides an unforgettable,
personalized instant issuance experience to
their members, outranking the competition
and strengthening their cardholder loyalty.
THE RESULTS SPEAK FOR THEMSELVES
In the few years since the program launch date,
Team One Credit Union has experienced a 10
percent card usage increase. More than 50
percent of their members now include imagery on
their cards, with 27 percent of these images being
personalized photos.