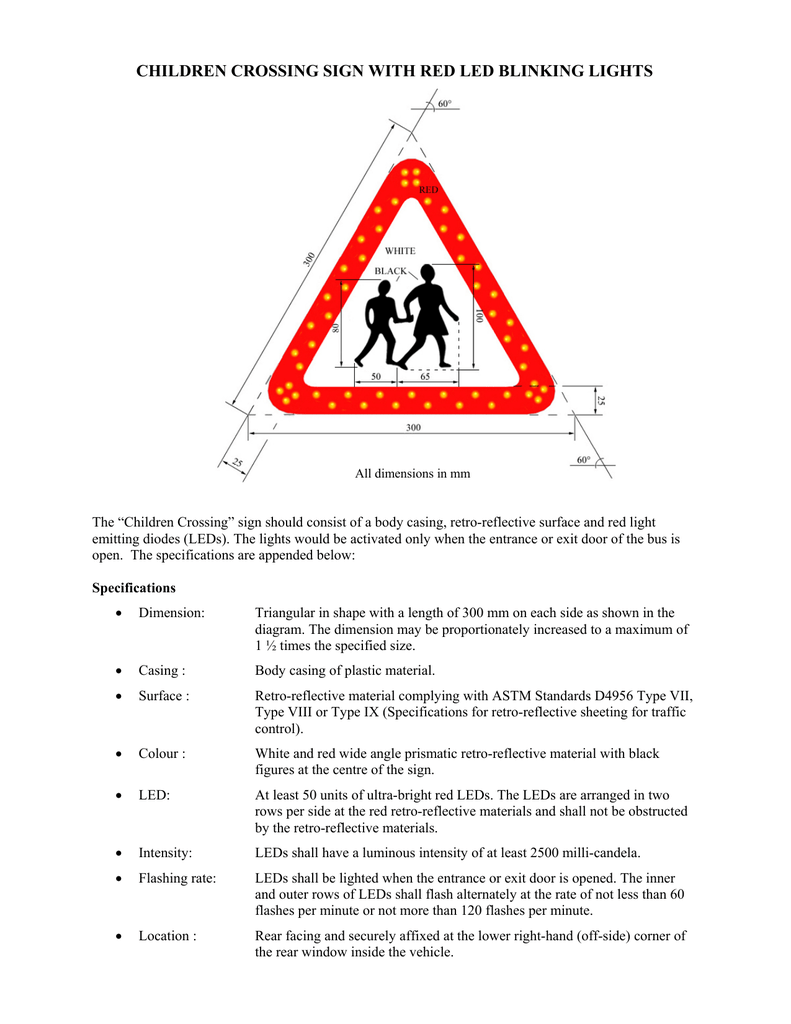 CHILDREN CROSSING SIGN WITH RED LED BLINKING LIGHTS
All dimensions in mm
The "Children Crossing" sign should consist of a body casing, retro-reflective surface and red light
emitting diodes (LEDs). The lights would be activated only when the entrance or exit door of the bus is
open. The specifications are appended below:
Specifications
•
Dimension:
Triangular in shape with a length of 300 mm on each side as shown in the
diagram. The dimension may be proportionately increased to a maximum of
1 ½ times the specified size.
•
Casing :
Body casing of plastic material.
•
Surface :
Retro-reflective material complying with ASTM Standards D4956 Type VII,
Type VIII or Type IX (Specifications for retro-reflective sheeting for traffic
control).
•
Colour :
White and red wide angle prismatic retro-reflective material with black
figures at the centre of the sign.
•
LED:
At least 50 units of ultra-bright red LEDs. The LEDs are arranged in two
rows per side at the red retro-reflective materials and shall not be obstructed
by the retro-reflective materials.
•
Intensity:
LEDs shall have a luminous intensity of at least 2500 milli-candela.
•
Flashing rate:
LEDs shall be lighted when the entrance or exit door is opened. The inner
and outer rows of LEDs shall flash alternately at the rate of not less than 60
flashes per minute or not more than 120 flashes per minute.
•
Location :
Rear facing and securely affixed at the lower right-hand (off-side) corner of
the rear window inside the vehicle.