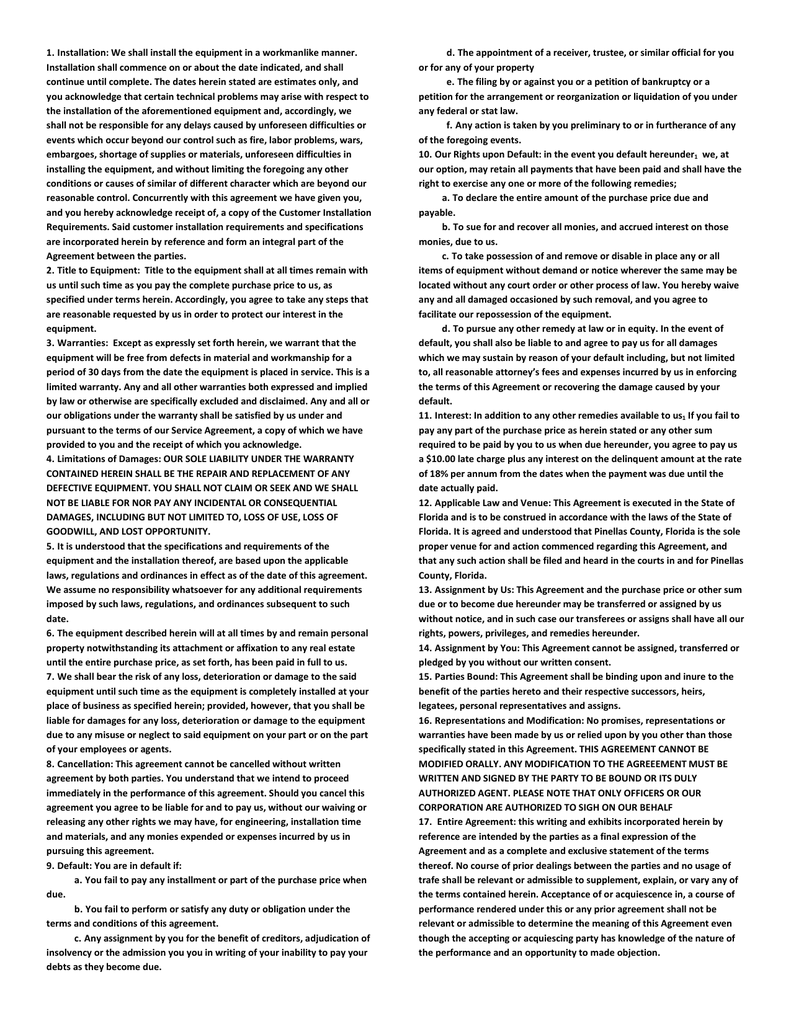 1. Installation: We shall install the equipment in a workmanlike manner.
Installation shall commence on or about the date indicated, and shall
continue until complete. The dates herein stated are estimates only, and
you acknowledge that certain technical problems may arise with respect to
the installation of the aforementioned equipment and, accordingly, we
shall not be responsible for any delays caused by unforeseen difficulties or
events which occur beyond our control such as fire, labor problems, wars,
embargoes, shortage of supplies or materials, unforeseen difficulties in
installing the equipment, and without limiting the foregoing any other
conditions or causes of similar of different character which are beyond our
reasonable control. Concurrently with this agreement we have given you,
and you hereby acknowledge receipt of, a copy of the Customer Installation
Requirements. Said customer installation requirements and specifications
are incorporated herein by reference and form an integral part of the
Agreement between the parties.
2. Title to Equipment: Title to the equipment shall at all times remain with
us until such time as you pay the complete purchase price to us, as
specified under terms herein. Accordingly, you agree to take any steps that
are reasonable requested by us in order to protect our interest in the
equipment.
3. Warranties: Except as expressly set forth herein, we warrant that the
equipment will be free from defects in material and workmanship for a
period of 30 days from the date the equipment is placed in service. This is a
limited warranty. Any and all other warranties both expressed and implied
by law or otherwise are specifically excluded and disclaimed. Any and all or
our obligations under the warranty shall be satisfied by us under and
pursuant to the terms of our Service Agreement, a copy of which we have
provided to you and the receipt of which you acknowledge.
4. Limitations of Damages: OUR SOLE LIABILITY UNDER THE WARRANTY
CONTAINED HEREIN SHALL BE THE REPAIR AND REPLACEMENT OF ANY
DEFECTIVE EQUIPMENT. YOU SHALL NOT CLAIM OR SEEK AND WE SHALL
NOT BE LIABLE FOR NOR PAY ANY INCIDENTAL OR CONSEQUENTIAL
DAMAGES, INCLUDING BUT NOT LIMITED TO, LOSS OF USE, LOSS OF
GOODWILL, AND LOST OPPORTUNITY.
5. It is understood that the specifications and requirements of the
equipment and the installation thereof, are based upon the applicable
laws, regulations and ordinances in effect as of the date of this agreement.
We assume no responsibility whatsoever for any additional requirements
imposed by such laws, regulations, and ordinances subsequent to such
date.
6. The equipment described herein will at all times by and remain personal
property notwithstanding its attachment or affixation to any real estate
until the entire purchase price, as set forth, has been paid in full to us.
7. We shall bear the risk of any loss, deterioration or damage to the said
equipment until such time as the equipment is completely installed at your
place of business as specified herein; provided, however, that you shall be
liable for damages for any loss, deterioration or damage to the equipment
due to any misuse or neglect to said equipment on your part or on the part
of your employees or agents.
8. Cancellation: This agreement cannot be cancelled without written
agreement by both parties. You understand that we intend to proceed
immediately in the performance of this agreement. Should you cancel this
agreement you agree to be liable for and to pay us, without our waiving or
releasing any other rights we may have, for engineering, installation time
and materials, and any monies expended or expenses incurred by us in
pursuing this agreement.
9. Default: You are in default if:
a. You fail to pay any installment or part of the purchase price when
due.
b. You fail to perform or satisfy any duty or obligation under the
terms and conditions of this agreement.
c. Any assignment by you for the benefit of creditors, adjudication of
insolvency or the admission you you in writing of your inability to pay your
debts as they become due.
d. The appointment of a receiver, trustee, or similar official for you
or for any of your property
e. The filing by or against you or a petition of bankruptcy or a
petition for the arrangement or reorganization or liquidation of you under
any federal or stat law.
f. Any action is taken by you preliminary to or in furtherance of any
of the foregoing events.
10. Our Rights upon Default: in the event you default hereunder1 we, at
our option, may retain all payments that have been paid and shall have the
right to exercise any one or more of the following remedies;
a. To declare the entire amount of the purchase price due and
payable.
b. To sue for and recover all monies, and accrued interest on those
monies, due to us.
c. To take possession of and remove or disable in place any or all
items of equipment without demand or notice wherever the same may be
located without any court order or other process of law. You hereby waive
any and all damaged occasioned by such removal, and you agree to
facilitate our repossession of the equipment.
d. To pursue any other remedy at law or in equity. In the event of
default, you shall also be liable to and agree to pay us for all damages
which we may sustain by reason of your default including, but not limited
to, all reasonable attorney's fees and expenses incurred by us in enforcing
the terms of this Agreement or recovering the damage caused by your
default.
11. Interest: In addition to any other remedies available to us1 If you fail to
pay any part of the purchase price as herein stated or any other sum
required to be paid by you to us when due hereunder, you agree to pay us
a $10.00 late charge plus any interest on the delinquent amount at the rate
of 18% per annum from the dates when the payment was due until the
date actually paid.
12. Applicable Law and Venue: This Agreement is executed in the State of
Florida and is to be construed in accordance with the laws of the State of
Florida. It is agreed and understood that Pinellas County, Florida is the sole
proper venue for and action commenced regarding this Agreement, and
that any such action shall be filed and heard in the courts in and for Pinellas
County, Florida.
13. Assignment by Us: This Agreement and the purchase price or other sum
due or to become due hereunder may be transferred or assigned by us
without notice, and in such case our transferees or assigns shall have all our
rights, powers, privileges, and remedies hereunder.
14. Assignment by You: This Agreement cannot be assigned, transferred or
pledged by you without our written consent.
15. Parties Bound: This Agreement shall be binding upon and inure to the
benefit of the parties hereto and their respective successors, heirs,
legatees, personal representatives and assigns.
16. Representations and Modification: No promises, representations or
warranties have been made by us or relied upon by you other than those
specifically stated in this Agreement. THIS AGREEMENT CANNOT BE
MODIFIED ORALLY. ANY MODIFICATION TO THE AGREEEMENT MUST BE
WRITTEN AND SIGNED BY THE PARTY TO BE BOUND OR ITS DULY
AUTHORIZED AGENT. PLEASE NOTE THAT ONLY OFFICERS OR OUR
CORPORATION ARE AUTHORIZED TO SIGH ON OUR BEHALF
17. Entire Agreement: this writing and exhibits incorporated herein by
reference are intended by the parties as a final expression of the
Agreement and as a complete and exclusive statement of the terms
thereof. No course of prior dealings between the parties and no usage of
trafe shall be relevant or admissible to supplement, explain, or vary any of
the terms contained herein. Acceptance of or acquiescence in, a course of
performance rendered under this or any prior agreement shall not be
relevant or admissible to determine the meaning of this Agreement even
though the accepting or acquiescing party has knowledge of the nature of
the performance and an opportunity to made objection.