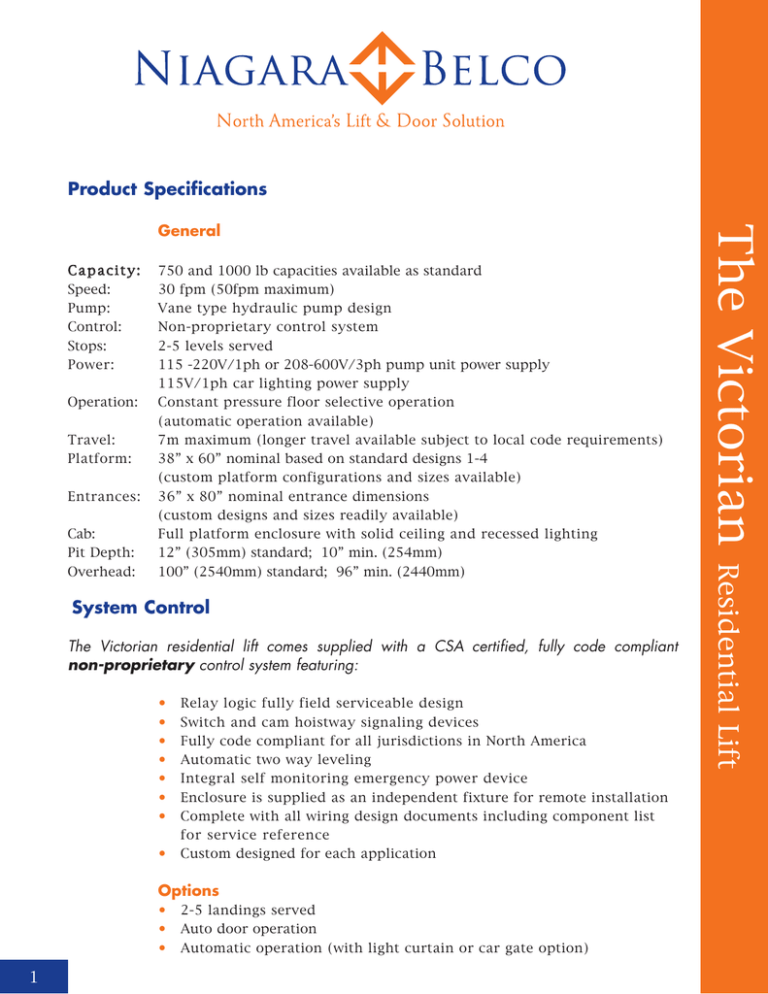 Product Specifications
Capacity:
Speed:
Pump:
Control:
Stops:
Power:
Operation:
Travel:
Platform:
Entrances:
System Control
The Victorian residential lift comes supplied with a CSA certified, fully code compliant
non-proprietary control system featuring:
•
•
•
•
•
•
•
•
Relay logic fully field serviceable design
Switch and cam hoistway signaling devices
Fully code compliant for all jurisdictions in North America
Automatic two way leveling
Integral self monitoring emergency power device
Enclosure is supplied as an independent fixture for remote installation
Complete with all wiring design documents including component list
for service reference
Custom designed for each application
Options
•
•
•
1
2-5 landings served
Auto door operation
Automatic operation (with light curtain or car gate option)
Residential Lift
Cab:
Pit Depth:
Overhead:
750 and 1000 lb capacities available as standard
30 fpm (50fpm maximum)
Vane type hydraulic pump design
Non-proprietary control system
2-5 levels served
115 -220V/1ph or 208-600V/3ph pump unit power supply
115V/1ph car lighting power supply
Constant pressure floor selective operation
(automatic operation available)
7m maximum (longer travel available subject to local code requirements)
38" x 60" nominal based on standard designs 1-4
(custom platform configurations and sizes available)
36" x 80" nominal entrance dimensions
(custom designs and sizes readily available)
Full platform enclosure with solid ceiling and recessed lighting
12" (305mm) standard; 10" min. (254mm)
100" (2540mm) standard; 96" min. (2440mm)
The Victorian
General
Landing Entrances - Doors
Standard 36" x 80" RES-750 or HL-600 series entrance units supplied fully assembled, preadjusted and installation ready. All assemblies are 11/2 hr fire rated and fully certified as code
compliant for all applications in all jurisdictions throughout North America. Standard features
and hardware included in the door/frame assembly as follows:
•
•
•
•
•
•
2 speed adjustable hydraulic door closer.
4 1/2" X 4" heavy duty ball bearing hinges.
16 gauge zinc wipe (galvaneal) frame construction; paint ready.
18 gauge zinc wipe (galvaneal) door construction; paint ready.
CSA/UL listed GAL certified interlock; concealed installation in
frame assembly
8" aluminum r i v e t m o u n t e d kick plate at base of door
2" x 6", 10 gauge (1/8th") checker plate steel welded landing sill.
Predrilled for fasteners (supplied).
Latch-set c/w with NBL Flushcup lever handle
Mortar guards included at various locations around frame to protect
components from damage during hoistway construction.
Welded steel frame reinforcements in frame perimeter.
Key operated hall operating assembly complete with mushroom type
pushbutton and 'in use' indicator.
Options
•
•
•
•
2
Concealed door closer
Power door operator
Oversize door assembly up to 48" x 96" (fire rated)
Custom assembly finishes featuring
- Stainless steel – satin or polished
- Solid core wooden door
Embossed door face profile (six panel door)
Custom vision panel designs
Weather seal kit for exterior doors including styrene insulated doors
RES-300 series door assembly (available only with car gate or light
curtain option)
Residential Lift
•
•
•
•
The Victorian
•
•
•
•
•
Hydraulic Drive Unit
High efficiency, continuous duty rated hydraulic drive unit is supplied fully assembled and
pre-wired for ease of installation.
Features
•
•
•
•
Options
Pump unit steel enclosure cabinet.
3 - 5 HP motor
Two speed EV-100 valve
Jack Assembly
A high pressure steel pipe cylinder, true machined packing head and a polished micro finish
steel piston fitted with a welded steel stop ring designed to positively prevent the piston from
leaving the cylinder.
Features
•
•
•
3
2 3/4" Cylinder complete with 'v' packing and oil recovery system
High pressure flexible hydraulic supply line
An adjustable flow control valve is supplied complete with means
for affixing a seal to prevent unauthorized adjustment.
Residential Lift
•
•
•
The Victorian
•
Industrial rated 2HP motor (208/460/575VAC-3 Phase or
110/220VAC-1 Phase).
Blain KV-1 valve featuring
- Bypass control for smooth start up
- Down speed control
- Manual lowering valve for emergency lowering
- Pressure relief valve to prevent overloading
- Integral check valve capable of supporting the car with 125%
of rated load
Vane type pump for ultra quiet operation
Ball type valve
High capacity tank for extended fluid life featuring
- Fluid level sight gauge
- Low oil level switch to prevent operation when there is insufficient
fluid in the reservoir.
- Fluid filter
The 1:2 roped type design incorporates a rail guided sheave assembly affixed to the top of
the piston featuring:
•
•
•
3/8" plate steel construction
Polished 'U' groove sheave complete with sealed precision bearings
Two 3/8" aircraft grade suspension cables utilizing wedge type shackles
Hoistway Equipment
•
8lb guide rails
Welded steel guide rail brackets c/w mounting hardware
Mechanical rail mounted stops < 2" above uppermost landing
Maintenance block capable of sustaining the car with 125% of
rated load
Pit stop switch
Car sling and platform construction
Sling provided as welded modular design featuring:
- Formed 1/4" steel channel construction
- Type 'A' instantaneous safety device
- Upper and lower metal guide shoes w/nylon inserts
•
Platform provided as welded assembly featuring:
1.50" x 1.50" steel tube and angle iron sub-frame construction
.125" plate steel sub-floor
6" steel platform apron (toe guard)
Car Enclosure
The platform is supplied with a full enclosure on all non-entrance sides to a minimum height
of 80" (2032mm) and comes standard with solid panel ceiling. All cabs all fully assembled
during production.
Features
•
•
•
•
•
•
•
Welded tube steel sub-frame utilizing an all bolted cab assembly system
1/2" (13mm) melamine panels
Formed stainless steel entrance trim
Stainless steel handrail
Heavy duty non-skid rubber flooring
Recessed overhead lighting
Automatically activated emergency lighting
Options
•
•
•
4
Stainless Steel Trim Package
Brass Trim Package
Custom Finish Interiors
Residential Lift
•
The Victorian
•
•
•
•
In-car Operating Devices
Options
•
•
•
•
•
Key pad operation
Low profile push buttons
Flush-mount push buttons
Brass car station
Commercial type key switch (key non-removable in the 'on' position)
Landing Operating Devices
The hall or landing operating control devices are pre-assembled and designed to mount directly into the door frame as supplied or mounted remotely. Each control device is mounted on a
stainless steel plate and includes a 'mushroom head' push button, key switch and an in use
indicator light.
•
•
•
•
•
Key pad operation
Low profile push buttons
Flush-mount push buttons
Brass hall station
Commercial type key switch (key non-removable in the 'on' position)
Signage
All code related signage is provided including operating instructions, emergency operating
instructions, caution signs and equipment specification information.
5
Residential Lift
Options
The Victorian
The in-car operating control panel is designed and conveniently located for ease of operation
whether standing or sitting. The factory pre-wired panel consists of floor designated pushbuttons, key switch, light switch and an emergency stop/alarm button. The buttons are 'mushroom
head' type and suitably marked as to their function. The key switch is an on-off type and must
be in the 'on' position to operate the lift. The buttons are mounted on a 1/8", 10 gauge (3mm)
stainless steel plate. The in-car operation is designed to give preference to the passenger in
the lift; however, the control is designed so as to enable the lift to continue to operate should
the in-car key be inadvertently left in the switch in the 'on' position.