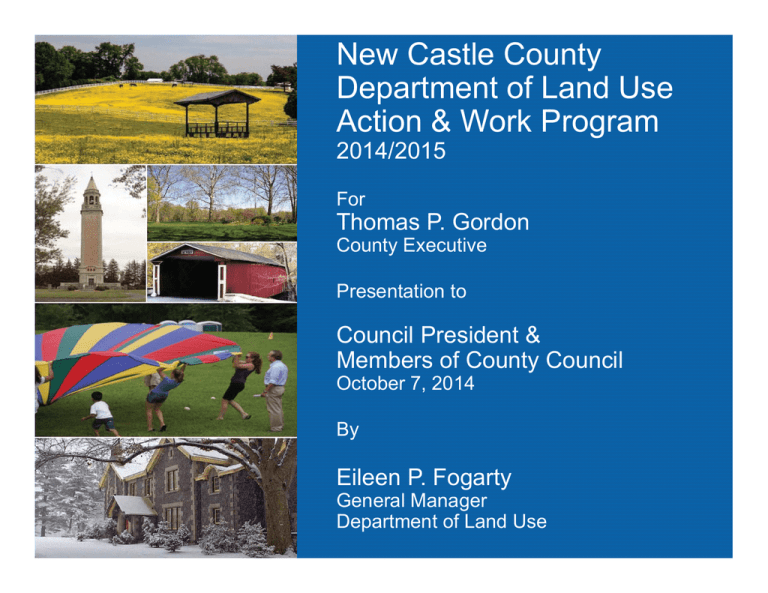 New Castle County
Department of Land Use
Action & Work Program
2014/2015
For
Thomas P. Gordon
County Executive
Presentation to
Council President &
Members of County Council
October 7, 2014
By
Eileen P. Fogarty
General Manager
Department of Land Use
Land Use Action Plan & Work Program 2014/2015
This Past Year
Identifying Challenges, Obstacles & Opportunities
Extensive Outreach to Residents, Businesses, Non‐Profits, Developers & Institutions
Established a Framework for Improving quality of Life while Supporting Job Growth & Corridor Revitalization
Focuses:
• Planning Initiatives for New Castle County • Ensure Outcomes which Contribute to the Community
• Streamline the Process
• Incentives for Jobs
• Identify Transportation Issues with Problem Solving Approaches
Early Successes
Transforming the Land Use Approach from Reactive to Strategic
Context Sensitive, Higher Quality Projects with Early Input from Staff & Community
Expediting Approval of Economic Development/Job Rich Projects
Improving Efficiency & Process Timeline with State Agencies to Ensure Prompt Decisions and Better Outcomes
3
Moving Forward ‐ Balanced Approach Economic Development Tied Directly to High Quality of Life, Desirable Active Places & Strong Communities
•
•
Attract Talent for 21st Century Jobs
Retain Strong Neighborhoods & Communities
Immediate Actions to Improve Planning Outcomes
•
•
•
•
Strengthening & Planning Vibrant Communities
Incentivizing Revitalization and Economic Development
Improving Transportation Solutions
Streamline Development Review Process
Strengthening & Planning Vibrant Communities
Focus
• Residential Communities
• Commercial Corridor/Obsolete Centers
• Opportunities with Commercial & Mixed‐Use Centers
Comprehensive Plan –Vision
• Guiding Principles
Prototype Revitalization Plan – Corridors
• Upgrade Obsolete Commercial Areas • Tri‐State Mall
• Incentivize Investment
• Pike Creek
• Rt. 273
• Claymont
• Comprehensive Revitalization – Rt. 9
• Active & Connected Commerce – Concord Pike
Strengthening & Planning Vibrant Communities
Livable Communities
• Housing
• Neighborhood Conservation
• Mixed‐Use Opportunities
• New Commercial/Residential Projects
• Underutilized Sites Mixed‐Use Principles for Development
• Viable
• Serve as Gathering Place – A Draw to the Community
• Provides Activities, Services & Amenities
Farmland
• Farmland Preservation Grant
• Markets
Strengthening & Planning Vibrant Communities
Scenic Byways, Gateways & Trails
Greenville – Scale & Character
Red Clay – Implementation
Gateways ‐ Cohesive Identification Presenting a Sense of Arrival
Trails – Connect Activity Centers & Openspace
7
Incentivize Revitalization & Economic Development
Implement New Castle County "Economic Development Strategic Plan"
Facilitate Key Economic Development Projects & Proactively Solve Issues with Other Agencies
Incentivize Desired Sectors for Employment
Create Overlay Districts for Corporate & Medical Campuses to Expand
Incentivize Revitalization & Economic Development
Establish Countywide "Site Readiness" Program
Expand Development Facilitator Role to Small Businesses
• Small Business Guide
Revise Redevelopment Code to Provide Creative Opportunities Integrating Land Use with Transportation
Single Largest Issue: Effects Residents & Job Creation
Strengthen DelDOT/NCC Coordination
• Plans, Procedures & Review
• Solve Problems
Integrate DelDOT with NCC, Streamlined Review Process
• Concurrency
• Quick Review ‐ Minor Plans
Complete Transportation Projects Funded by $620,000 Grant
• Red Clay – Implementation Plan
• Rt. 40/Glasgow – Corridor Plan
• Comprehensive Transportation Approach –
Rt. 141
• Tri‐State Mall – TOD Opportunities
Integrating Land Use with Transportation
Develop and Integrate Pragmatic Solutions to Reduce Congestion in Key Corridors
• TDMs
• Alternative Mobility Options
Incorporate TDMs & Multi‐Modal Opportunities into Development Plans Implement Recommendations through Administrative Changes & Legislative Proposals
Streamlining the Development Review Process
Goals: Improve
•
•
•
Cohesion of Projects
Predictability & Timeliness
Reduce Risk & Cost
Reward
•
High Quality Projects that Strengthen & Contribute to the Community & Provide Jobs
Process
•
•
•
•
Guidance Up Front Reducing the Need for Ongoing Revisions
Development Review Committee with all Agencies
Expand Development Facilitator &Project Managers
Early & Continuing Public Input • Citizen Guidelines & Ongoing Outreach
Streamlining the Development Review Process
Standards & Expectations to Facilitate Projects that meet NCC Goals
Fast Track Review for Selected High Priority & Economic Development Projects
•
•
•
Criteria
Standards
Agreed upon Deadlines
Promote Pragmatic Development Options to Achieve Diverse Mix of Uses
•
Phasing & Mix of Uses
Streamlining the Development Review Process
Streamline Minor Plans /Resubdivisions
•
•
•
•
Lot Line Corrections
Plan Phasing
Site Data & Plan Notes
Easements
Reduce Upfront, Time Consuming Procedures
•
•
•
•
Bonding
Openspace Turnover
Maintenance Agreements
Landscape Requirements
Coordinate NCC & State Regarding Expiration & Sunset Provisions
•
Sediment & Stormwater Plans
Fast Track Land Development Improvement Agreements, Water Management Agreements
Streamlining the Development Review Process
Clarify Process to Assist Applicants & Small Businesses
Use Technological Advances to Shorten Process & Provide Better Service
•
•
Real‐Time Review ProjectDox Software • Electronic Plan Review – February 1, 2015
Tablets for Inspectors
Building & Safety
•
•
•
Adopt 2015 ICC Code & Achieve Accreditation
Streamline Licensing Procedures
Inspectors – Code Interpretation Courtesy Inspection, 60 Day Pre‐Final Exit Interview
Code Compliance
•
•
•
Comprehensive Assessment – Efficiency & Accountability
Proactive Enforcement
Consolidate all Enforcement Sectors of County Code Revise the Unified Development Code
Future Code should incentivize desired economic
development while managing change in ways
which add value to the Community.
• Collaborative Process Reflecting Diverse Input
• Clear Vision & Expectations for the Future
• Transparent, Predictable & Efficient Process
Initial Phase • Extensive & Ongoing Outreach
• Identify Barriers to & Opportunities for Achieving Vision
Revise the Unified Development Code
Process Address Issues/ Provide Input Upfront
Reward Jobs & Contributing Projects
Tools to Implement Streamlining
Establish Incentives & Districts to Achieve Desired Outcomes
Prepare Criteria which Clearly Establishes NCC's Expectations & Processes
Integrate Transportation Solutions into the UDC
Next Steps
Many Actions Underway. We will be Working Closely with the Council, Planning Board & Community to Bring Regulatory Revisions Forward in a Coordinated Manner 


Ongoing Updates & Direction from Council
Measuring Progress & Success
Multi‐Year Work Program to Continue Progress
Thank You!