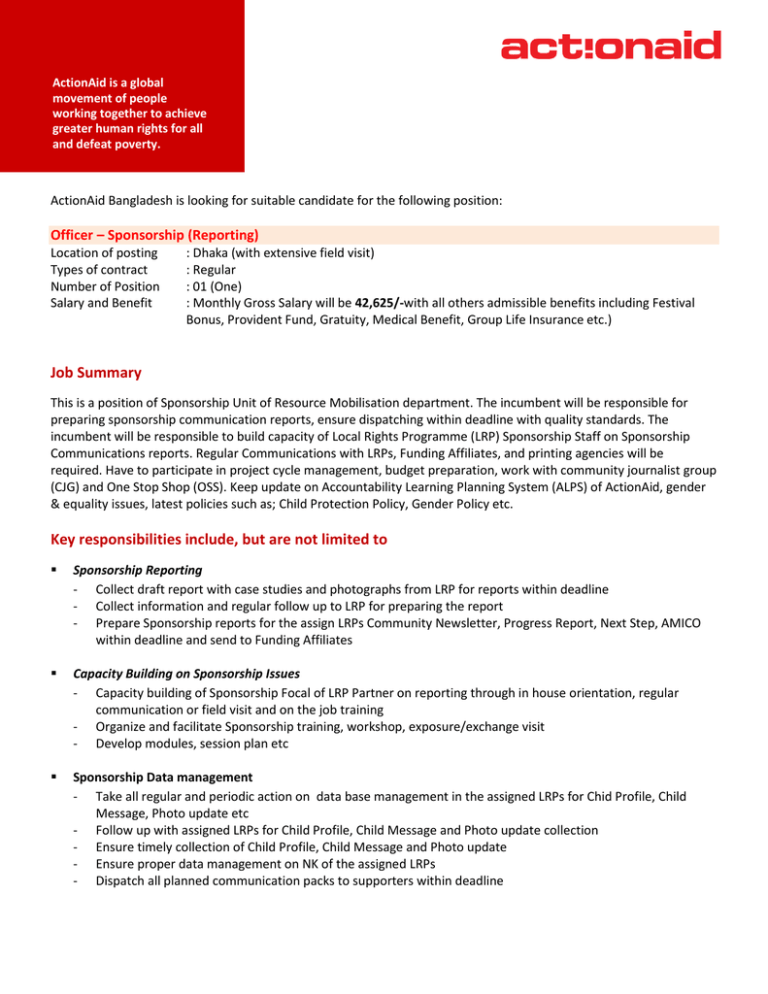 ActionAid is a global
movement of people
working together to achieve
greater human rights for all
and defeat poverty.
ActionAid Bangladesh is looking for suitable candidate for the following position:
Officer – Sponsorship (Reporting)
Location of posting
Types of contract
Number of Position
Salary and Benefit
: Dhaka (with extensive field visit)
: Regular
: 01 (One)
: Monthly Gross Salary will be 42,625/-with all others admissible benefits including Festival
Bonus, Provident Fund, Gratuity, Medical Benefit, Group Life Insurance etc.)
Job Summary
This is a position of Sponsorship Unit of Resource Mobilisation department. The incumbent will be responsible for
preparing sponsorship communication reports, ensure dispatching within deadline with quality standards. The
incumbent will be responsible to build capacity of Local Rights Programme (LRP) Sponsorship Staff on Sponsorship
Communications reports. Regular Communications with LRPs, Funding Affiliates, and printing agencies will be
required. Have to participate in project cycle management, budget preparation, work with community journalist group
(CJG) and One Stop Shop (OSS). Keep update on Accountability Learning Planning System (ALPS) of ActionAid, gender
& equality issues, latest policies such as; Child Protection Policy, Gender Policy etc.
Key responsibilities include, but are not limited to

Sponsorship Reporting
- Collect draft report with case studies and photographs from LRP for reports within deadline
- Collect information and regular follow up to LRP for preparing the report
- Prepare Sponsorship reports for the assign LRPs Community Newsletter, Progress Report, Next Step, AMICO
within deadline and send to Funding Affiliates

Capacity Building on Sponsorship Issues
- Capacity building of Sponsorship Focal of LRP Partner on reporting through in house orientation, regular
communication or field visit and on the job training
- Organize and facilitate Sponsorship training, workshop, exposure/exchange visit
- Develop modules, session plan etc

Sponsorship Data management
- Take all regular and periodic action on data base management in the assigned LRPs for Chid Profile, Child
Message, Photo update etc
- Follow up with assigned LRPs for Child Profile, Child Message and Photo update collection
- Ensure timely collection of Child Profile, Child Message and Photo update
- Ensure proper data management on NK of the assigned LRPs
- Dispatch all planned communication packs to supporters within deadline

Budget Preparation
- Provide input in respective LRP's budget preparation.
- Budget preparation for sponsorship activity like Report production, CM Collection, photo update etc.
Relationships
S/he will report to Deputy Manager – Sponsorship of ActionAid Bangladesh. S/he is expected to maintain functional
relationship with his/her peers in team, priority, project management team. S/he must maintain functional
relationship with Local Rights Programme Directorate (LRPD) of ActionAid Bangladesh. S/he will be able to
communicate with other teams and units, both programme and function of AAB.
Required qualification and competencies:
-
Post Graduation, preferably in social science2-3 years relevant experience will be preferred.
Excellent facilitation skills.
Willingness to extensive field visit.
A commitment to develop, promote and practice ActionAid's vision, mission, values and strategy.
Strong team player
Ability to work under extreme pressure and deadline.
Good interpersonal and facilitation skills.
Good communication and report writing skills both in English and Bangla
Application instructions
Only those who meet the above requirements are requested to apply following these instructions:
 Last date of application is Saturday, November 23, 2013 on or before 5:00 PM
 Please click here to find the prescribed Job Application Format.
 Please send the filled in Job Application Format to [email protected]
 Mention the name of the position applied for in subject of the e-mail
 Attach a cover letter justifying your suitability (please address Director – HROD)
ActionAid aims to attract and select a diverse workforce with skills and capabilities to fulfil requirements.
Any personal persuasion/phone-call will result in disqualification of candidature.
.