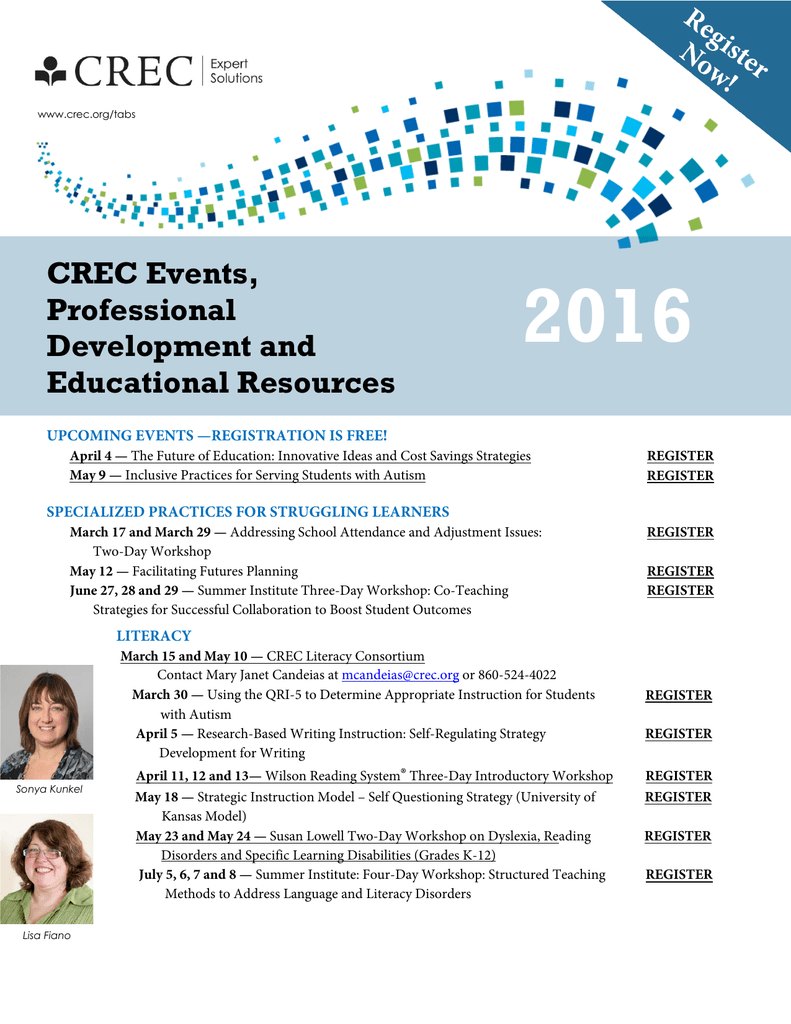 www.crec.org/tabs
CREC Events,
Professional
Development and
Educational Resources
2016
UPCOMING EVENTS —REGISTRATION IS FREE!
April 4 — The Future of Education: Innovative Ideas and Cost Savings Strategies
May 9 — Inclusive Practices for Serving Students with Autism
SPECIALIZED PRACTICES FOR STRUGGLING LEARNERS
March 17 and March 29 — Addressing School Attendance and Adjustment Issues:
Two-Day Workshop
May 12 — Facilitating Futures Planning
June 27, 28 and 29 — Summer Institute Three-Day Workshop: Co-Teaching
Strategies for Successful Collaboration to Boost Student Outcomes
REGISTER
REGISTER
REGISTER
REGISTER
REGISTER
LITERACY
March 15 and May 10 — CREC Literacy Consortium
Contact Mary Janet Candeias at [email protected] or 860-524-4022
March 30 — Using the QRI-5 to Determine Appropriate Instruction for Students
with Autism
April 5 — Research-Based Writing Instruction: Self-Regulating Strategy
Development for Writing
Sonya Kunkel
Lisa Fiano
April 11, 12 and 13— Wilson Reading System® Three-Day Introductory Workshop
May 18 — Strategic Instruction Model – Self Questioning Strategy (University of
Kansas Model)
May 23 and May 24 — Susan Lowell Two-Day Workshop on Dyslexia, Reading
Disorders and Specific Learning Disabilities (Grades K-12)
July 5, 6, 7 and 8 — Summer Institute: Four-Day Workshop: Structured Teaching
Methods to Address Language and Literacy Disorders
REGISTER
REGISTER
REGISTER
REGISTER
REGISTER
REGISTER
ASSISTIVE TECHNOLOGY
April 6 — Augmentative and Alternative Communication (AAC) Assessment
and Intervention Strategies
POSITIVE BEHAVIORAL INTERVENTIONS AND SUPPORTS (PBIS)
March 23 — PBIS New School Information Session (FREE!)
LEADERSHIP
March 29 — Cost-Effective Special Education Programs and Services for
School Board Members, Central Office and Building Administrators
April 6 — Transformative Leadership: Positive Behavioral Interventions and
Supports-Assess Your Current Systems
May 5 —FREE Prep Session for the Connecticut Administrator Test (CAT)
with Purchase of Educational Resource (see details below)
May 24 and June 8 — The Leadership Challenge® — Includes a 360-Degree
Leadership Practices Inventory and The Leadership Challenge Book
REGISTER
REGISTER
REGISTER
REGISTER
REGISTER
REGISTER
For more information about any of these activities, contact Mary Janet Candeias
at 860-524-4022 or [email protected]
Educational
Resources
For more information about
CREC's educational resources,
visit www.crec.org/store or
scan the QR code.
Online Professional Development
Co-Teaching Basics for Special Education and
General Education Teams
Is a two-part, interactive, anytime webinar series that provides professionals an
overview on how to implement co-teaching in their schools. Users of this online
professional development tool, will progress through the webinar, while completing
activities and assessments along the way. Part one of the series covers basics principles,
roles in co-teaching, parity, accommodations, specially designed instruction,
communication, and classroom arrangement. Part two describes how to configure
group instruction; increase intensity of instruction, provide response opportunities,
and increase time-on-task to promote student success.
Practice Case Studies for the
Connecticut Administrator Test
A critical resource for candidates studying
school leadership who want to obtain their
CT 092 intermediate certification and need
to pass the Connecticut Administrator Test
(CAT). All candidates must pass four tests:
two school improvement case studies and
two instructional analysis case studies.
The four case studies in this book are
designed to mirror the CAT and will
help candidates prepare for the exam.
(Please see above for details on free prep
session for CAT on May 5).