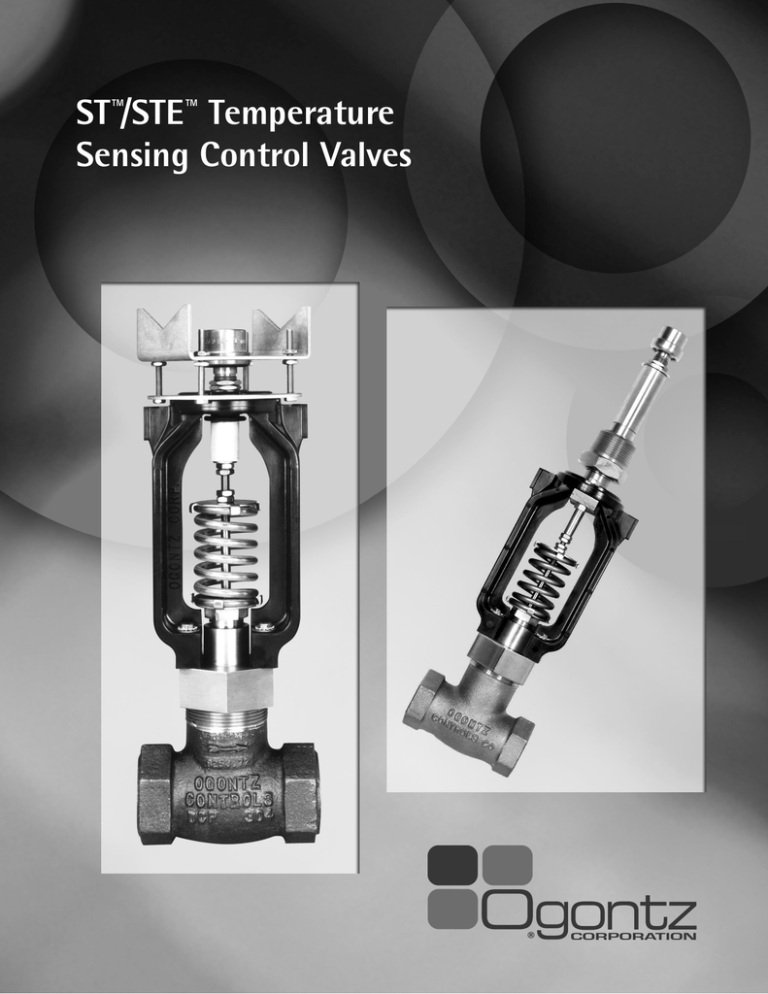 ST™/STE™ Temperature
Sensing Control Valves
The Ogontz ST/STE Temperature Sensing Control Valves
Automatically maintains a process temperature in a pipe or tank.
The ST/STE is a fully self-contained temperature control
valve. It effectively maintains the desired temperature in
a process pipe or storage tank by automatically
regulating steam flow in response to changes in fluid
temperature. As a result, its operation minimizes costly
steam waste and prevents damage to process fluids due
to overheating.
High reliability, low maintenance, and long service
life are assured by a state-of-the-art precision thermal
actuator. The ST/STE valve eliminates the use of delicate
capillaries, hazardous chemically-filled diaphragms or
thin-walled bellows. It can also be used to back up
existing electrically traced systems, with significant
savings and equivalent temperature control.
The ST can be attached to a process pipe or tank
wall by welding or banding (e.g. stainless steel worm
gear pipe clamp) and thermally bonded to the wall with
thermal cement, without penetrating the wall.
For those applications calling for the penetration of
a tank wall, our STE valve can be supplied with an
acutator extension of up to 72 inches in brass or
stainless steel along with an associated thermal well in
those materials. For longer lengths, consult your local
authorized distributor for pricing and availability.
Design Features
•
•
•
•
•
•
•
•
Direct acting (no pilot valve)
Self-contained, solid-liquid thermal actuator
requires no external power or operating signal
High repeatability — no set point drift
Valve port opens gradually, preventing
system shock
Temperature set points from 35°F to 240°F
In-line serviceable
Line sizes 1/2" through 2"
100% factory tested
Self-Contained
Thermal Actuator
The heart of the valve is the unique, solidliquid phase thermal actuator. This hydrocarbon
wax-filled device actuates the valve in response
to changes in ambient temperature. The
transition from solid to liquid phase causes a
large change in volume, exerting a tremendous
force over a narrow temperature band.
Cold Position
Piston
Plug
Diaphragm
Wax
As the ambient
temperature drops
below the set point,
the wax contracts,
relieving the force
exerted by the piston
on the operating
spring, and allowing
the valve to open. The
valve remains open
until the temperature
rises, at which time
the valve begins to
close.
Hot Position
As the ambient
temperature rises
above the set point,
the wax starts to
expand, exerting
force on the piston
and operating spring
to close the valve.
The valve remains
closed until the
temperature drops, at
which time the valve
begins to open.
TEFLON
plug
0.230
Precision wax-filled
thermal actuator
Flexible graphite gasket
THERMAL ACTUATOR TRAVEL
(inches)
Overtemperature
spring
3°F
Fully Closed
Stainless
steel seat
Fiberite yoke
Fully Open
Stem wiper
Self-adjusting graphite
TFE "V" ring packing
0.020
Fail-safe
operating spring
Union bonnet
0
90
105
TEMPERATURE (°F)
As shown at left, the limited hysteresis of the wax during changes in
state from solid to liquid results in a narrow temperature dead band,
providing very close control around the temperature set point.
Typical Applications for ST/STE Valves
Figure 1: ST valve used for product line temperature
control. Attached to pipe line by banding (e.g. stainless
steel and worm gear pipe clamp), ST senses process pipe
surface temperature and regulates flow of steam to tracer
lines. It shuts off automatically when temperature rises
above desired set point. One ST valve can control up to 150
feet of product line tracing.
Figure 2: ST valve used for tank temperature
control. Any vessel whose tank surface
temperature is representative of product
temperature can be effectively controlled. Valve
maintains desired product temperature in
response to changes in tank surface temperature.
ST valves can be attached to the tank surface by
banding or welding.
Figure 3: STE valve with well extension attachment
shown inserted into a 1-1/4" female NPT thermo-well
for control of internal tank heat exchanger coil.
Specifications and Ordering Information
Max
Operating Port
(psig)
Size
Q
E
1
1Q
1Q
1Q
2
2
2
200
200
200
200
150
50
200
150
50
NPT
Q
E
1
1Q
2
C
C
C
A
B
C
A
B
C
Body
Rating
ANSI 300 lb. class
Valve
Size
NPT
Orifice
Size
(in.)
Q
Q
E
E
1
1Q
E
1
1Q
Cv
±10%
3.4
3.8
5.5
5.8
8.3
13.8
6.4
8.8
14.1
Maximum Capacity
Lbs/Hr. Saturated Steam
at inlet pressure psig
15
30
50
100
150
200
186
208
301
317
454
754
350
481
771
280
313
452
477
683
1135
526
724
1160
405
452
655
690
988
1643
762
1048
1679
718
802
1161
1224
1752
1351
1857
-
1030
1152
1667
1758
2515
1940
2667
-
1343
1501
2173
2291
2528
-
A
Bronze
3Q
3Q
4Q
B
C E
Weight lbs.
Stainless
Bronze Stainless
4
7.5
8.5
Nominal
4
7.5
8.5
4Q
9
9.5
11Y 11W 6
6
17
18
6
16
17
Model ST
Model STE
Notes:
• STE standard extension length is 6".
• STE standard extension material is brass
(stainless steel available – consult local distributor)
• 1W" NPT female connection required to mount STE valve into well
• Valves supplied with heat conductive compound
• Optional matching length 316SS well, order part number 3402997
(well external threads 1Q" NPT)
Optional thermowell accessory
How To Order EXAMPLE: To obtain a 3/4" ST Valve with bronze body and set point of 90°F, specify EST90CDB.
Size (NPT)
Q, E, 1, 1Q, 2
E
Temperature to
Full Open (°F)
ST
Valve Type
ST or STE
Valve Action
D = Direct
C
90
D
Port Size
A, B, or C
STE Well
Extension Length
B
Body
B = Bronze
S = Stainless
E
For STE: Specify length (E) from 6" to 72". For
longer lengths, contact your local distributor.
Note: Specify the desired full open set point
temperature between 35°F and 240°F in 5°F
increments. Differential from full open to full
closed is typically 15°. Valve normally fails in the
open position.
The Ogontz Guarantee
We will repair or replace on a no-charge basis, F.O.B. Willow Grove, PA, any Ogontz product returned to us
within 18 months, if found to be defective in material or workmanship.P
2835 Terwood Road • Willow Grove, PA 19090 USA
800/523-2478 • 215/657-4770 • Fax: 215/657-0460
www.ogontz.com • [email protected]
North America • South America • Europe • Asia
Copyright Ogontz Corporation, 2005 • Bulletin #ST/STE-10-05
Teflon is a trademark of the DuPont Company
ST and STE are trademarks of Ogontz Corporation
Ogontz has a policy of continuous product research and improvement, and reserves the right to change specifications without notice.