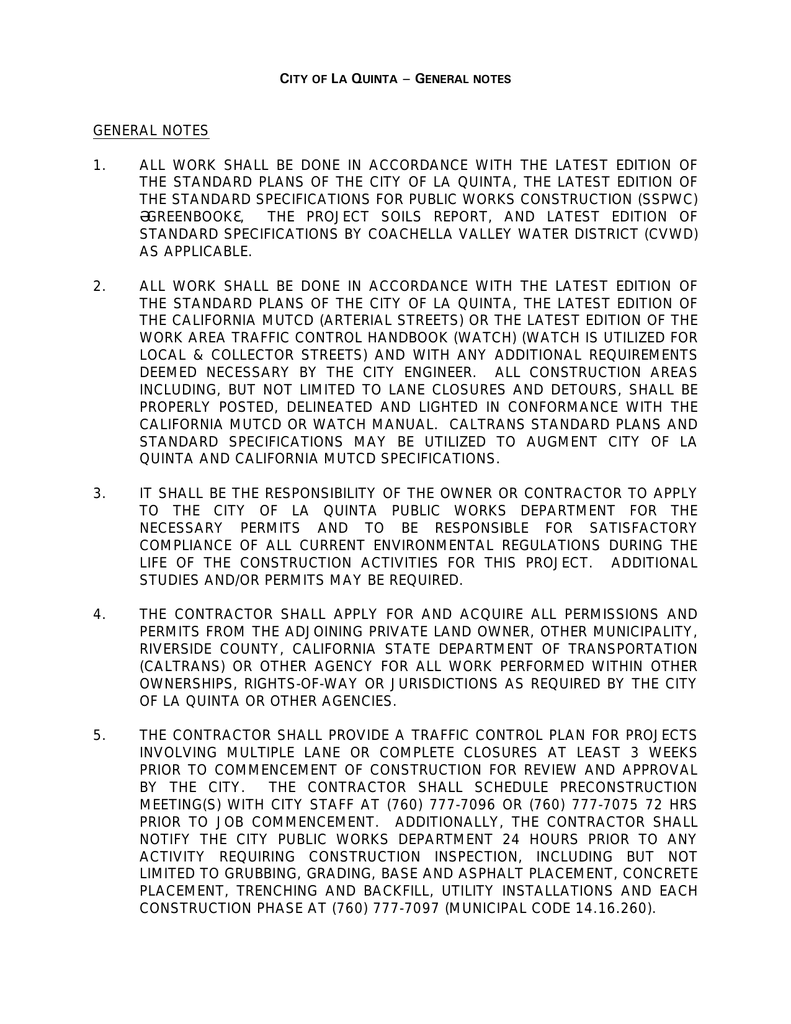 CITY OF LA QUINTA – GENERAL NOTES
GENERAL NOTES
1.
ALL WORK SHALL BE DONE IN ACCORDANCE WITH THE LATEST EDITION OF
THE STANDARD PLANS OF THE CITY OF LA QUINTA, THE LATEST EDITION OF
THE STANDARD SPECIFICATIONS FOR PUBLIC WORKS CONSTRUCTION (SSPWC)
"GREENBOOK",
THE PROJECT SOILS REPORT, AND LATEST EDITION OF
STANDARD SPECIFICATIONS BY COACHELLA VALLEY WATER DISTRICT (CVWD)
AS APPLICABLE.
2.
ALL WORK SHALL BE DONE IN ACCORDANCE WITH THE LATEST EDITION OF
THE STANDARD PLANS OF THE CITY OF LA QUINTA, THE LATEST EDITION OF
THE CALIFORNIA MUTCD (ARTERIAL STREETS) OR THE LATEST EDITION OF THE
WORK AREA TRAFFIC CONTROL HANDBOOK (WATCH) (WATCH IS UTILIZED FOR
LOCAL & COLLECTOR STREETS) AND WITH ANY ADDITIONAL REQUIREMENTS
DEEMED NECESSARY BY THE CITY ENGINEER. ALL CONSTRUCTION AREAS
INCLUDING, BUT NOT LIMITED TO LANE CLOSURES AND DETOURS, SHALL BE
PROPERLY POSTED, DELINEATED AND LIGHTED IN CONFORMANCE WITH THE
CALIFORNIA MUTCD OR WATCH MANUAL. CALTRANS STANDARD PLANS AND
STANDARD SPECIFICATIONS MAY BE UTILIZED TO AUGMENT CITY OF LA
QUINTA AND CALIFORNIA MUTCD SPECIFICATIONS.
3.
IT SHALL BE THE RESPONSIBILITY OF THE OWNER OR CONTRACTOR TO APPLY
TO THE CITY OF LA QUINTA PUBLIC WORKS DEPARTMENT FOR THE
NECESSARY PERMITS AND TO BE RESPONSIBLE FOR SATISFACTORY
COMPLIANCE OF ALL CURRENT ENVIRONMENTAL REGULATIONS DURING THE
LIFE OF THE CONSTRUCTION ACTIVITIES FOR THIS PROJECT. ADDITIONAL
STUDIES AND/OR PERMITS MAY BE REQUIRED.
4.
THE CONTRACTOR SHALL APPLY FOR AND ACQUIRE ALL PERMISSIONS AND
PERMITS FROM THE ADJOINING PRIVATE LAND OWNER, OTHER MUNICIPALITY,
RIVERSIDE COUNTY, CALIFORNIA STATE DEPARTMENT OF TRANSPORTATION
(CALTRANS) OR OTHER AGENCY FOR ALL WORK PERFORMED WITHIN OTHER
OWNERSHIPS, RIGHTS-OF-WAY OR JURISDICTIONS AS REQUIRED BY THE CITY
OF LA QUINTA OR OTHER AGENCIES.
5.
THE CONTRACTOR SHALL PROVIDE A TRAFFIC CONTROL PLAN FOR PROJECTS
INVOLVING MULTIPLE LANE OR COMPLETE CLOSURES AT LEAST 3 WEEKS
PRIOR TO COMMENCEMENT OF CONSTRUCTION FOR REVIEW AND APPROVAL
BY THE CITY.
THE CONTRACTOR SHALL SCHEDULE PRECONSTRUCTION
MEETING(S) WITH CITY STAFF AT (760) 777-7096 OR (760) 777-7075 72 HRS
PRIOR TO JOB COMMENCEMENT. ADDITIONALLY, THE CONTRACTOR SHALL
NOTIFY THE CITY PUBLIC WORKS DEPARTMENT 24 HOURS PRIOR TO ANY
ACTIVITY REQUIRING CONSTRUCTION INSPECTION, INCLUDING BUT NOT
LIMITED TO GRUBBING, GRADING, BASE AND ASPHALT PLACEMENT, CONCRETE
PLACEMENT, TRENCHING AND BACKFILL, UTILITY INSTALLATIONS AND EACH
CONSTRUCTION PHASE AT (760) 777-7097 (MUNICIPAL CODE 14.16.260).
6.
PER GOVERNMENT CODE SECTION 4216, IF THE WORK IS IN AN AREA WHICH IS
KNOWN, OR REASONABLY SHOULD BE KNOWN, TO CONTAIN SUBSURFACE
INSTALLATIONS, CONTRACTOR SHALL CONTACT UNDERGROUND SERVICE
ALERT (U.S.A.) AT 1-800-422-4133 AND OBTAIN AN INQUIRY IDENTIFICATION
NUMBER AT LEAST TWO WORKING DAYS (48 HOURS) PRIOR TO COMMENCING
ANY WORK THAT PENETRATES THE EXISTING SURFACE.
7.
EXISTING UNDERGROUND UTILITIES ARE SHOWN IN AN APPROXIMATE
LOCATION ONLY. THE CONTRACTOR SHALL DETERMINE THE EXACT LOCATION
OF ALL EXISTING UTILITIES BEFORE COMMENCING WORK. THE CONTRACTOR
AGREES TO BE FULLY RESPONSIBLE FOR ANY AND ALL DAMAGE WHICH MIGHT
RESULT BY FAILURE TO EXACTLY LOCATE AND PRESERVE ANY AND ALL
UTILITIES.
8.
ALL TRENCH EXCAVATIONS SHALL CONFORM TO STATE OF CALIFORNIA
CONSTRUCTION SAFETY ORDERS. PRIOR TO COMMENCING THE EXCAVATION
OF A TRENCH 5 FEET IN DEPTH OR GREATER AND INTO WHICH A PERSON WILL
BE REQUIRED TO DESCEND, THE CONTRACTOR SHALL FIRST OBTAIN A PERMIT
TO DO SO FROM THE DIVISION OF INDUSTRIAL SAFETY PURSUANT TO 710.4.1.
9.
ENGINEERED FILLS AND PADS SHALL BE COMPACTED TO A MINIMUM OF 90%
RELATIVE COMPACTION PER ASTM SPECIFICATION D1557 AND THE RELATED
SOILS REPORT, WHICHEVER IS GREATER. ALL ROADWAY AND PARKING LOT
GRADES SHALL BE COMPACTED TO A MINIMUM OF 95% RELATIVE
COMPACTION PER ASTM SPECIFICATION D1557 AT THE UPPER 1 FT OF
FINISHED SUBGRADE. ALL ROADWAY AND PARKING LOT GRADES ON
ENGINEERED FILL SHALL BE COMPACTED TO A MINIMUM OF 95% RELATIVE
COMPACTION PER ASTM SPECIFICATION D1557 AT THE UPPER 3 FT OF
FINISHED SUBGRADE. LOCATIONS OF FIELD DENSITY TESTS SHALL BE
DETERMINED BY THE SOILS ENGINEER OR CITY ENGINEER AND SHALL BE
SUFFICIENT IN BOTH HORIZONTAL AND VERTICAL PLACEMENT TO PROVIDE
REPRESENTATIVE TESTING OF ALL PLACED FILL. TESTING IN AREAS OF A
CRITICAL NATURE SHALL BE IN ADDITION TO THE NORMAL REPRESENTATIVE
SAMPLINGS. THE FINAL COMPACTION REPORT AND APPROVAL FROM THE
SOILS ENGINEER SHALL CONTAIN THE TYPE OF FIELD TESTING PERFORMED.
EACH TEST SHALL BE IDENTIFIED WITH THE METHOD OF DETERMINING THE INPLACE DENSITY, SAND CONE OR DRIVE RING.
10.
ALL UNDERGROUND SEWER, WATER, ELECTRIC, GAS, AND DRAINAGE
FACILITIES, INCLUDING SERVICE LATERALS, SHALL BE IN PLACE AND
INSPECTED WITH TRENCHES COMPACTED AND TESTED PRIOR TO BASE GRADE
INSPECTION AND PAVING. THE CONTRACTOR SHALL SUBMIT TO THE CITY
WRITTEN EVIDENCE ISSUED BY THE RESPECTIVE UTILITY PURVEYOR
INDICATING THE SUBSURFACE PORTION OF THE UNDERGROUND FACILITIES
HAS BEEN INSTALLED AND ACCEPTED. THE STORM DRAIN AND UTILITY LINE
BACKFILL REPORT FROM THE PROJECT SOILS ENGINEER SHALL INCLUDE AN
APPROVAL STATEMENT THAT THE SUBGRADE IS OF ADEQUATE STRENGTH TO
SUPPORT THE STRUCTURES AND ANTICIPATED LOADS AND THAT THE
BACKFILL AND COMPACTION IS ADEQUATE FOR THE INTENDED USE.
11.
THE CONTRACTOR SHALL BE RESPONSIBLE FOR THE REMOVAL, REPLACEMENT,
AND/OR RELOCATION OF ALL REGULATORY, WARNING AND GUIDE SIGNS.
12.
THE CITY ENGINEER SHALL APPROVE ALL STREET NAME SIGNS, TRAFFIC
CONTROL SIGNS, TRAFFIC STRIPING, LEGENDS, AND PAVEMENT MARKERS
(TYPE AND LOCATION).
13.
THE CONTRACTOR SHALL NOT DISTURB EXISTING SURVEY MONUMENTS OR
BENCH MARKS NOTED ON THE PLANS, OR FOUND DURING CONSTRUCTION.
REMOVAL AND REPLACEMENT SHALL BE DONE ONLY BY A CALIFORNIA
REGISTERED CIVIL ENGINEER WITH AN R.C.E. NUMBER BELOW 33966, OR A
LICENSED LAND SURVEYOR.
PRIOR TO CONSTRUCTION, ALL SURVEY MONUMENTS AND CENTERLINE TIES
ARE TO BE LOCATED IN THE FIELD. UPON COMPLETION OF CONSTRUCTION,
ALL DAMAGED OR DESTROYED CENTERLINE TIES AND SURVEY MONUMENTS
ARE TO BE RESET AND "CORNER RECORDS" PREPARED FOR SURVEY.
MONUMENTS NEED TO BE SUBMITTED TO THE CITY PUBLIC WORKS
DEPARTMENT PRIOR TO FILING WITH THE COUNTY SURVEYOR IN COMPLIANCE
WITH AB1414. THIS MUST BE COMPLETED PRIOR TO CERTIFYING COMPLETION
OF THE PROJECT. ALL RESTORATION OF SURVEY MONUMENTS SHALL BE
CERTIFIED BY THE DESIGN REGISTERED ENGINEER IN ACCORDANCE WITH
SECTION 8771 OF THE BUSINESS AND PROFESSIONS CODE.
14.
CONSTRUCTION OPERATIONS AND MAINTENANCE OF EQUIPMENT SHALL BE
PERFORMED ONLY DURING THE TIME PERIODS AS FOLLOWS:
OCTOBER 1ST TO APRIL 30TH:
MONDAY–FRIDAY 7:00 AM TO 5:30 PM
MAY 1ST TO SEPTEMBER 30TH:
MONDAY–FRIDAY 6:00 AM TO 7:00 PM
NO ARTERIAL LANE CLOSURES SHALL BE PERMITTED OR ALLOWED ON ANY
CITY STREET BEFORE 8:30 A.M. AND AFTER 3:30 P.M., UNLESS APPROVED BY
THE CITY ENGINEER.
NO REDUCTION OF THE WIDTH OF THE TRAVELED WAY SHALL BE PERMITTED
ON ANY CITY STREET ON WEEKENDS OR HOLIDAYS, OR WHEN ACTIVE WORK
IS NOT BEING PERFORMED, UNLESS APPROVED BY THE CITY ENGINEER.
WORK WITHIN 500 FEET OF A SIGNALIZED INTERSECTION SHALL BE
PERFORMED BETWEEN THE HOURS OF 9 A.M. – 3:00 P.M. TRAFFIC CONTROL
SHALL BE SET UP AFTER 9 A.M. AND REMOVED BEFORE 3:00 P.M. UNLESS
OTHERWISE APPROVED BY THE CITY ENGINEER.
WORK WITHIN 500 FEET OF ANY DESIGNATED SCHOOL ZONE SHALL BE
PERFORMED BETWEEN THE HOURS OF 8:15 A.M. – 1:30 P.M.
TRAFFIC
CONTROL SHALL BE SET UP AFTER 8 A.M. AND REMOVED BEFORE 1:30 P.M.
UNLESS OTHERWISE APPROVED BY THE CITY ENGINEER.
WORK SHALL BE PROHIBITED AT ANY TIME ON SUNDAYS AND ON CITY
HOLIDAYS INCLUDING:
A. NEW YEAR'S DAY
B.MARTIN LUTHER KING JR. DAY
C. PRESIDENTS DAY
D. MEMORIAL DAY
E. INDEPENDENCE DAY
F. LABOR DAY
G. VETERAN'S DAY
H. THANKSGIVING DAY
I. DAY AFTER THANKSGIVING DAY
J. CHRISTMAS DAY
OTHER EXCEPTIONS: EMERGENCY REPAIR WITH PERMISSION BY THE CITY
MANAGER & NIGHT WORK (SPECIAL APPROVAL AND ADVANCE INSPECTION
SCHEDULING REQUIRED)
CONTRACTOR TO UTILIZE APPROPRIATE
ADJACENT RESIDENTIAL NEIGHBORHOODS.
SCHEDULING
COURTESY
WITH
15.
ALL TRAVELED WAYS MUST BE CLEANED DAILY OF ALL DIRT, MUD, AND
DEBRIS AS A RESULT OF CONSTRUCTION OPERATIONS. CLEANING IS TO BE
DONE TO THE SATISFACTION OF THE CITY ENGINEER.
16.
CONSTRUCTION PROJECTS DISTURBING MORE THAN ONE (1) ACRE MUST
OBTAIN A NATIONAL POLLUTANT DISCHARGE ELIMINATION SYSTEM (NPDES)
PERMIT. OWNERS/DEVELOPERS ARE REQUIRED TO FILE A NOTICE OF INTENT
(NOI) WITH THE STATE WATER QUALITY CONTROL BOARD (SWQCB), AND TO
PREPARE A STORM WATER POLLUTION PREVENTION PLAN (SWPPP), AND HAVE
A MONITORING PLAN FOR THE SITE.
17.
THE CONTRACTOR SHALL CONSTRUCT IMPROVEMENTS IN CONFORMANCE
WITH THE REQUIREMENTS OF THE CALIFORNIA REGIONAL WATER QUALITY
CONTROL BOARD WHITEWATER RIVER WATERSHED, GENERAL CONSTRUCTION
AND MS4 PERMITS. CONTRACTOR TO COMPLY WITH CURRENT WHITEWATER
RIVER REGION STORMWATER MANAGEMENT PLAN (SWMP). EROSION AND
SEDIMENT CONTROL BEST MANAGEMENT PRACTICE (BMP) SHALL BE
IMPLEMENTED AND MAINTAINED. SOIL STOCKPILES SHALL BE CONTAINED.
CONSTRUCTION SITES SHALL BE MAINTAINED IN SUCH A CONDITION THAT
WASTES ARE MANAGED AND CONTAINED AND SUCH THAT RAINFALL OR WIND
DOES NOT CARRY WASTES OR POLLUTANTS OFFSITE. CONSTRUCTION SITES
SHALL BE MANAGED TO MINIMIZE THE EXPOSURE TIME OF DISTURBED SOIL
AREAS.
18.
NEW IMPROVEMENTS SHALL JOIN OR MATCH EXISTING IMPROVEMENTS IN A
MANNER SATISFACTORY TO THE CITY ENGINEER TO ACHIEVE A SAFE,
DURABLE, AESTHICALLY PLEASING TRANSITION BETWEEN THE NEW AND
EXISTING IMPROVEMENT, INCLUDING MANHOLE AND VAULT HEIGHT
ADJUSTMENTS, SAW CUTTING, REMOVAL, REPLACEMENT, CAPPING AND/OR
COLD PLANING, AS NEEDED. ALL MANHOLES AND VALVE BOX FRAMES SHALL
BE ADJUSTED TO FINAL GRADES AFTER PAVING IS COMPLETED.
19.
ALL PLANS NOT SPECIFIED AS CITY SPONSORED CAPITAL IMPROVEMENT
PROJECT (CIP) PLANS ARE VALID FOR A PERIOD NOT TO EXCEED EIGHTEEN (18)
MONTHS FROM THE DATE OF CITY ENGINEER APPROVAL. THE SPONSORS OF
THE IMPROVEMENTS SHOWN ON NON CIP PLANS SHALL BEAR ALL COSTS
ASSOCIATED WITH UPDATING THE PLANS, INCLUDING, BUT NOT LIMITED TO,
DESIGN AND IMPROVEMENT COSTS, TO AFFECT PROPER TRANSITIONS
BETWEEN NEW AND EXISTING IMPROVEMENTS, COMPLIANCE WITH ANY NEW
CITY STANDARDS, ORDINANCES, OR LAWS AND REGULATIONS, ENACTED OR
ADOPTED BY THE CITY OR OTHER JURISDICTIONS SUBSEQUENT TO THE PLAN
APPROVAL DATE.
20.
CONCRETE SPECIFICATIONS SHALL FOLLOW CITY OF LA QUINTA STANDARD
PLAN 200. CONTRACTOR SHALL REMOVE AND REPLACE EXISTING SIDEWALK
AS NEEDED AT ALL LOCATIONS WHERE IT IS CRACKED, UNEVEN AT JOINTS, OR
OTHERWISE DAMAGED, PURSUANT TO STREETS & HIGHWAYS CODE SECTION
5610. THIS REQUIREMENT APPLIES TO ALL CONCRETE COMPONENTS LOCATED
IN THE PUBLIC RIGHT-OF-WAY.
21.
ALL CURBS SHALL BE ETCHED OR STAMPED SHOWING UTILITY SERVICE
LATERAL LOCATIONS AS FOLLOWS:
"S" FOR SEWER
"G" FOR GAS
"E" FOR ELECTRICAL POWER
22.
THE CONTRACTOR SHALL SUBMIT AND RECEIVE CITY APPROVAL OF A
FUGITIVE DUST CONTROL PLAN WHEN THE DISTURBED AREA EXCEEDS 5,000
SQUARE FEET. CONTRACTOR SHALL SUBMIT THE FUGITIVE DUST CONTROL
CASH OR BOND SECURITY, AS REQUIRED, AND IMPLEMENT THE REQUIRED
MITIGATION MEASURES BY THE FUGITIVE DUST CONTROL PLAN APPROVED
FOR THIS PROJECT.
23.
THE CONTRACTOR SHALL ENSURE THAT PUBLIC WORKS APPROVAL IS
RECEIVED FOR ROADSIDE CLEAR ZONE DISTANCE AND SIGHT DISTANCE
REQUIREMENTS FOR ALL FACILITIES, LANDSCAPING AND APPURTENANCES
WITHIN THE PRIVATE AND PUBLIC STREET RIGHT OF WAY. RELOCATION OF
CONFLICTING INSTALLATIONS SHALL BE PERFORMED AT THE CONTRACTOR'S
SOLE EXPENSE.
Note to Design Engineer: These General Notes are intended for use on all Public Works
plans for both Private Development and Capital Improvement Projects, including Mass
Grading, Rough Grading, Street Improvement, Storm Drain Improvement, and Precise
Grading/Paving plans.