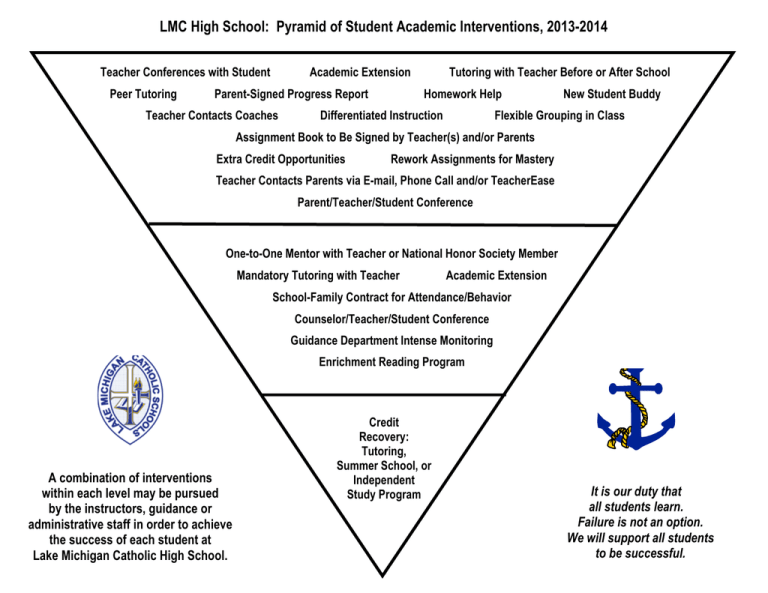 LMC High School: Pyramid of Student Academic Interventions, 2013-2014
Teacher Conferences with Student
Peer Tutoring
Academic Extension
Parent-Signed Progress Report
Teacher Contacts Coaches
Tutoring with Teacher Before or After School
Homework Help
Differentiated Instruction
New Student Buddy
Flexible Grouping in Class
Assignment Book to Be Signed by Teacher(s) and/or Parents
Extra Credit Opportunities
Rework Assignments for Mastery
Teacher Contacts Parents via E-mail, Phone Call and/or TeacherEase
Parent/Teacher/Student Conference
One-to-One Mentor with Teacher or National Honor Society Member
Mandatory Tutoring with Teacher
Academic Extension
School-Family Contract for Attendance/Behavior
Counselor/Teacher/Student Conference
Guidance Department Intense Monitoring
Enrichment Reading Program
A combination of interventions
within each level may be pursued
by the instructors, guidance or
administrative staff in order to achieve
the success of each student at
Lake Michigan Catholic High School.
Credit
Recovery:
Tutoring,
Summer School, or
Independent
Study Program
It is our duty that
all students learn.
Failure is not an option.
We will support all students
to be successful.