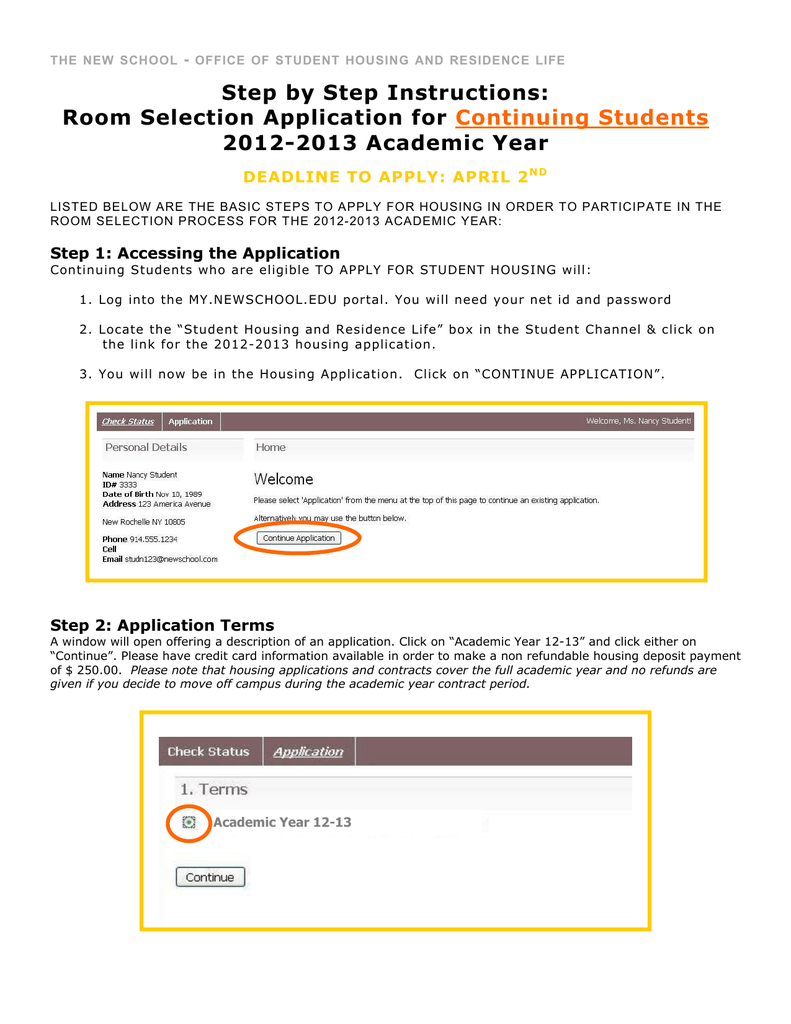 THE NEW SCHOOL
-
OFFICE OF STUDENT HOUSING AND RESIDENCE LIFE
Step by Step Instructions:
Room Selection Application for Continuing Students
2012-2013 Academic Year
DEADLINE TO APPLY: APRIL 2 ND
LISTED BELOW ARE THE BASIC STEPS TO APPLY FOR HOUSING IN ORDER TO PARTICIPATE IN THE
ROOM SELECTION PROCESS FOR THE 2012-2013 ACADEMIC YEAR:
Step 1: Accessing the Application
Continuing Students who are eligible TO APPLY FOR STUDENT HOUSING will:
1. Log into the MY.NEWSCHOOL.EDU portal. You will need your net id and password
2. Locate the "Student Housing and Residence Life" box in the Student Channel & click on
the link for the 2012-2013 housing application.
3. You will now be in the Housing Application. Click on "CONTINUE APPLICATION".
Step 2: Application Terms
A window will open offering a description of an application. Click on "Academic Year 12-13" and click either on
"Continue". Please have credit card information available in order to make a non refundable housing deposit payment
of $ 250.00. Please note that housing applications and contracts cover the full academic year and no refunds are
given if you decide to move off campus during the academic year contract period.
Academic Year 12-13
Step 3: Personal & Contact Information
In this section, please note that certain information about yourself already exists on the page and can not be edited.
Please fill in all other blank fields.
If you do not have any information to provide for questions pertaining to medical issues, please leave these fields
blank.
Once completed, click on "Save and Continue" at the bottom of the page.
Fill in fields that
are not GREY if
you have that
information
If you don't have any
medical information,
do NOT fill in the fields
Be sure to fill out
Emergency Contact
Name, Relationship
and a Phone Number
to contact them.
Step 4: Housing Selection Preference
Please read the housing choices offered and then scroll to the drop down box and select one choice from the following: General Selection, Pre-Selected Group (use this option for Gender Inclusive Housing), Same Room Rights or any
of the 5 Special Interest Housing Communities. Academic Year room rates are also listed here for your information.
Choose One
Step 5: Online Payment
At this time, you will need to make a $ 250.00 non refundable housing deposit payment in the form of a credit card.
Please have all credit card information available. An application is not complete without this deposit. Please remember that housing applications and contracts are for the academic year ending in mid-May of 2013. No refunds are
given if you decide to move off campus during the academic year contract period.
STEP 6: Online Payment Receipt
After making a housing deposit payment, your payment will be verified as "accepted" or declined". If declined, you
will need to submit different credit card information.
It is recommended that you print out the payment receipt page for you records.
STEP 7: Online Housing Contract and License Agreement – e-sign
All students must agree to the Residency Agreement and the linked Conditions of Residency. Click the box to agree
and click save and continue to move to the next step. Please remember that this contract covers the full academic
year to May 2013. No refunds will be given if you decide to move off campus prior to May 2013.
Housing Contract & License Agreement & Acknowledgement
Of Housing Selection for AY 2012-2013
By clicking the "I Agree" button you are signing The New School Electronic Housing Contract &
Agreement for the full academic year of 2012-2013. I also understand that there will be no refunds
after August 30, 2012.
IF YOU ARE PARTICIPATING IN GENERAL SELECTION OR A
SPECIAL INTEREST COMMUNITY,
YOU HAVE COMPLETED THE APPLICATION PROCESS AND MAY LOG OFF.
IF YOU ARE PARTICIPATING IN PRE-SELECTED GROUP OR SAME ROOM RIGHTS,
YOU MUST CONTINUE ONTO STEP 7.
STEP 8: Group Formation
Follow directions to
form a group for
Pre-Selected Groups,
Gender Inclusive Housing
and Same Room Rights
Be sure to select a "Group Leader"
to create a group name
and group password
ALL GROUPS, GENDER INCLUSIVE HOUSING and SPECIAL INTEREST COMMUNITY APPLICANTS - Please
read this section carefully:

Students choosing Pre Selected Groups, Gender Inclusive Housing or Same Room Rights may select from the
following residences: Loeb Hall, 20th Street, William Street and 23rd Street Residences. Qualified groups (those
that are complete) will receive a Group Lottery number and select a suite on Monday, April 16th at 13th
Street Residence (between 6th and 7th Aves).

Students choosing to live in GENDER INCLUSIVE HOUSING and ALL SPECIAL INTEREST COMMUNITIES
will be asked to sign a contract stating that they understand and are willing to live by the standards and expectations of that particular community. For more information, visit our website at www.newschool.edu/
studentservices/housing
PLEASE NOTE THAT APPLYING IS REQUIRED, BUT IT IS NOT ENOUGH TO GUARANTEE YOUR HOUSING
ASSIGNMENT. In order to secure a housing assignment for the academic year, you must select a room/suite as an
individual, part of a pre-selected group or special interest community in mid April during a designated date and time
assigned to you.
GENERAL HOUSING SELECTION WILL TAKE PLACE AT
STUYVESANT PARK RESIDENCE LOCATED AT
318 EAST 15TH STREET (BETWEEN 1ST & 2ND AVE)
If you miss the General Housing Selection date, you can attend "Make Up Day" on Friday, April 20th at Central
Housing (79 Fifth Ave, 5th Floor) to choose a room on a space available basis.
If you have any questions, please contact [email protected] or speak with the Resident Hall Director of
your residence.