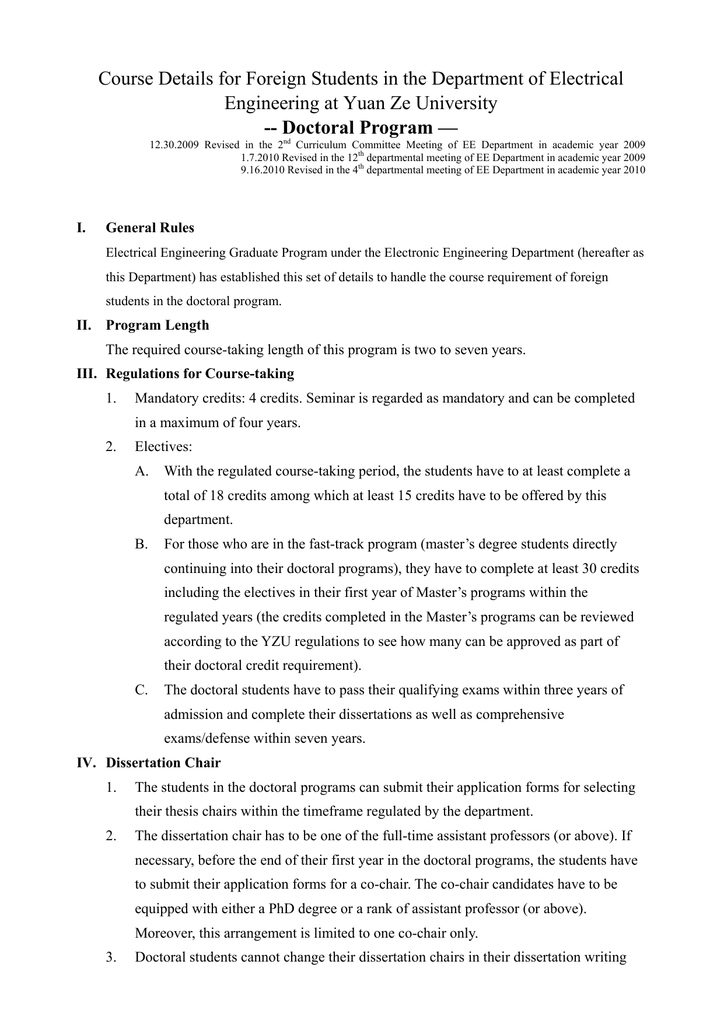 Course Details for Foreign Students in the Department of Electrical
Engineering at Yuan Ze University
-- Doctoral Program —
12.30.2009 Revised in the 2nd Curriculum Committee Meeting of EE Department in academic year 2009
1.7.2010 Revised in the 12th departmental meeting of EE Department in academic year 2009
9.16.2010 Revised in the 4th departmental meeting of EE Department in academic year 2010
I.
General Rules
Electrical Engineering Graduate Program under the Electronic Engineering Department (hereafter as
this Department) has established this set of details to handle the course requirement of foreign
students in the doctoral program.
II. Program Length
The required course-taking length of this program is two to seven years.
III. Regulations for Course-taking
1.
Mandatory credits: 4 credits. Seminar is regarded as mandatory and can be completed
in a maximum of four years.
2.
Electives:
A.
With the regulated course-taking period, the students have to at least complete a
total of 18 credits among which at least 15 credits have to be offered by this
department.
B.
For those who are in the fast-track program (master's degree students directly
continuing into their doctoral programs), they have to complete at least 30 credits
including the electives in their first year of Master's programs within the
regulated years (the credits completed in the Master's programs can be reviewed
according to the YZU regulations to see how many can be approved as part of
their doctoral credit requirement).
C.
The doctoral students have to pass their qualifying exams within three years of
admission and complete their dissertations as well as comprehensive
exams/defense within seven years.
IV. Dissertation Chair
1.
The students in the doctoral programs can submit their application forms for selecting
their thesis chairs within the timeframe regulated by the department.
2.
The dissertation chair has to be one of the full-time assistant professors (or above). If
necessary, before the end of their first year in the doctoral programs, the students have
to submit their application forms for a co-chair. The co-chair candidates have to be
equipped with either a PhD degree or a rank of assistant professor (or above).
Moreover, this arrangement is limited to one co-chair only.
3.
Doctoral students cannot change their dissertation chairs in their dissertation writing
without a proper cause. If such a change is deemed necessary, a written agreement
should be obtained from the original dissertation chair and an application has to be
submitted to the department for approval. In addition, such a change is limited to one
time only. If the co-chair is not a professor from this department, the candidate's
resume or CV (including contact information) has to be attached with the application
form.
V.
Qualifying Exam
1.
Exam Deadline – Qualifying exams are held on a need basis once a semester (routinely
in February and October). All doctoral students have to pass the qualifying exams
within three years of their admission.
2.
Exam Format – All qualifying exams are written and the tested subjects are those
which the students have not taken/passed.
3.
Exam Subjects – All students can choose any two subjects from the fields of Computer,
Control and Electronic.
4.
Passing Criteria – The total of each subject is 100 points and 70 is considered a "pass."
Any subject that has earned a passing grade in the first exam does not have to be
retested in the second exam.
5.
Those who do not pass the qualifying exams will have the option to increase their
journal publications before obtaining their degrees. Those who fail one subject will
have to publish one more SSCI or SCI article in journals while those failing two
subjects will have to publish two more SSCI or SCI articles.
VI. Dissertation Exam
The dissertation exam is oral and all details will be stipulated by the dissertation committee
based on the regulations established by the Ministry of Education.
VII. Other Related Evaluation/Assessment
Publication criteria for doctoral work: In addition to their doctoral dissertations, all doctoral
students have to fulfill the following requirements before obtaining their degrees.
All doctoral students have to publish two articles in SSCI or SCI journals with a review
system. Their dissertation chairs have to be listed as one of the authors. The published
articles have to be ranked as regular paper and the doctoral students have to be the first
author in addition to their chair and co-chair [Note 1]. All articles are calculated in the
following manner. (1) If there is no other author beside the chair and the co-chair, the
article is counted as one by itself. (2) If there are other authors beside the chair and the
co-chair, the first three authors listed will earn 0.8, 0.5, and 0.3 for the article respectively.
If the author is listed as the fourth author or more, he/she will earn 0.1 for that article.
Articles that have been accepted by journals (the content has to be related to the student's
dissertation and has to be accepted during his/her study at YZU) are accepted by YZU as
long as a letter of acceptance can be provided. The ranks of articles are evaluated based
on the criteria set by this department. All the criteria listed above are mandatory. Other
graduation requirements of doctoral students are set by their dissertation chairs and
submitted to the departmental meeting for ratification. After that, an oral exam can be
scheduled.
Note 1: A common long-length article is classified as a regular paper. For any journal that does not differentiate the types
of articles, the article will be submitted to the departmental meeting for further scrutiny to see whether it can be
considered a long-length article.
VIII.
Degree Granting
Once the students in the doctoral programs have completed all required credits and exams,
they will be granted with the degree of Doctor of Engineering.
IX. Appendix
1.
For any details not stipulated in this document, the matters will be handled according
to the related regulations set by the Ministry of Education and YZU.
2.
This set of details is ratified in the departmental meeting before implementation. All
amendments require the same procedures.