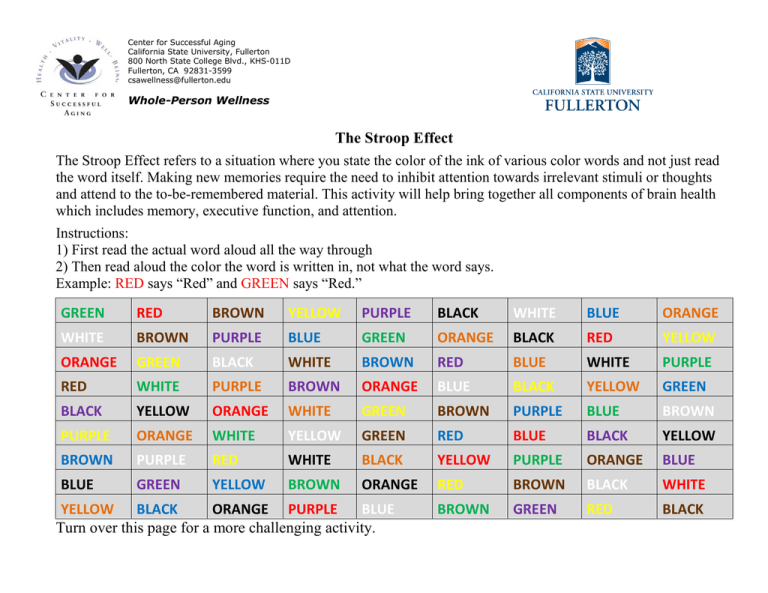 Center for Successful Aging
California State University, Fullerton
800 North State College Blvd., KHS-011D
Fullerton, CA 92831-3599
csawellness@fullerton.edu
Whole-Person Wellness
The Stroop Effect
The Stroop Effect refers to a situation where you state the color of the ink of various color words and not just read
the word itself. Making new memories require the need to inhibit attention towards irrelevant stimuli or thoughts
and attend to the to-be-remembered material. This activity will help bring together all components of brain health
which includes memory, executive function, and attention.
Instructions:
1) First read the actual word aloud all the way through
2) Then read aloud the color the word is written in, not what the word says.
Example: RED says "Red" and GREEN says "Red."
GREEN
RED
BROWN
YELLOW
PURPLE
BLACK
WHITE
BLUE
ORANGE
WHITE
BROWN
PURPLE
BLUE
GREEN
ORANGE
BLACK
RED
YELLOW
ORANGE
GREEN
BLACK
WHITE
BROWN
RED
BLUE
WHITE
PURPLE
RED
WHITE
PURPLE
BROWN
ORANGE
BLUE
BLACK
YELLOW
GREEN
BLACK
YELLOW
ORANGE
WHITE
GREEN
BROWN
PURPLE
BLUE
BROWN
PURPLE
ORANGE
WHITE
YELLOW
GREEN
RED
BLUE
BLACK
YELLOW
BROWN
PURPLE
RED
WHITE
BLACK
YELLOW
PURPLE
ORANGE
BLUE
BLUE
GREEN
YELLOW
BROWN
ORANGE
RED
BROWN
BLACK
WHITE
BROWN
GREEN
RED
BLACK
YELLOW BLACK
ORANGE PURPLE
BLUE
Turn over this page for a more challenging activity.
These words are now warped, but the instructions are still the same.