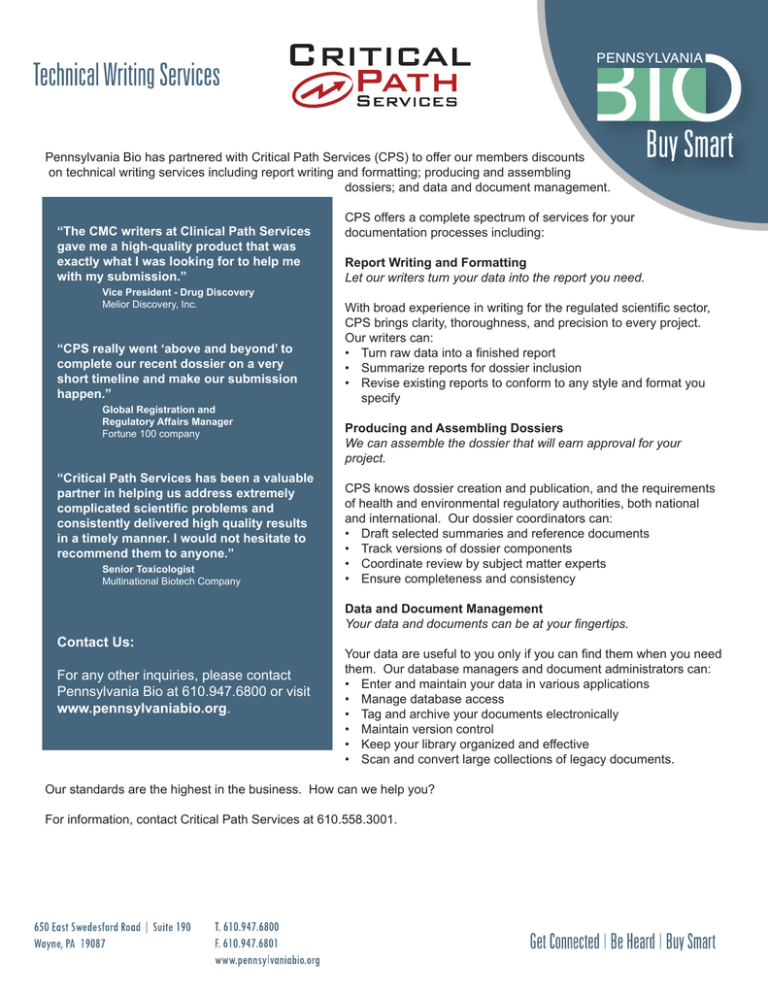 Pennsylvania Bio has partnered with Critical Path Services (CPS) to offer our members discounts
on technical writing services including report writing and formatting; producing and assembling
dossiers; and data and document management.
"The CMC writers at Clinical Path Services
gave me a high-quality product that was
exactly what I was looking for to help me
with my submission."
Vice President - Drug Discovery
Melior Discovery, Inc.
"CPS really went 'above and beyond' to
complete our recent dossier on a very
short timeline and make our submission
happen."
Global Registration and
Regulatory Affairs Manager
Fortune 100 company
"Critical Path Services has been a valuable
partner in helping us address extremely
complicated scientific problems and
consistently delivered high quality results
in a timely manner. I would not hesitate to
recommend them to anyone."
Senior Toxicologist
Multinational Biotech Company
CPS offers a complete spectrum of services for your
documentation processes including:
Report Writing and Formatting
Let our writers turn your data into the report you need.
With broad experience in writing for the regulated scientific sector,
CPS brings clarity, thoroughness, and precision to every project.
Our writers can:
• Turn raw data into a finished report
• Summarize reports for dossier inclusion
• Revise existing reports to conform to any style and format you specify
Producing and Assembling Dossiers
We can assemble the dossier that will earn approval for your
project.
CPS knows dossier creation and publication, and the requirements
of health and environmental regulatory authorities, both national
and international. Our dossier coordinators can:
• Draft selected summaries and reference documents
• Track versions of dossier components
• Coordinate review by subject matter experts
• Ensure completeness and consistency
Data and Document Management
Your data and documents can be at your fingertips.
Contact Us:
For any other inquiries, please contact
Pennsylvania Bio at 610.947.6800 or visit
www.pennsylvaniabio.org.
Your data are useful to you only if you can find them when you need
them. Our database managers and document administrators can:
• Enter and maintain your data in various applications
• Manage database access
• Tag and archive your documents electronically
• Maintain version control
• Keep your library organized and effective
• Scan and convert large collections of legacy documents.
Our standards are the highest in the business. How can we help you?
For information, contact Critical Path Services at 610.558.3001.