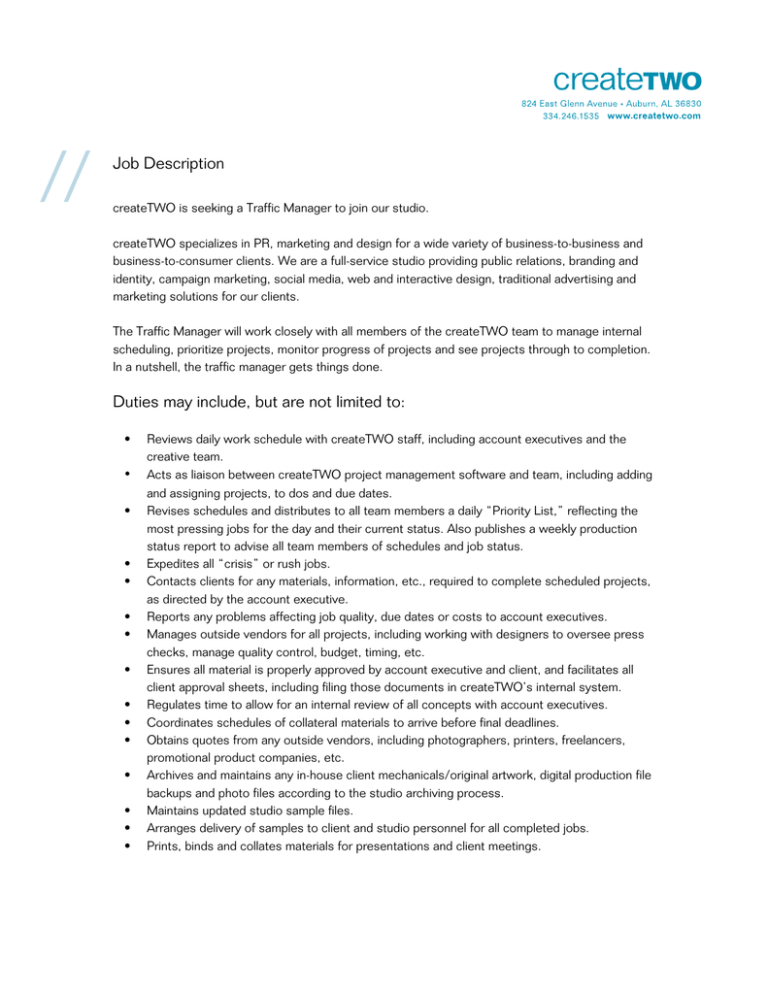 Job Description
!
!
createTWO is seeking a Traffic Manager to join our studio.
createTWO specializes in PR, marketing and design for a wide variety of business-to-business and
business-to-consumer clients. We are a full-service studio providing public relations, branding and
identity, campaign marketing, social media, web and interactive design, traditional advertising and
marketing solutions for our clients.
!
The Traffic Manager will work closely with all members of the createTWO team to manage internal
scheduling, prioritize projects, monitor progress of projects and see projects through to completion.
In a nutshell, the traffic manager gets things done.
!
Duties may include, but are not limited to:
!
•
•
•
•
•
•
•
•
•
•
•
•
•
•
•
Reviews daily work schedule with createTWO staff, including account executives and the
creative team.
Acts as liaison between createTWO project management software and team, including adding
and assigning projects, to dos and due dates.
Revises schedules and distributes to all team members a daily "Priority List," reflecting the
most pressing jobs for the day and their current status. Also publishes a weekly production
status report to advise all team members of schedules and job status.
Expedites all "crisis" or rush jobs.
Contacts clients for any materials, information, etc., required to complete scheduled projects,
as directed by the account executive.
Reports any problems affecting job quality, due dates or costs to account executives.
Manages outside vendors for all projects, including working with designers to oversee press
checks, manage quality control, budget, timing, etc.
Ensures all material is properly approved by account executive and client, and facilitates all
client approval sheets, including filing those documents in createTWO's internal system.
Regulates time to allow for an internal review of all concepts with account executives.
Coordinates schedules of collateral materials to arrive before final deadlines.
Obtains quotes from any outside vendors, including photographers, printers, freelancers,
promotional product companies, etc.
Archives and maintains any in-house client mechanicals/original artwork, digital production file
backups and photo files according to the studio archiving process.
Maintains updated studio sample files.
Arranges delivery of samples to client and studio personnel for all completed jobs.
Prints, binds and collates materials for presentations and client meetings.
•
•
!
•
Maintains current computer skills related to daily job functions, including but not limited to
program and utility updates, updated software features, changes within the industry segments
in which we work, etc.
Screens all createTWO job applicants and schedules interviews with appropriate createTWO
management.
Delegates work to createTWO interns as needed.
Required Skills
!
•
•
•
•
•
•
!
•
Exceptional organizational skills and time management skills
Proficiency in Microsoft Office with extended knowledge of Microsoft Excel
Comfortable enforcing timelines across internal resources
Highly collaborative and flexible
Able to develop creative solutions and prioritize based on a changing environment.
Able to coordinate many projects and prioritize to meet deadlines in a fast paced, deadlinedriven environment.
Self-starter, energetic, resourceful and professional
Preferred Skills
!
!
•
•
•
•
Working knowledge of Adobe Creative Suite
Knowledge of basic printing terms and principles
Knowledge of the internal processes of a creative agency/studio
Previous traffic management experience
Job Identification
!
•
•
•
•
!
!
Education: Bachelor's Degree in Management, Public Relations, Communications, Graphic
Design, Marketing, Advertising or other related field
Experience: 1+ years of industry experience preferred
Classification: Exempt, full-time
Compensation: Competitive salary based upon qualifications and experience
To apply, please submit a resume, cover letter and references to Katy Doss at katy@createtwo.com.