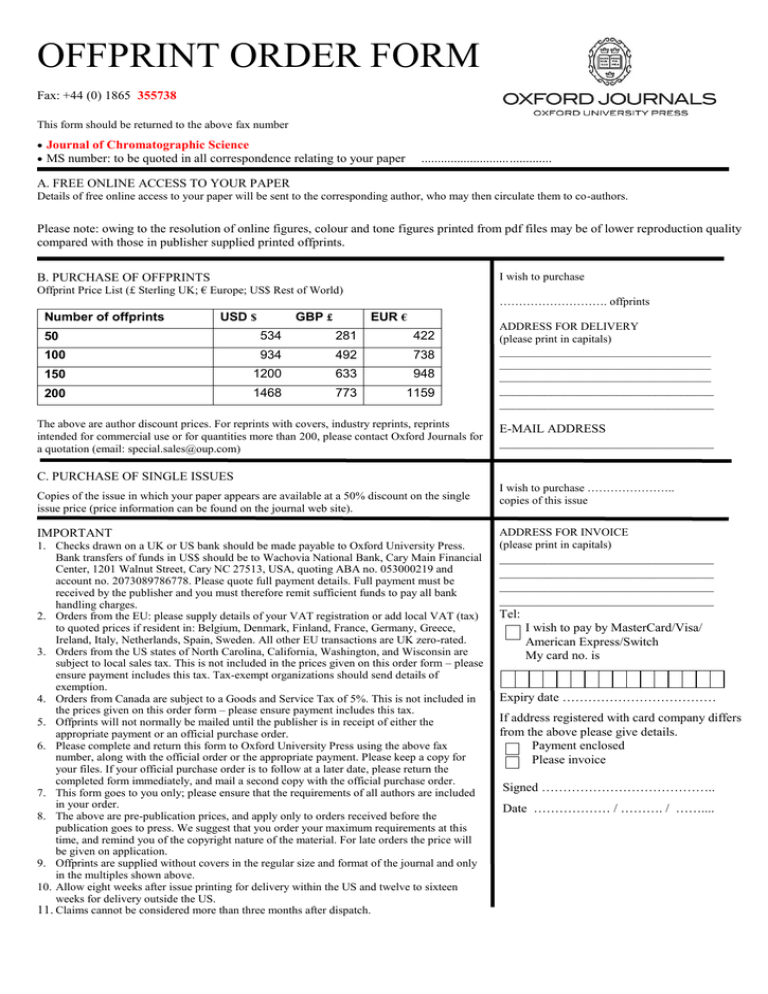 OFFPRINT ORDER FORM
Fax: +44 (0) 1865 355738
This form should be returned to the above fax number
 Journal of Chromatographic Science
 MS number: to be quoted in all correspondence relating to your paper
........................................
A. FREE ONLINE ACCESS TO YOUR PAPER
Details of free online access to your paper will be sent to the corresponding author, who may then circulate them to co-authors.
Please note: owing to the resolution of online figures, colour and tone figures printed from pdf files may be of lower reproduction quality
compared with those in publisher supplied printed offprints.
I wish to purchase
B. PURCHASE OF OFFPRINTS
Offprint Price List (£ Sterling UK; € Europe; US$ Rest of World)
Number of offprints
USD $
………………………. offprints
EUR €
GBP £
50
534
281
422
100
934
492
738
150
1200
633
948
200
1468
773
1159
The above are author discount prices. For reprints with covers, industry reprints, reprints
intended for commercial use or for quantities more than 200, please contact Oxford Journals for
a quotation (email: special.sales@oup.com)
C. PURCHASE OF SINGLE ISSUES
Copies of the issue in which your paper appears are available at a 50% discount on the single
issue price (price information can be found on the journal web site).
IMPORTANT
1. Checks drawn on a UK or US bank should be made payable to Oxford University Press.
Bank transfers of funds in US$ should be to Wachovia National Bank, Cary Main Financial
Center, 1201 Walnut Street, Cary NC 27513, USA, quoting ABA no. 053000219 and
account no. 2073089786778. Please quote full payment details. Full payment must be
received by the publisher and you must therefore remit sufficient funds to pay all bank
handling charges.
2. Orders from the EU: please supply details of your VAT registration or add local VAT (tax)
to quoted prices if resident in: Belgium, Denmark, Finland, France, Germany, Greece,
Ireland, Italy, Netherlands, Spain, Sweden. All other EU transactions are UK zero-rated.
3. Orders from the US states of North Carolina, California, Washington, and Wisconsin are
subject to local sales tax. This is not included in the prices given on this order form – please
ensure payment includes this tax. Tax-exempt organizations should send details of
exemption.
4. Orders from Canada are subject to a Goods and Service Tax of 5%. This is not included in
the prices given on this order form – please ensure payment includes this tax.
5. Offprints will not normally be mailed until the publisher is in receipt of either the
appropriate payment or an official purchase order.
6. Please complete and return this form to Oxford University Press using the above fax
number, along with the official order or the appropriate payment. Please keep a copy for
your files. If your official purchase order is to follow at a later date, please return the
completed form immediately, and mail a second copy with the official purchase order.
7. This form goes to you only; please ensure that the requirements of all authors are included
in your order.
8. The above are pre-publication prices, and apply only to orders received before the
publication goes to press. We suggest that you order your maximum requirements at this
time, and remind you of the copyright nature of the material. For late orders the price will
be given on application.
9. Offprints are supplied without covers in the regular size and format of the journal and only
in the multiples shown above.
10. Allow eight weeks after issue printing for delivery within the US and twelve to sixteen
weeks for delivery outside the US.
11. Claims cannot be considered more than three months after dispatch.
ADDRESS FOR DELIVERY
(please print in capitals)
____________________________________
____________________________________
____________________________________
_________________________________
_________________________________
E-MAIL ADDRESS
_________________________________
I wish to purchase …………………..
copies of this issue
ADDRESS FOR INVOICE
(please print in capitals)
_________________________________
_________________________________
_________________________________
_________________________________
Tel:
I wish to pay by MasterCard/Visa/
American Express/Switch
My card no. is
Expiry date ………………………………
If address registered with card company differs
from the above please give details.
Payment enclosed
Please invoice
Signed …………………………………..
Date ……………… / ………. / ……....