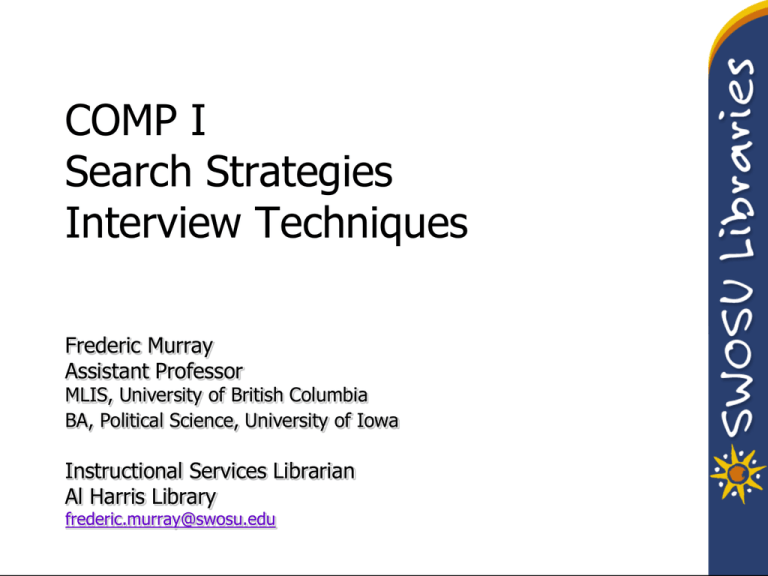 COMP I
Search Strategies
Interview Techniques
Frederic Murray
Assistant Professor
MLIS, University of British Columbia
BA, Political Science, University of Iowa
Instructional Services Librarian
Al Harris Library
frederic.murray@swosu.edu
Catalogs, Databases, & Search Engines
• A comprehensive list of the books, periodicals, maps,
and other materials in a given collection.
• A large, regularly updated file of digitized information
related to a specific subject or field.
• Computer software designed to help the user locate
information available at sites on the World Wide Web
by selecting categories from a hierarchical directory of
subjects (example: Yahoo!) or by entering
appropriate keywords or phrases (Google).
Search Techniques
• Keyword
• Basic Boolean
Identifying Keywords
• Identify the significant terms and
concepts that describe your topic from
your thesis statement or research
question.
• These terms will become the key for
searching catalogs, databases and
search engines for information about
your subject.
Research Question
What degree should I pursue to live well in
San Francisco?
Research Question
What career should I pursue to live well in
San Francisco?
Boolean
• AND = Narrow
• OR = Expand
• NOT = Exclude
Boolean Operators
• Connect keywords only
• Must be placed between keywords
• AND
– Narrows your search
• OR
– Expands your search with synonymous terms
• NOT
– Excludes words from your search
– If used too much, it can work against you!
Class Exercise
• Keyword Building Exercise
Topic: Cyber Security Careers in California
Cyber Security Careers
Digital
Crime
Cyber
Security
WWW
Code
Opportunity
Careers
Jobs
Databases
• Academic Search Complete (EBSCO)
• JSTOR
• Business Source Complete (Career)
Databases are Subject Specific
Class Exercise
• Using Business Source Complete locate
three articles on Cybersecurity Careers
• Archive them in your online Folder
Conducting an Interview
Outline: 5 Steps
•
•
•
•
•
Setting up the interview
Preparing for the interview
Coming up with Questions
Meeting with your interviewee
Following up on your interview
Setting up the Interview
• Contact the potential interviewee in
advance & set time & place
• Identify the topic that you will be
discussing during the interview
– Family History/Hometown/Career
Preparing for the Interview
• Prepare a list of questions in advance
• Find background information about the
interviewee
• Prioritize your questions and ask the
most important questions first
• Decide your goals for the interview
Coming Up with Questions
• Ask yourself: "What do I need to
know?"
• Write a list of things you want to find
out
• Write a list of questions that will help
your interviewee discuss this
information
How to ask good questions
• Ask leading questions rather than asking yes
or no questions
– Is Uncle John crazy ? (yes or no question)
– Why did Uncle John live alone in that shack for
so many years when he owned three houses?
(leading question)
• The response to a leading question will give
you more detail to support your research
Developing Good Questions
• Do as much research as possible in advance
on the person and/or topic you are working
on
• Sources might include
– Online Catalog (Ebooks)
– Databases
– World Wide Web
• Prepare your questions in advance in writing
and bring them to the interview.
Meeting the Interviewee
• Always bring a stiff-backed notebook
(and Pencils)
• If you wish to tape-record your
interview, always ask before doing so!
• Keep notes on the interview, but make
sure that you are still talking to the
interviewee, not just scribbling
Recording Apps
BE SURE YOU HAVE STORAGE SPACE
Library Equipment Resources
•
•
Circulating Multimedia Equipment & Useful Software
PMD620 is a rugged yet lightweight digital recorder (2)
–
•
Tabletop Microphone Included
Checkout for one day only
Meeting the Interviewee
• Bring your prepared list of questions to
the interview
• Try to stick to the topic at hand, but be
flexible if your interviewee brings up
unexpected but valuable information
Following up the Interview
• Always be sure to thank your
interviewee, orally and in writing
• Write your results soon after the
interview while they are fresh in your
mind
• Let your interviewee review your
findings in order to confirm that you
have represented him/her accurately
Conducting an Interview
• Conducting a successful interview
involves attention to each of the
following steps:
– Making contact to setup the interview
– Preparing for the interview
– Meeting the interviewee
– Following up on the interview
Class Exercise
• Team up groups of 2-3
• Imagine you are interviewing someone from a
county you have never visited.
• Locate information on that country using:
CIA World FactBook
• Develop Three Leading Questions
– Try them out on each other
Designing a Good PPT
• 5 minute speech use 5-8 slides
maximum (1 minute per slide)
• Less is More ( only use 3-4 elements
per slide)
• Rely on visuals not text
The World of Knowledge
• Evolving History of Writing
• Evolving History of Libraries
• Evolving History of Education
Libraries
Old & New
History of Writing
•
Add text
Questions?
• Contact me:
– Frederic Murray
• 774-7113
• frederic.murray@swosu.edu
Thanks!