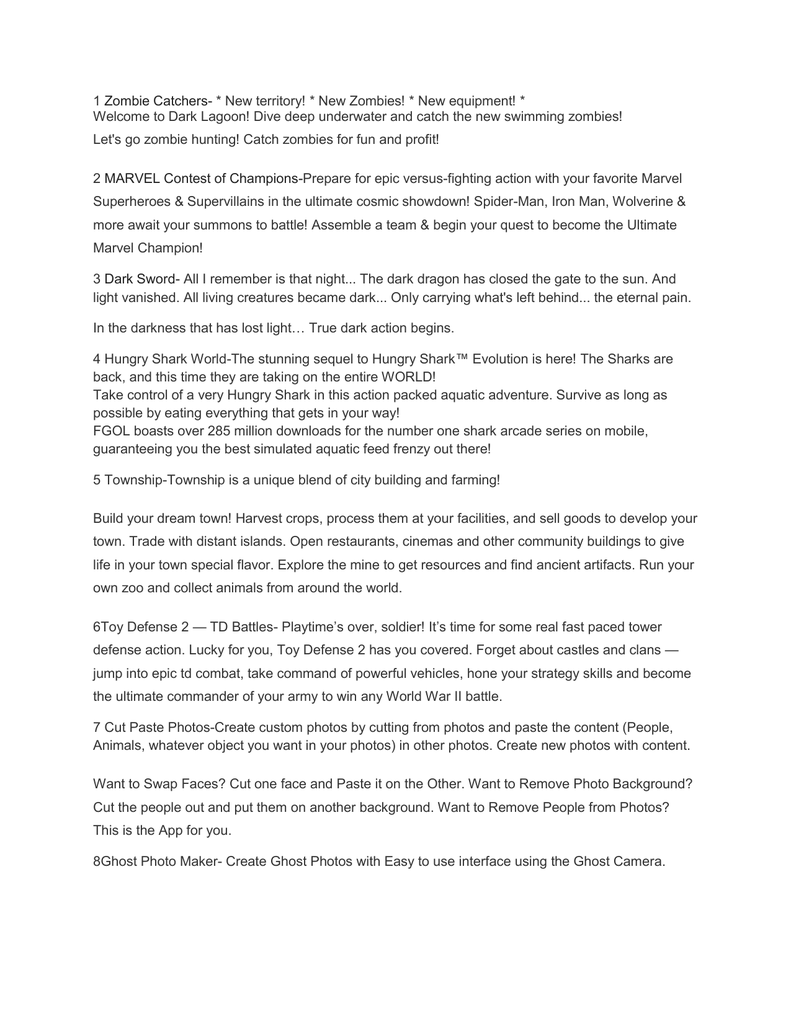 1 Zombie Catchers- * New territory! * New Zombies! * New equipment! *
Welcome to Dark Lagoon! Dive deep underwater and catch the new swimming zombies!
Let's go zombie hunting! Catch zombies for fun and profit!
2 MARVEL Contest of Champions-Prepare for epic versus-fighting action with your favorite Marvel
Superheroes & Supervillains in the ultimate cosmic showdown! Spider-Man, Iron Man, Wolverine &
more await your summons to battle! Assemble a team & begin your quest to become the Ultimate
Marvel Champion!
3 Dark Sword- All I remember is that night... The dark dragon has closed the gate to the sun. And
light vanished. All living creatures became dark... Only carrying what's left behind... the eternal pain.
In the darkness that has lost light… True dark action begins.
4 Hungry Shark World-The stunning sequel to Hungry Shark™ Evolution is here! The Sharks are
back, and this time they are taking on the entire WORLD!
Take control of a very Hungry Shark in this action packed aquatic adventure. Survive as long as
possible by eating everything that gets in your way!
FGOL boasts over 285 million downloads for the number one shark arcade series on mobile,
guaranteeing you the best simulated aquatic feed frenzy out there!
5 Township-Township is a unique blend of city building and farming!
Build your dream town! Harvest crops, process them at your facilities, and sell goods to develop your
town. Trade with distant islands. Open restaurants, cinemas and other community buildings to give
life in your town special flavor. Explore the mine to get resources and find ancient artifacts. Run your
own zoo and collect animals from around the world.
6Toy Defense 2 — TD Battles- Playtime's over, soldier! It's time for some real fast paced tower
defense action. Lucky for you, Toy Defense 2 has you covered. Forget about castles and clans —
jump into epic td combat, take command of powerful vehicles, hone your strategy skills and become
the ultimate commander of your army to win any World War II battle.
7 Cut Paste Photos-Create custom photos by cutting from photos and paste the content (People,
Animals, whatever object you want in your photos) in other photos. Create new photos with content.
Want to Swap Faces? Cut one face and Paste it on the Other. Want to Remove Photo Background?
Cut the people out and put them on another background. Want to Remove People from Photos?
This is the App for you.
8Ghost Photo Maker- Create Ghost Photos with Easy to use interface using the Ghost Camera.
Ghost Camera has 5 major Ghost Cameras.
1. Ghost camera to Create pictures showing as if your spirit is leaving the body or Pictures as if your
ghost is in same photos as you.
2. Cut your photos from any Picture and Make yourself a Ghost and Paste you as ghost on a Scary
background or Nature Backgrounds, Forest Backgrounds.
3. Scary Photo Frames to decorate your photos with Scary Photo Frames.
4. Ghost Stickers to add to your photos. Ghost Stickers like Scary Ghosts, Skulls, Skeletons can be
added to Photos.
5. Scary Live wallpapers include Ghost live wallpapers to choose from.
9 Creative Poster Funia Effect-Creative Poster Funia Effect is wonderful photo effect app. This
makes your photo more creative. Creative poster funia have big collection of creative frames to
make your photo memorable.
Feature:
* Select a photo either from the gallery or take photo using phone's camera.
* More than 40 different creative poster frames for any picture.
* Pinch zooms in /zooms out and rotate feature allow you to adjust your photo.
* You can share them on any social media like Facebook, whats app, Instagram and many more.
* Save your photos with beautiful nature frames.
10Background Eraser- Features
"Auto" mode
・Erase similar pixels automatically.
"Extract" mode
・Select and erase objects which you want to remove accurately, by using blue & red markers.
it's very important to make a picture's background transparent accurately
if you want to superimpose photos and make good composite photos.
By using this app, you can do it better.
11MomentCam Cartoons & Stickers- FEATURES:
CREATE your own PERSONALIZED cartoons and animated emoticons.
PERSONALIZE your background with our latest feature!
ENGAGE in activities to win prizes by sharing your creations with the MomentCam community.
12 Picture Quotes- to create photo text on images supports three types of images:
1. Photos from Your Gallery.
2. Various Categories of Photos Pre designed by for following Messages:
a. Love Messages on Photos.
b. Birthday Messages with Birthday Photo Backgrounds.
c. Wedding Messages with Wedding Photo Backgrounds.
d. Vacation Quotes with Vacation Photo Backgrounds.
e. Friendship Quotes with Friends Photos.
f. Family Quotes with Family Photos.
g. Funny Quotes with Funny Photos.
h. Famous Quotes with Famous people Photos and Famous Backgrounds.
13Angry Birds Action!- Pull, aim, action! Send the birds of the Angry Birds Movie crashing through
obstacles and bouncing from wall to wall like a wrecking ball – all in the name of saving some eggs.
Explore the world of The Angry Birds Movie for the first time ever in Angry Birds Action!
– Pinball meets anger!
Pull back and send Red and his flock of friends careening into obstacles to save the eggs and collect
valuable items.
14Endless Run Magic Stone-FEATURES:
• Free game!
• 2 characters: A male warrior and female scout
• Level up & collect armor sets, weapons and upgrade abilities
• 4 different fantasy worlds: castle, jungle, clockwork forest and clockwork factory
• Battle against dragons, knights, goblins, clockworks and more
• Unique one-touch battle system
• Beautiful 3D HD graphics
15Larva Jump: Episode3 - Game Features 1. Select the Red and Yellow Perform the City Escape Mission ! (500 layers)
- Larva veterans who ventured to escape must escape the monster jump over the plant to continue .
(If you jump late or delayed time to hold out and eat plants )
2. Items underground dungeon escape skills
Super jump: jump a certain height floor to go up at once wonderful skills
- Magnet: Items that automatically absorbs the Vienna sausages and gold
- Invincible : You do not fly the body grows in size scare turned into invincible.
3. The character possesses unique abilities Stars ( other characters during a later update)
- Red : No
- Yellow : Fever Mode 2 seconds increment
16 PEPI Bike 3D-Speed Up, Jump Up many buildings and obstacles as fast as you can!
PEPI Bike 3D is a free game with a lot of challenge, players and levels to Unlock!
It's easy and fun to Play! You need to perform the tricks and avoid crashing against buildings and
obstacles!
17TETRIS®- FREE YOURSELF! Play the world famous Tetris® game you know and love with
improved controls and all-new social features.
18PAC-MAN Bounce- SWEET FEATURES:
◆ MIND-BOGGLING LEVELS! Bounce across more than 100 unique levels.
◆ DELICIOUS WORLDS! Spring your way through 10 flavorful worlds made of tasty snacks.
◆ ENEMIES TO CHEW ON! Dodge dangerous obstacles and enemies including the infamous ghost
gang: Blinky, Inky, Pinky, and Clyde.
◆ FRIENDS TO OUTSMART! Compete against your Facebook friends.
19 SLIDE PUZZLE-Make your own customized slide puzzle with letters, numbers, colors,
shapes and photos. You can use custom pictures from your phone/tablet, use the camera, or fetch
any photo from the Internet. With an internal library of photos, you can store youir own photos as
favorites. A few photo samples are included for you to start playing immediately.
20 Power Level Warrior-From the maker of Legends Within comes Power Level Warrior. Fight your
way trough challenges! Collect power balls and and dragon crystals and buy new locations.
Customize your character and unlock super transformations which will further increase your power
level. Have a ball while playing and training your dragon warrior!
Features:
Fast battle system
Various moves to master
Energy blasts and waves
Stunning cell shaded anime graphics
Character stat customization
7 transformations to unlock
8 locations to unlock
156 challenges to complete
21SoulCraft - Action RPG -The Action RPG SoulCraft is the best free Action RPG game for Android.
If you have been a range hunter or melee demon in enough dungeon crawlers and slayers, seen all
the loot, blood & glory and wraith, cleared the crime city, feel like you have been a warrior for all
eternity already fighting dragons, answer the call, fight for the torchlight of hope, do your duty and
choose to be a legendary hero (or heroes of destiny if you will) in the action role playing game
SoulCraft. Pick your ninja gun bros (or sister) and put the order back into the world of chaos. Put the
game in your pockets and you will always have arcane legends with you. Be the star in the dark,
unleash your wild blood and fulfill your final fantasy ;)
22Despicable Me-Experience the brand-new Despicable Me: Minion Rush! Gru's loyal yellow
mischievous Minions are ready for their tastiest challenge yet: Collecting exotic fruits to make
yummy jelly! Jump, roll, dodge and scramble against others in fun, fast-paced missions.
ALL THE FUN AND ANTICS OF DESPICABLE ME
• Enjoy unpredictably hilarious Minion moments
• Perform despicable acts through hundreds of missions
• Run through iconic locations that are full of surprises, secrets and tricky obstacles: Gru's Lab, Gru's
Residential Area, El Macho's Lair, Minion Beach and Super Silly Fun Land from Despicable Me
• Customize your Minion with unique costumes, weapons, and power-ups
• Battle Vector, El Macho, the Villaintriloquist and all the new villains exclusively created for the
game
• Race against other players' Minions in Minion Races mode
23Zombie World War-Nobody thought it would come to this. What started with a few isolated cases
has now become a fight for the survival of the human race. This is Zombie World War.
The virus spread like wildfire and those infected became the walking dead. With so much panic,
society quickly crumbled and governments soon lost control . Now, survivors such as yourself are
the last line of defence for the human race.
24Glow Hockey-Glow Hockey delivers a new style of hockey game. Easy to play, hard to master.
Challenge yourself with the computer opponents!
FEATURES:
+ 2-player mode (on the same device).
+ 2 themes.
+ Colorful glow graphics.
+ Smooth and responsive game play.
+ Realistic physics.
+ Quick play mode (single player), challenge yourself with 4 difficulty levels (easy to insane).
+ 4 selectable paddles and pucks.
+ Vibrate when goal.
25Don't Tap The White Tile-How To Play:
The rules are clear: play your piano but don't ever touch the white tiles.
Sound easy? Give it a try, and see how well you stack up against your friends.
Features
◈ Many awesome game modes so you never get bored
◈ Friend leader boards (Facebook/Twitter)
◈ Customizable classical piano soundtrack
◈ Multicolored themes & dozens of color options
◈ Smooth gameplay
◈ Optimized for high resolution screens
◈ Community support
26Plants vs. Zombies-Get ready to soil your plants as a mob of fun-loving zombies is about to
invade your home. Use your arsenal of 49 zombie-zapping plants — peashooters, wall-nuts, cherry
bombs and more — to mulchify 26 types of zombies before they break down your door.
278 Ball Pool-COMPETE 1-ON-1 OR IN 8 PLAYER TOURNAMENTS
Refine your skills in the practice arena, take on the world in 1-vs-1 matches, or enter tournaments to
win trophies and exclusive cues!
PLAY FOR POOL COINS AND EXCLUSIVE ITEMS
Customize your cue and table! In every competitive 1-vs-1 match you play, there'll be Pool Coins at
stake – win the match and the Coins are yours. You can use these to enter higher ranked matches
with bigger stakes, or to buy new items in the Pool Shop.
CHALLENGE YOUR FRIENDS
Playing friends is easy: sign in with your Miniclip or Facebook account and you'll be able to
challenge your friends straight from the game. Challenge friends anytime, anywhere and show off
your skills.