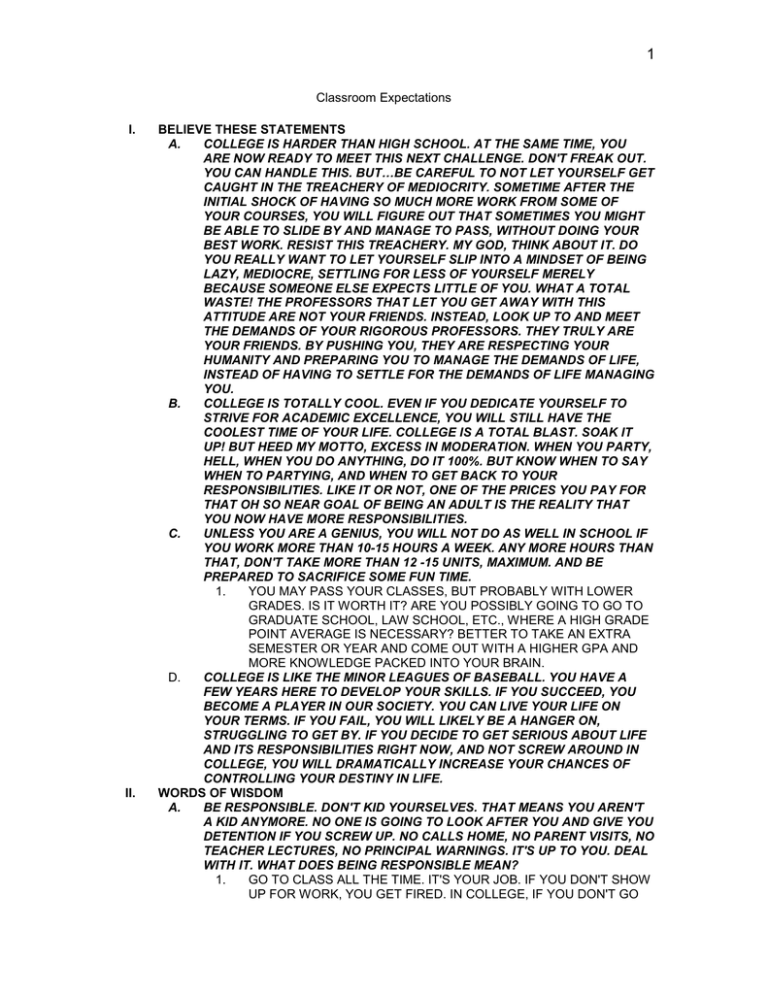 1
Classroom Expectations
I.
II.
BELIEVE THESE STATEMENTS
A.
COLLEGE IS HARDER THAN HIGH SCHOOL. AT THE SAME TIME, YOU
ARE NOW READY TO MEET THIS NEXT CHALLENGE. DON'T FREAK OUT.
YOU CAN HANDLE THIS. BUT…BE CAREFUL TO NOT LET YOURSELF GET
CAUGHT IN THE TREACHERY OF MEDIOCRITY. SOMETIME AFTER THE
INITIAL SHOCK OF HAVING SO MUCH MORE WORK FROM SOME OF
YOUR COURSES, YOU WILL FIGURE OUT THAT SOMETIMES YOU MIGHT
BE ABLE TO SLIDE BY AND MANAGE TO PASS, WITHOUT DOING YOUR
BEST WORK. RESIST THIS TREACHERY. MY GOD, THINK ABOUT IT. DO
YOU REALLY WANT TO LET YOURSELF SLIP INTO A MINDSET OF BEING
LAZY, MEDIOCRE, SETTLING FOR LESS OF YOURSELF MERELY
BECAUSE SOMEONE ELSE EXPECTS LITTLE OF YOU. WHAT A TOTAL
WASTE! THE PROFESSORS THAT LET YOU GET AWAY WITH THIS
ATTITUDE ARE NOT YOUR FRIENDS. INSTEAD, LOOK UP TO AND MEET
THE DEMANDS OF YOUR RIGOROUS PROFESSORS. THEY TRULY ARE
YOUR FRIENDS. BY PUSHING YOU, THEY ARE RESPECTING YOUR
HUMANITY AND PREPARING YOU TO MANAGE THE DEMANDS OF LIFE,
INSTEAD OF HAVING TO SETTLE FOR THE DEMANDS OF LIFE MANAGING
YOU.
B.
COLLEGE IS TOTALLY COOL. EVEN IF YOU DEDICATE YOURSELF TO
STRIVE FOR ACADEMIC EXCELLENCE, YOU WILL STILL HAVE THE
COOLEST TIME OF YOUR LIFE. COLLEGE IS A TOTAL BLAST. SOAK IT
UP! BUT HEED MY MOTTO, EXCESS IN MODERATION. WHEN YOU PARTY,
HELL, WHEN YOU DO ANYTHING, DO IT 100%. BUT KNOW WHEN TO SAY
WHEN TO PARTYING, AND WHEN TO GET BACK TO YOUR
RESPONSIBILITIES. LIKE IT OR NOT, ONE OF THE PRICES YOU PAY FOR
THAT OH SO NEAR GOAL OF BEING AN ADULT IS THE REALITY THAT
YOU NOW HAVE MORE RESPONSIBILITIES.
C.
UNLESS YOU ARE A GENIUS, YOU WILL NOT DO AS WELL IN SCHOOL IF
YOU WORK MORE THAN 10-15 HOURS A WEEK. ANY MORE HOURS THAN
THAT, DON'T TAKE MORE THAN 12 -15 UNITS, MAXIMUM. AND BE
PREPARED TO SACRIFICE SOME FUN TIME.
1.
YOU MAY PASS YOUR CLASSES, BUT PROBABLY WITH LOWER
GRADES. IS IT WORTH IT? ARE YOU POSSIBLY GOING TO GO TO
GRADUATE SCHOOL, LAW SCHOOL, ETC., WHERE A HIGH GRADE
POINT AVERAGE IS NECESSARY? BETTER TO TAKE AN EXTRA
SEMESTER OR YEAR AND COME OUT WITH A HIGHER GPA AND
MORE KNOWLEDGE PACKED INTO YOUR BRAIN.
D.
COLLEGE IS LIKE THE MINOR LEAGUES OF BASEBALL. YOU HAVE A
FEW YEARS HERE TO DEVELOP YOUR SKILLS. IF YOU SUCCEED, YOU
BECOME A PLAYER IN OUR SOCIETY. YOU CAN LIVE YOUR LIFE ON
YOUR TERMS. IF YOU FAIL, YOU WILL LIKELY BE A HANGER ON,
STRUGGLING TO GET BY. IF YOU DECIDE TO GET SERIOUS ABOUT LIFE
AND ITS RESPONSIBILITIES RIGHT NOW, AND NOT SCREW AROUND IN
COLLEGE, YOU WILL DRAMATICALLY INCREASE YOUR CHANCES OF
CONTROLLING YOUR DESTINY IN LIFE.
WORDS OF WISDOM
A.
BE RESPONSIBLE. DON'T KID YOURSELVES. THAT MEANS YOU AREN'T
A KID ANYMORE. NO ONE IS GOING TO LOOK AFTER YOU AND GIVE YOU
DETENTION IF YOU SCREW UP. NO CALLS HOME, NO PARENT VISITS, NO
TEACHER LECTURES, NO PRINCIPAL WARNINGS. IT'S UP TO YOU. DEAL
WITH IT. WHAT DOES BEING RESPONSIBLE MEAN?
1.
GO TO CLASS ALL THE TIME. IT'S YOUR JOB. IF YOU DON'T SHOW
UP FOR WORK, YOU GET FIRED. IN COLLEGE, IF YOU DON'T GO
2
2.
3.
4.
5.
6.
7.
8.
9.
TO CLASS, NO ONE YELLS AT YOU, NO ONE PUNISHES YOU.
INSTEAD, YOU JUST DON'T LEARN. THEN WHEN TEST TIME
COMES AROUND, YOU ARE COOKED.
LISTEN AND THINK. BEING THERE DOESN'T MEAN JACK IF YOU
DON'T MELD YOUR ATTENTION TO WHAT'S GOING ON IN THE
CLASS. DON'T THINK ABOUT HOW YOU GOT LAID LAST NIGHT,
HOW MUCH FUN YOU'RE GOING TO HAVE AT THE PARTY NEXT
WEEKEND, WHATEVER. THINK ABOUT WHAT'S GOING ON IN
CLASS.
DON'T LET A BAD PROFESSOR OR A BORING CLASS KEEP YOU
FROM DOING YOUR BEST. ANYONE CAN DO A GOOD JOB AT
SOMETHING THEY LIKE. BEING EXCELLENT MEANS DOING YOUR
BEST EVEN WHEN THE CIRCUMSTANCES ARE TOUGH. DON'T
EVER USE ANYTHING AS A JUSTIFICATION FOR WHY YOU DON'T
NEED TO DO YOUR BEST.
READ YOUR NOTES EACH NIGHT AND FILL IN THE VOIDS. THIS IS
SO IMPORTANT.
DO YOUR READING ASSIGNMENTS BEFORE YOU HEAR
LECTURES ON THE TOPIC. YOU WILL UNDERSTAND MORE OF
BOTH. IF YOU READ SOMETHING AND THE PROFESSOR DOESN'T
GET TO IT THAT CLASS DAY, SPEND A MINUTE OR TWO
REVIEWING THE READING BEFORE THE NEXT CLASS TO
REFRESH YOUR MEMORY.
WHEN YOU READ, SLOW DOWN. THE GOAL IS NOT TO READ IT
FAST BUT READ IT WELL. DON'T JUST UNDERLINE WHAT YOU
THINK IS IMPORTANT IN YOUR READING, WRITE IN YOUR BOOKS
TOO. SUCCINCTLY SUMMARIZE A KEY THEME IN A WORD OR
TWO. DOING SO FORCES YOU TO THINK ABOUT WHAT YOU ARE
READING. THUMB THROUGH THE CHAPTERS AND SEE WHAT THE
SUBSECTION TITLES ARE. IN LESS THAN 30 SECONDS, YOU CAN
GET A ROUGH IDEA OF WHAT THE READING IS GOING TO BE
ABOUT. KNOWING THAT BEFORE YOU START READING WILL
HELP YOU UNDERSTAND MORE. WHAT GOOD IS READING
SOMETHING FAST IF YOU CAN'T REMEMBER ITS DETAILS? NOT
MUCH ON TEST DAY.
DON'T GET DISCOURAGED AT HOW MUCH SCHOOL WORK YOU
HAVE. KEEP PLUGGING AWAY, DAY AFTER DAY. MAKE
PROGRESS. YOU CAN'T SEE THE LIGHT AT THE END OF THE
TUNNEL TILL YOU GET DAMN NEAR THE END OF THE TUNNEL.
USE OFFICE HOURS. GET TO KNOW YOUR PROFESSOR. EVEN
MORE IMPORTANT, MAKE SURE THEY GET TO KNOW YOU. HOW
MANY MORE TIMES WILL A PROFESSOR GIVE YOU THE BENEFIT
OF THE DOUBT IF THE PROFESSOR KNOWS YOU, KNOWS YOU
ARE A SERIOUS STUDENT AND HAS TAKEN THE INITIATIVE TO
TRY TO LEARN THE MATERIAL. NOW THINK, 5 COURSES PER
SEMESTER, TIMES 2 SEMESTERS, TIMES 4 YEARS EQUAL 40
THREE UNIT COURSES. I GUARANTEE IF YOU GET TO KNOW
YOUR PROFESSORS AND TALK WITH THEM YOU WILL GET
BETTER GRADES. REMEMBER, AT SAN JOSE STATE, WE GIVE
PLUSSES AND MINUSES SO IT REALLY IS NOT THAT HARD TO
GIVE A STUDENT THE NEXT HIGHER GRADE. GET TO KNOW
YOUR PROFESSORS SO THEY GET TO KNOW YOU!
USE UNIVERSITY RESOURCES. TUTORS, MENTORS, COMPUTER
LABS, LIBRARIES, COUNSELING SERVICES, HEALTH CENTERS,
CLUBS. GO TO THE INFORMATION DESK AT THE STUDENT UNION
AND FIND OUT WHAT'S AVAILABLE FOR STUDENTS. GO TO THE
3
10.
11.
12.
13.
14.
ASSOCIATED STUDENTS OFFICE IN THE STUDENT UNION AND
FIND OUT WHAT'S AVAILABLE. THERE IS TONS OF SUPPORT
WAITING TO TAPPED BY STUDENTS THAT REALLY ARE HELPFUL.
FIND THEM.
LEARN THE LIBRARY. YOU GUYS ARE SOOOOO LUCKY TO HAVE
ELECTRONIC MEANS OF DOING RESEARCH. WHAT USED TO
TAKES WEEKS OF 8 TO 5 DAYS IN A LIBRARY HAS BEEN
REDUCED TO LITERALLY SECONDS. TAKE A LIBRARY TOUR. FIND
OUT WHAT THE LIBRARY HAS AND INVEST SOME TIME TO LEARN
HOW TO USE THE MYRIAD LIBRARY SEARCHING RESOURCES.
THE QUICKNESS AND EASE IN WHICH THE PRINTED PAGE
GRACES YOUR CONSCIOUSNESS THESE DAYS IS NOTHING
SHORT OF REMARKABLE. THAT PUTS THE PRESSURE ON YOU
GUYS. IT IS NOW EASY AND FAST TO GET ALL THE INFORMATION
YOU NEED TO EXCEL. IF YOU DON'T GET IT, YOU ARE JUST PLAIN
LAZY.
CAREFULLY READ THE UNIVERSITY CATALOGUE, ESPECIALLY
ALL OF THE INFORMATION ABOUT UNIVERSITY LIFE, UNIVERSITY
REQUIREMENTS AND RESOURCES AVAILABLE FOR STUDENTS.
JUST ABOUT EVERYTHING A STUDENT COULD EVER NEED TO
KNOW WILL BE IN THE UNIVERSITY CATALOGUE. OF COURSE,
YOU DON'T HAVE TO READ THE SEVERAL HUNDRED PAGES OF
COURSE DESCRIPTIONS IN THE MIDDLE OF THE CATALOGUE BUT
IT WILL DEFINITELY HELP TO AT LEAST LOOK AT THE
DEPARTMENT COURSE OFFERINGS AND REQUIREMENTS THAT
INTEREST YOU.
DO MORE THAN IS REQUIRED. IF YOU ARE STUDYING FOR A TEST
AND SOMETHING IN YOUR READINGS DOES NOT QUITE MAKE
SENSE, GO ONLINE, GO TO THE LIBRARY, TALK TO THE
PROFESSOR, DO WHAT IT TAKES TO UNDERSTAND THE THING.
MY BEST STUDENTS ARE ALWAYS USING OTHER SOURCES TO
COMPLEMENT THE CLASS RESOURCES WHEN THE CLASS
RESOURCES LEAVES THEM UNCERTAIN ABOUT SOMETHING.
NO MATTER WHAT YOUR MAJOR IS, USE COLLEGE AS AN
OPPORTUNITY TO WORK ON YOUR WRITING SKILLS. PUSH
YOURSELF. WRITING IS HARD BUT ABSOLUTELY INDISPENSABLE
IN YOUR LIFE. EVEN IF YOU ARE BRILLIANT INSIDE YOUR HEAD,
YOU WILL BE JUDGED A STUPID PERSON IF YOU CAN'T WRITE
LIKE AN INTELLIGENT HUMAN BEING. WRITING IS ONE OF THE
MOST IMPORTANT TOOLS YOU HAVE TO CONVEY WHAT YOU
KNOW. TALKING IS NICE, HAND AND FACE GESTURES ARE NICE,
PHYSICALLY DEMONSTRATING WHAT YOU KNOW IS NICE, BUT
WRITING, IF YOU CAN'T DO THAT, YOU'RE DEAD BEFORE YOU
START. RESIST BEING EMBARRASSED WHEN YOUR
PROFESSORS PUSH YOU TO WRITE BETTER. THEY ARE DOING
YOU A FAVOR. MAKE IT ONE OF YOUR MOST IMPORTANT GOALS
TO ACTIVELY TRY TO WRITE BETTER. TAKE COURSES THAT
TEACH YOU WRITING. TAKE COURSES THAT WILL MAKE YOU
PRACTICE WRITING.
LEARN WHAT IT MEANS TO NOT PLAGIARIZE. WHEN I CATCH
SOMEONE PLAGIARIZING, THEY FAIL THE CLASS. THEY COULD
BE KICKED OUT OF SCHOOL. HOW SELFISH AND LAZY ONE IS TO
PLAGIARIZE. THINK ABOUT IT. SOME DUDE, THOUGHT ABOUT
SOMETHING, WROTE THOSE THOUGHTS DOWN ON PAPER AND
IS FREELY HAVING THOSE THOUGHTS DISTRIBUTED SO OTHER
PEOPLE LIKE YOU CAN READ AND LEARN FROM THEM. IS IT SO
4
III.
MUCH TO ASK TO MENTION WHO THE AUTHOR IS OF THE THING
THAT YOU FOUND HELPFUL TO MEET YOUR RESPONSIBILITIES?
WHAT A NICE DUDE THE AUTHOR WAS. DON'T STEAL THEIR
IDEAS, JUST GIVE THEM CREDIT.
THINGS YOU CAN DO TO HELP YOU IN THE CLASSROOM
A.
LOOK ATTENTIVE IN CLASS. YOU MAY BE BORED SILLY BUT LOOK
ATTENTIVE.
B.
BE CIVIL. THAT DOES NOT MEAN BE DOCILE. THAT DOES NOT MEAN BE
INVISIBLE. IT MEANS BE KIND, BE POLITE, BE RESPECTFUL. YOU
WOULD BE AMAZED AT HOW MUCH PEOPLE ARE WILLING TO DO FOR
YOU, HOW MUCH MORE WILLING THEY ARE TO SEE YOUR SIDE, HOW
MUCH MORE WILLING THEY ARE TO DEFEND YOU WHEN YOU ARE
SIMPLY NICE TO THEM.
C.
LET A PROFESSOR KNOW IN ADVANCE IF YOU CAN'T MAKE A CLASS.
D.
POLITELY AND BRIEFLY APOLOGIZE TO THE PROFESSOR AFTER CLASS
WHEN YOU COME IN LATE. YOU WILL NOTICE HOW PEOPLE COMING IN
LATE TEMPORARILY FREEZES EVERYONE'S CONCENTRATION.
E.
THIS AIN'T JUNIOR HIGH, EVEN THOUGH SOME PEOPLE STILL ACT LIKE
THEY ARE IN JUNIOR HIGH. ACTING LIKE A SMART ALEK 13 YEAR OLD
MAY BE COOL AS DETERMINED BY OTHER 13 YEAR OLDS BUT YOU
WON'T FIND THEM IN YOUR CLASSES. THE PEOPLE WHO ARE IN YOUR
CLASSES WILL JUST THINK YOU ARE ANNOYING AND STUPID. SO WILL
YOUR PROFESSORS, EVEN THE COOL ONES.
F.
FIGURE OUT WHO SEEM TO KNOW WHAT'S GOING ON IN CLASS. WHO
SEEMS RESPONSIBLE, WHO SEEMS PREPARED WHO SEEMS TO
GATHER THE PROFESSOR'S NOTICE. MEET THEM SOMEHOW. START A
BRIEF CONVERSATION ABOUT SOMETHING ABOUT THAT CLASS. THERE
IS POWER IN GROUPS. OTHER STUDENTS, ESPECIALLY THE GOOD
ONES, HELP EACH OTHER.
G.
JOIN A STUDY GROUP AND BE SERIOUS ABOUT BEING AS PREPARED
AS YOU CAN BEFORE YOU WALK INTO THE STUDY GROUP. YOU WOULD
BE AMAZED AT HOW MUCH MORE EVEN A GOOD STUDENT WILL LEARN
IN A GOOD STUDY GROUP. IF YOU MOOCH OFF OF OTHERS IN A STUDY
GROUP BECAUSE YOU WEREN'T PREPARED, WELL NUTS TO YOU.
TOUGH SHIT IF THEY KICK YOU OUT.
H.
KNOW THE SYLLABUS, OR GREEN SHEET. A GOOD ONE WILL TELL YOU
EVERYTHING YOU SHOULD KNOW ABOUT WHAT TO DO TO SUCCEED IN
CLASS. A BAD ONE, AT THE VERY LEAST SHOULD GIVE YOU BASIC
INFORMATION ABOUT VARIOUS ASPECTS OF THE CLASS.
I.
ASK QUESTIONS. DON'T BE SHY. TWO THINGS HAPPEN AND ONE THING
DOES NOT HAPPEN WHEN YOU ASK QUESTIONS. ONE THING THAT
HAPPENS IS THAT YOU LEARN SOMETHING WHEN YOU HEAR THE
ANSWER TO THE QUESTION. ANOTHER THING THAT HAPPENS IS THE
PROFESSOR TAKES NOTICE OF A STUDENT THAT SEEMS SERIOUS AND
INTERESTED. ONE THING THAT DOES NOT HAPPEN IS CONTRARY TO
WHAT YOU THINK OTHERS MAY BE THINKING ABOUT YOU WHEN YOU
ASK A QUESTION, THEY WILL NOT THINK YOU ARE STUPID. AT THE
VERY LEAST, SOME OTHER STUDENTS JUST DON'T THINK AT ALL,
WHAT A PITY. BEYOND THAT, MOST WILL BE GLAD TO HAVE SOME
POINT REITERATED BECAUSE SOMEONE ASKED A QUESTION. BELIEVE
ME, IF YOU DON'T KNOW SOMETHING, IT IS BETTER TO LEARN IT
BEFORE YOU TAKE A TEST THAN AFTERWARD, AS YOU FIND OUT WHAT
YOU MISSED THAT BAGGED YOU AN UNNECESSARILY LOW GRADE.
J.
WHEN YOU TAKE NOTES, TRY YOUR BEST TO SYNTHESIZE THE MAIN
IDEAS OF LECTURE. MAKE A NOTE IF YOU CAN'T FINISH A THOUGHT SO
YOU REMEMBER TO GO BACK LATER AND FILL IN THE IDEA. IF YOU
5
K.
CAN'T REMEMBER WHAT TO WRITE DOWN, CALL THE PROFESSOR THE
NEXT DAY AND ASK WHAT THE POINT WAS TO WRITE DOWN.
STUDY FOR A BIG TEST SOME OVER A TWO OR THREE DAY PERIOD.
DON'T CRAM IF YOU CAN HELP IT. YOU MAY REMEMBER WHAT YOU ARE
CRAMMING BUT YOU WILL NOT BE ABLE TO APPRECIATE THE FULL
IMPACT OF THE MATERIAL IF YOU CRAM.