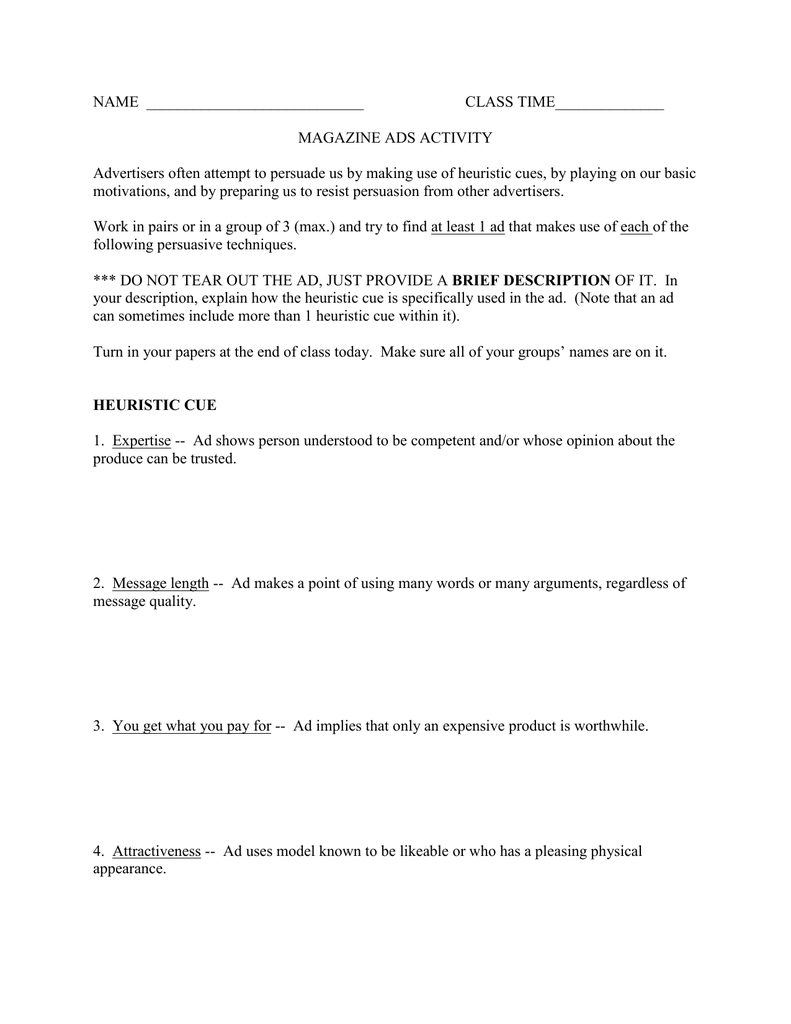 NAME ____________________________
CLASS TIME______________
MAGAZINE ADS ACTIVITY
Advertisers often attempt to persuade us by making use of heuristic cues, by playing on our basic
motivations, and by preparing us to resist persuasion from other advertisers.
Work in pairs or in a group of 3 (max.) and try to find at least 1 ad that makes use of each of the
following persuasive techniques.
*** DO NOT TEAR OUT THE AD, JUST PROVIDE A BRIEF DESCRIPTION OF IT. In
your description, explain how the heuristic cue is specifically used in the ad. (Note that an ad
can sometimes include more than 1 heuristic cue within it).
Turn in your papers at the end of class today. Make sure all of your groups' names are on it.
HEURISTIC CUE
1. Expertise -- Ad shows person understood to be competent and/or whose opinion about the
produce can be trusted.
2. Message length -- Ad makes a point of using many words or many arguments, regardless of
message quality.
3. You get what you pay for -- Ad implies that only an expensive product is worthwhile.
4. Attractiveness -- Ad uses model known to be likeable or who has a pleasing physical
appearance.
5. Fear appeal -- Ad uses scare tactics, suggesting possible problem or crisis if product is not
used.
6. Appeal to Motive for Mastery -- Ad implies that product will make user competent, skillful,
or in control.
7. Appeal to Motive for Connectedness -- Ad suggests that using product will make one fit in
and/or be like other people.
8. Use of classical conditioning -- Ad connects product to scene or image that already elicits a
positive response.
9. Buzz words -- Ad employs terms such as "new," "natural", or "lite".
10. Inoculation -- Ad promotes product and refutes claims of competitors.