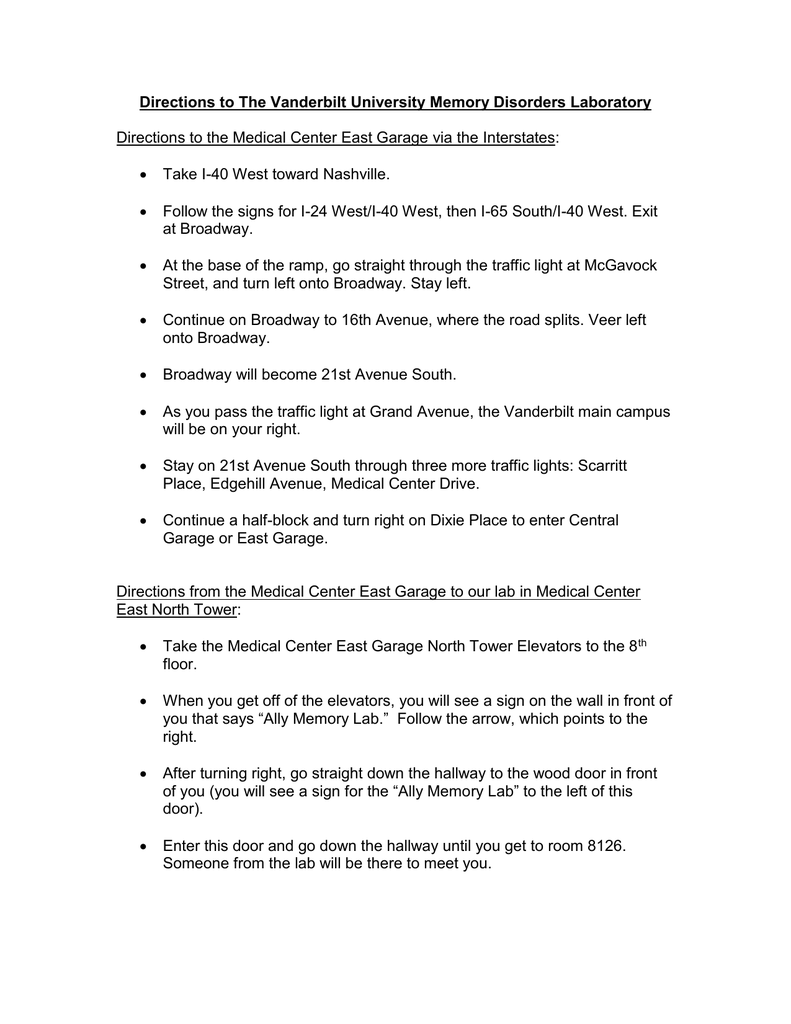 Directions to The Vanderbilt University Memory Disorders Laboratory
Directions to the Medical Center East Garage via the Interstates:

Take I-40 West toward Nashville.

Follow the signs for I-24 West/I-40 West, then I-65 South/I-40 West. Exit
at Broadway.

At the base of the ramp, go straight through the traffic light at McGavock
Street, and turn left onto Broadway. Stay left.

Continue on Broadway to 16th Avenue, where the road splits. Veer left
onto Broadway.

Broadway will become 21st Avenue South.

As you pass the traffic light at Grand Avenue, the Vanderbilt main campus
will be on your right.

Stay on 21st Avenue South through three more traffic lights: Scarritt
Place, Edgehill Avenue, Medical Center Drive.

Continue a half-block and turn right on Dixie Place to enter Central
Garage or East Garage.
Directions from the Medical Center East Garage to our lab in Medical Center
East North Tower:

Take the Medical Center East Garage North Tower Elevators to the 8 th
floor.

When you get off of the elevators, you will see a sign on the wall in front of
you that says "Ally Memory Lab." Follow the arrow, which points to the
right.

After turning right, go straight down the hallway to the wood door in front
of you (you will see a sign for the "Ally Memory Lab" to the left of this
door).

Enter this door and go down the hallway until you get to room 8126.
Someone from the lab will be there to meet you.