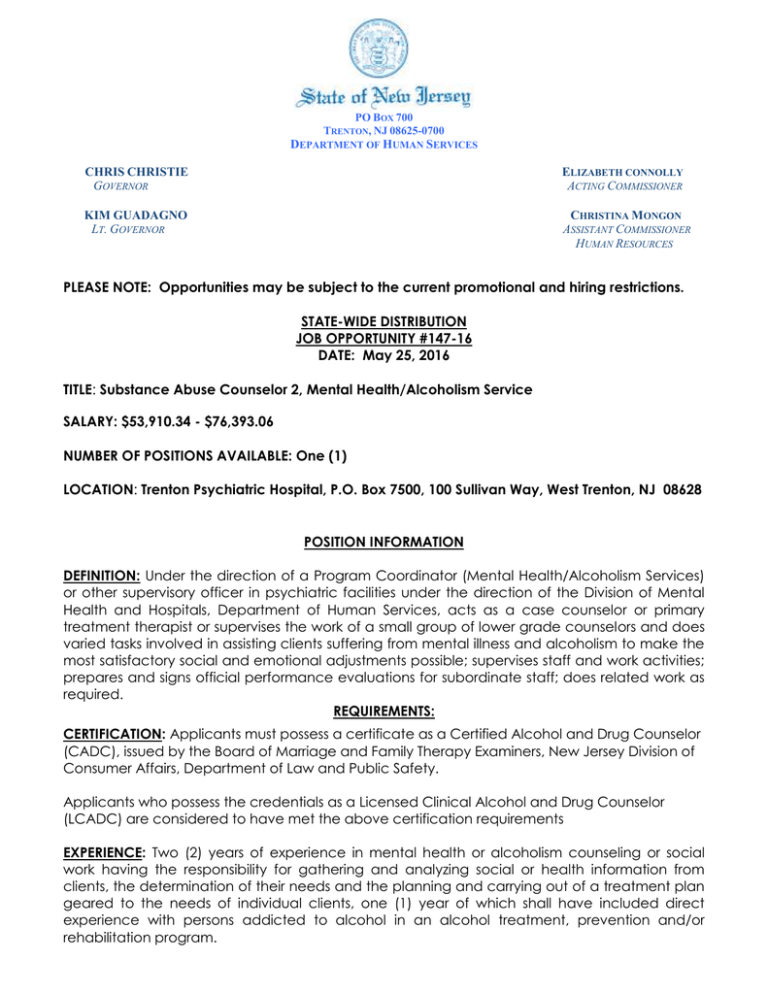 PO BOX 700
TRENTON, NJ 08625-0700
DEPARTMENT OF HUMAN SERVICES
CHRIS CHRISTIE
GOVERNOR
ELIZABETH CONNOLLY
ACTING COMMISSIONER
KIM GUADAGNO
LT. GOVERNOR
CHRISTINA MONGON
ASSISTANT COMMISSIONER
HUMAN RESOURCES
PLEASE NOTE: Opportunities may be subject to the current promotional and hiring restrictions.
STATE-WIDE DISTRIBUTION
JOB OPPORTUNITY #147-16
DATE: May 25, 2016
TITLE: Substance Abuse Counselor 2, Mental Health/Alcoholism Service
SALARY: $53,910.34 - $76,393.06
NUMBER OF POSITIONS AVAILABLE: One (1)
LOCATION: Trenton Psychiatric Hospital, P.O. Box 7500, 100 Sullivan Way, West Trenton, NJ 08628
POSITION INFORMATION
DEFINITION: Under the direction of a Program Coordinator (Mental Health/Alcoholism Services)
or other supervisory officer in psychiatric facilities under the direction of the Division of Mental
Health and Hospitals, Department of Human Services, acts as a case counselor or primary
treatment therapist or supervises the work of a small group of lower grade counselors and does
varied tasks involved in assisting clients suffering from mental illness and alcoholism to make the
most satisfactory social and emotional adjustments possible; supervises staff and work activities;
prepares and signs official performance evaluations for subordinate staff; does related work as
required.
REQUIREMENTS:
CERTIFICATION: Applicants must possess a certificate as a Certified Alcohol and Drug Counselor
(CADC), issued by the Board of Marriage and Family Therapy Examiners, New Jersey Division of
Consumer Affairs, Department of Law and Public Safety.
Applicants who possess the credentials as a Licensed Clinical Alcohol and Drug Counselor
(LCADC) are considered to have met the above certification requirements
EXPERIENCE: Two (2) years of experience in mental health or alcoholism counseling or social
work having the responsibility for gathering and analyzing social or health information from
clients, the determination of their needs and the planning and carrying out of a treatment plan
geared to the needs of individual clients, one (1) year of which shall have included direct
experience with persons addicted to alcohol in an alcohol treatment, prevention and/or
rehabilitation program.
LICENSE: Appointee will be required to possess a driver's license valid in New Jersey only if the
operation of a vehicle, rather than employee mobility, is necessary to perform the essential
duties of the position.
RESUME SUBMITTAL
Interested candidates possessing the requirements listed, should forward resumes with the job
opportunity # as indicated below:
SUBMIT TO:
Trenton Psychiatric Hospital – Office of Human Resources
P.O. Box 7500
West Trenton, N.J. 08628
ATTN: Mary Beth Candelori-Longo, Director, Human Resources
TPH.HumanResources@dhs.state.nj.us
RESPOND BY: June 8, 2016
DHS-CO REVIEW: DAB 05/25/2016
IMPORTANT NOTICES
(1) RESIDENCY - Effective 9/1/11, NJ PL 70 (NJ First Act), requires all State employees to reside in New Jersey, unless
exempted under the law, or current employees who live out-of-state and do not have a break-in service of more
than 7 calendar days, as they are "grandfathered." New employees or current employees who were not
grandfathered and who live out-of-state have one year after the date of employment to relocate their residence to
New Jersey or request an exemption. Current employees who reside in NJ must retain NJ residency, unless he/she
obtains an exemption. Employees who fail to meet the residency requirements or obtain an exemption will be
removed from employment.
(2) DRUG SCREENING - If you are a candidate for a position that involves direct client care in one of the Department of
Human Services' hospitals or developmental centers, you may be subject to pre and/or post-employment drug
testing/ screening. The cost of any pre-employment testing will be at your expense. Candidates with a positive drug
test result or those who refuse to be tested and/or cooperate with the testing requirement will not be hired. You will
be advised if the position for which you're being considered requires drug testing and how to proceed with the
testing.