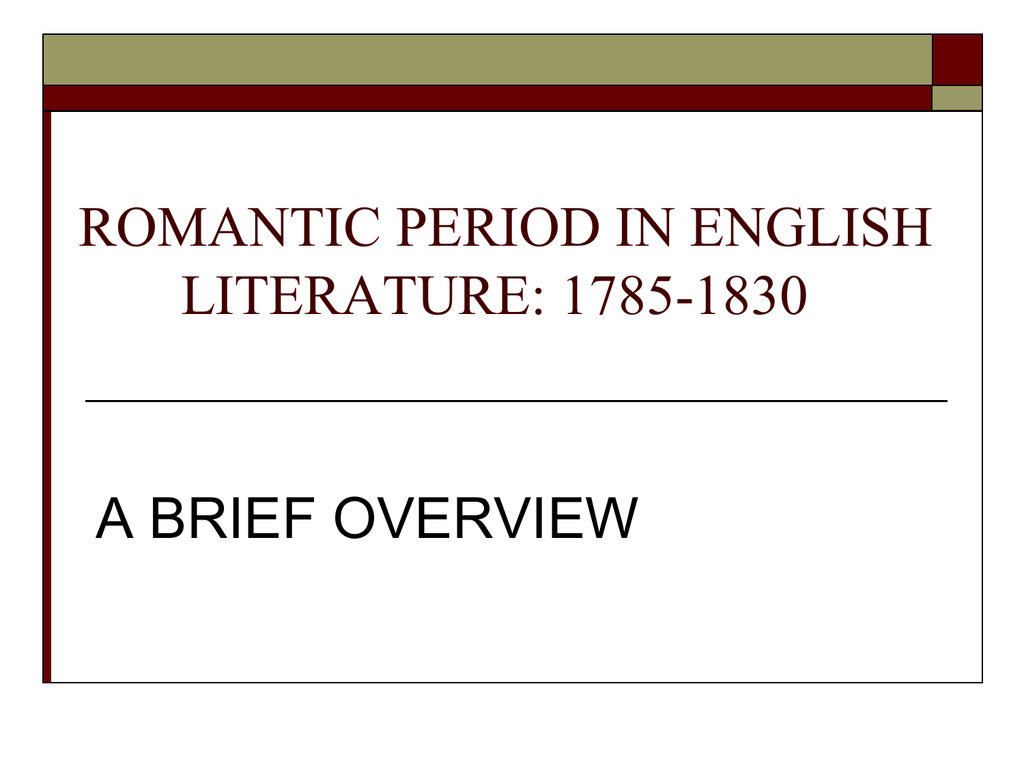 ROMANTIC PERIOD IN ENGLISH
LITERATURE: 1785-1830
A BRIEF OVERVIEW
SOCIAL & POLITICAL CONTEXT

PERIOD OF GREAT CHANGE IN
ENGLAND:

AGRICULTURAL SOCIETY W/ POWERFUL
LANDHOLDING ARISTOCRACY WAS GIVING WAY TO MODERN INDUSTRIAL NATION OF LARGE-SCALE EMPLOYERS & A
GROWING, RESTLESS MIDDLE CLASS.
PERIOD OF CHANGE (cont.)

AMERICAN & FRENCH REVOLUTIONS
WERE HUGELY IMPORTANT ELEMENTS
OF THE POLITICAL LANDSCAPE.

THREATS TO EXISTING SOCIAL STRUCTURE WERE BEING POSED BY NEW,
REVOLUTIONARY IDEAS.
PERIOD OF CHANGE (cont.)

A TIME OF HARSH POLITICAL REPRES-
SION IN ENGLAND, IN SPITE OF NEED
FOR CHANGES BROUGHT ABOUT BY
THE INDUSTRIAL REVOLUTION.
PERIOD OF CHANGE (cont.)

MILL TOWNS GREW, THE LANDSCAPE
WAS INCREASINGLY SUBDIVIDED,
FACTORIES SPEWED POLLUTION OVER
SLUMS, & THE POPULATION WAS IN-
CREASINGLY DIVIDED INTO RICH &
POOR.
PERIOD OF CHANGE (cont.)

REFORMS DID NOT OCCUR BECAUSE
THE PHILOSOPHY OF LAISSEZ-FAIRE
("LET ALONE") PREVAILED.
LACK OF REFORM (cont.)

CONSEQUENCES WERE LOW WAGES,
HORRIBLE WORKING CONDITIONS,
LARGE-SCALE EMPLOYMENT OF
WOMEN & CHILDREN IN BRUTALLY
HARD OCCUPATIONS (SUCH AS COAL
MINING).
LACK OF REFORM (cont.)

IN THE FACE OF TECHNOLOGICAL UNEMPLOYMENT & POVERTY, WORK-
ERS—WHO COULD NOT VOTE—HAD
TO RESORT TO PROTESTS & RIOTS,
INCURRING FURTHER REPRESSION.

BUT WHILE THE POOR SUFFERED, THE
LEISURE CLASS PROSPERED.
PLIGHT OF WOMEN

WOMEN OF ALL CLASSES WERE REGARDED AS INFERIOR TO MEN, WERE
UNDEREDUCATED, HAD LIMITED VOCATIONAL OPPORTUNITIES, WERE SUBJECT TO A STRICT CODE OF SEXUAL BEHAVIOR, AND HAD ALMOST NO LEGAL
RIGHTS.
PLIGHT OF WOMEN (cont.)

IN SPITE OF THE ABOVE, THE CAUSE
OF WOMEN'S RIGHTS WAS LARGELY
IGNORED.
ROMANTICISM

TERM "ROMANTICISM" IS DIFFICULT
TO DEFINE B/C OF THE VARIETY OF
LITERARY ACHIEVEMENTS, AND
WRITERS OF THE PERIOD WERE ONLY
LATER LABELLED "ROMANTIC."
ROMANTICISM (cont.)

BUT MANY HAD A SENSE OF "THE
SPIRIT OF THE AGE"—THAT A GREAT
RELEASE OF CREATIVE ENERGY WAS
OCCURING AS ACCOMPANIMENT TO
POLITICAL & SOCIAL REVOLUTION. IT
WAS SEEN AS AN AGE OF NEW BEGININGS & LIMITLESS POSSIBILITIES.
POETIC THEORY & PRACTICE

WORDSWORTH TRIED TO ARTICULATE
THE SPIRIT OF THE NEW POETRY IN
THE PREFACE TO LYRICAL BALLADS
(1800, 1802).
CONCEPT OF POETRY, THE POET

POETRY WAS SEEN AS THE "SPONTANEOUS OVERFLOW OF POWERFUL
FEELINGS"; THE ESSENCE OF POETRY
WAS THE MIND, EMOTIONS, & IMAGI-
NATION OF THE POET (NOT THE
OUTER WORLD).
POETRY & THE POET (cont.)

FIRST-PERSON LYRIC POEM BECAME
THE MAJOR ROMANTIC LITERARY
FORM, WITH "I" OFTEN REFERRING
DIRECTLY TO THE POET.

THE DEVELOPMENT OF THE SELF BECAME A MAJOR TOPIC OF ROMANTIC
POETRY.
POETRY & THE POET (cont.)

POETS OFTEN SAW THEMSELVES AS
PROPHETS IN A TIME OF CRISIS, REVISING THE PROMISE OF DIVINE REDEMP-
TION IN TERMS OF A "HEAVEN" ON
EARTH.
POETIC SPONTANEITY, FREEDOM

INITIAL ACT OF POETIC COMPOSITION
MUST ARISE FROM IMPULSE; BE FREE
FROM THE RULES INHERITED FROM
THE PAST; AND RELY ON INSTINCT,
INTUITION, & FEELING.
NATURE

IMPORTANCE OF ACCURATE OBSERVATION & DESCRIPTION OF WILD NATURE,
WHICH SERVES AS A STIMULUS TO
THINKING & TO THE RESOLUTION OF
PERSONAL PROBLEMS & CRISES.
NATURE (cont.)

LANDSCAPE WAS OFTEN GIVEN HUMAN QUALITIES OR SEEN AS A SYS-
TEM OF SYMBOLS REVEALING THE
NATURE OF GOD.

CLOSENESS W/ NATURE WAS SEEN AS
BRINGING OUT HUMANITY'S INNATE
GOODNESS.
GLORIFICATION OF THE COMMONPLACE

HUMBLE, RUSTIC SUBJECT MATTER &
PLAIN STYLE BECAME THE PRINCIPAL
SUBJECT & MEDIUM OF POETRY.
THE COMMONPLACE (cont.)

POETS SOUGHT TO REFRESH READERS'
SENSE OF WONDER ABOUT THE ORDINARY THINGS OF EXISTENCE, TO MAKE
THE "OLD" WORLD SEEM NEW.
THE SUPERNATURAL & STRANGE

MANY ROMANTIC POEMS EXPLORE
THE REALM OF MYSTERY & MAGIC;
INCORPORATE MATERIALS FROM
FOLKLORE, SUPERSTITION, ETC.; &
ARE OFTEN SET IN DISTANT OR
FARAWAY PLACES.
THE STRANGE (cont.)

RELATED TO THIS WAS A RENEWED
INTEREST IN THE MIDDLE AGES (AND
THE BALLAD FORM) AS A BEAUTIFUL,
EXOTIC, MYSTERIOUS BYGONE ERA.
THE STRANGE (cont.)

THERE WAS ALSO GREAT INTEREST IN
UNUSUAL MODES OF EXPERIENCE, SUCH
AS VISIONARY STATES OF CONSCIOUS-
NESS, HYPNOTISM, DREAMS, DRUGINDUCED STATES, AND SO FORTH.
INDIVIDUALISM & STRIVING

HUMAN BEINGS WERE SEEN AS ESSENTIALLY NOBLE & GOOD (THOUGH CORRUPTED BY SOCIETY), AND AS POSSESSING GREAT POWER & POTENTIAL THAT
HAD FORMERLY BEEN ASCRIBED ONLY
TO GOD.
INDIVIDUALISM (cont.)

THERE WAS A GREAT BELIEF IN DEMO-
CRATIC IDEALS, CONCERN FOR HUMAN
LIBERTY, & A GREAT OUTCRY AGAINST
VARIOUS FORMS OF TYRANNY.
INDIVIDUALISM (cont.)

THE HUMAN MIND WAS SEEN AS CREATING (AT LEAST IN PART) THE WORLD
AROUND IT, AND AS HAVING ACCESS
TO THE INFINITE VIA THE FACULTY OF
IMAGINATION.
INDIVIDUALISM (cont.)

REFUSING TO ACCEPT LIMITATIONS,
HUMAN BEINGS SET INFINITE, INACCESSIBLE GOALS, THUS MAKING FAIL-
URE & IMPERFECTION GLORIOUS ACCOMPLISHMENTS.
INDIVIDUALISM (cont.)

THIS REFUSAL TO ACCEPT LIMITATIONS FOUND EXPRESSION IN BOLD
POETIC EXPERIMENTATION.
INDIVIDUALISM (cont.)

MANY WRITERS DELIBERATELY ISOLATED THEMSELVES FROM SOCIETY
TO FOCUS ON THEIR INDIVIDUAL
VISION.

THEME OF EXILE WAS COMMON, W/ THE
ROMANTIC NON-CONFORMIST OFTEN
SEEN AS A GREAT SINNER OR OUTLAW.