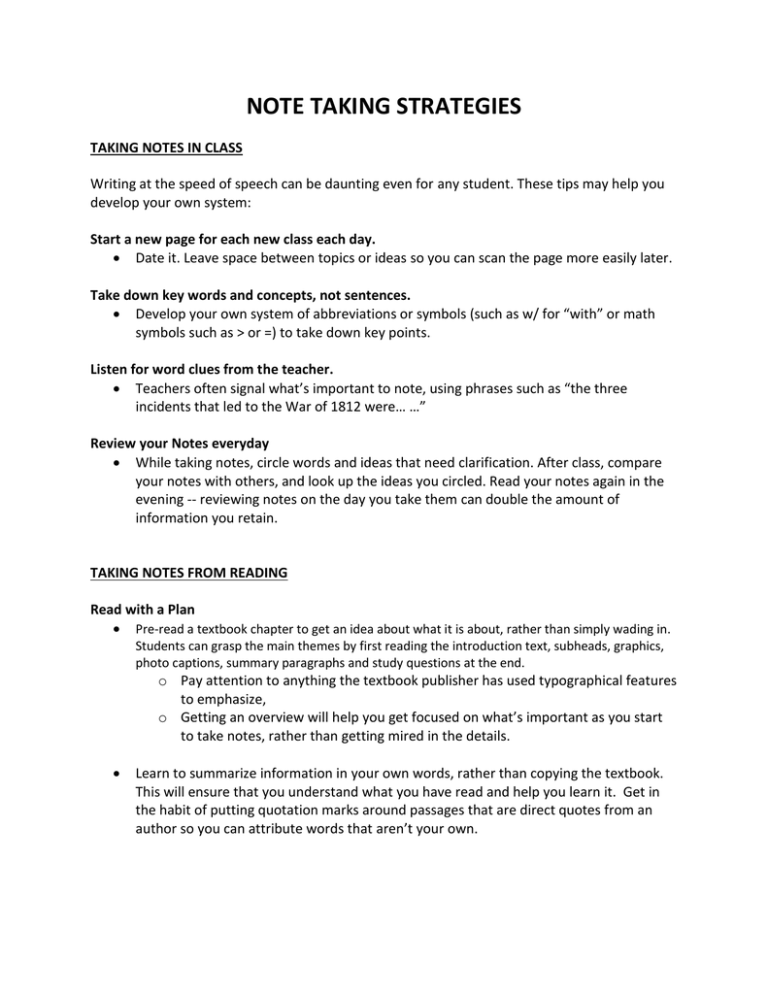 NOTE TAKING STRATEGIES
TAKING NOTES IN CLASS
Writing at the speed of speech can be daunting even for any student. These tips may help you
develop your own system:
Start a new page for each new class each day.
 Date it. Leave space between topics or ideas so you can scan the page more easily later.
Take down key words and concepts, not sentences.
 Develop your own system of abbreviations or symbols (such as w/ for "with" or math
symbols such as > or =) to take down key points.
Listen for word clues from the teacher.
 Teachers often signal what's important to note, using phrases such as "the three
incidents that led to the War of 1812 were… …"
Review your Notes everyday
 While taking notes, circle words and ideas that need clarification. After class, compare
your notes with others, and look up the ideas you circled. Read your notes again in the
evening -- reviewing notes on the day you take them can double the amount of
information you retain.
TAKING NOTES FROM READING
Read with a Plan
 Pre-read a textbook chapter to get an idea about what it is about, rather than simply wading in.
Students can grasp the main themes by first reading the introduction text, subheads, graphics,
photo captions, summary paragraphs and study questions at the end.
o Pay attention to anything the textbook publisher has used typographical features
to emphasize,
o Getting an overview will help you get focused on what's important as you start
to take notes, rather than getting mired in the details.

Learn to summarize information in your own words, rather than copying the textbook.
This will ensure that you understand what you have read and help you learn it. Get in
the habit of putting quotation marks around passages that are direct quotes from an
author so you can attribute words that aren't your own.