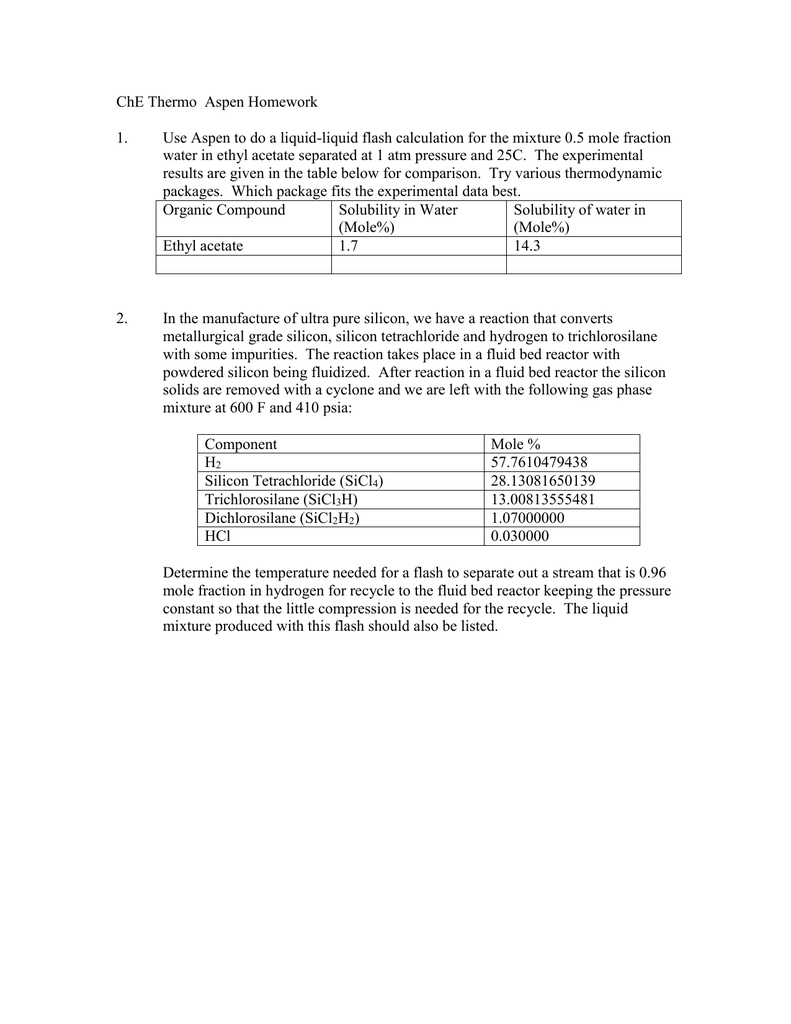 ChE Thermo Aspen Homework
1.
Use Aspen to do a liquid-liquid flash calculation for the mixture 0.5 mole fraction
water in ethyl acetate separated at 1 atm pressure and 25C. The experimental
results are given in the table below for comparison. Try various thermodynamic
packages. Which package fits the experimental data best.
Organic Compound
Solubility in Water
Solubility of water in
(Mole%)
(Mole%)
Ethyl acetate
1.7
14.3
2.
In the manufacture of ultra pure silicon, we have a reaction that converts
metallurgical grade silicon, silicon tetrachloride and hydrogen to trichlorosilane
with some impurities. The reaction takes place in a fluid bed reactor with
powdered silicon being fluidized. After reaction in a fluid bed reactor the silicon
solids are removed with a cyclone and we are left with the following gas phase
mixture at 600 F and 410 psia:
Component
H2
Silicon Tetrachloride (SiCl4)
Trichlorosilane (SiCl3H)
Dichlorosilane (SiCl2H2)
HCl
Mole %
57.7610479438
28.13081650139
13.00813555481
1.07000000
0.030000
Determine the temperature needed for a flash to separate out a stream that is 0.96
mole fraction in hydrogen for recycle to the fluid bed reactor keeping the pressure
constant so that the little compression is needed for the recycle. The liquid
mixture produced with this flash should also be listed.