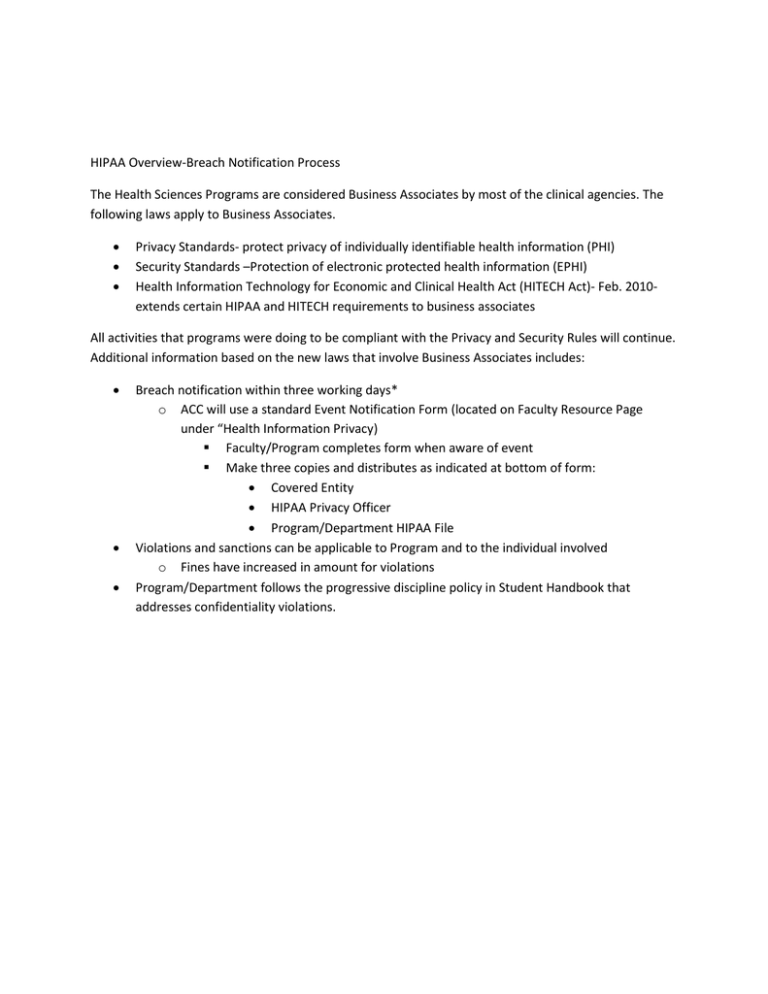 HIPAA Overview-Breach Notification Process
The Health Sciences Programs are considered Business Associates by most of the clinical agencies. The
following laws apply to Business Associates.



Privacy Standards- protect privacy of individually identifiable health information (PHI)
Security Standards –Protection of electronic protected health information (EPHI)
Health Information Technology for Economic and Clinical Health Act (HITECH Act)- Feb. 2010extends certain HIPAA and HITECH requirements to business associates
All activities that programs were doing to be compliant with the Privacy and Security Rules will continue.
Additional information based on the new laws that involve Business Associates includes:



Breach notification within three working days*
o ACC will use a standard Event Notification Form (located on Faculty Resource Page
under "Health Information Privacy)
 Faculty/Program completes form when aware of event
 Make three copies and distributes as indicated at bottom of form:
 Covered Entity
 HIPAA Privacy Officer
 Program/Department HIPAA File
Violations and sanctions can be applicable to Program and to the individual involved
o Fines have increased in amount for violations
Program/Department follows the progressive discipline policy in Student Handbook that
addresses confidentiality violations.