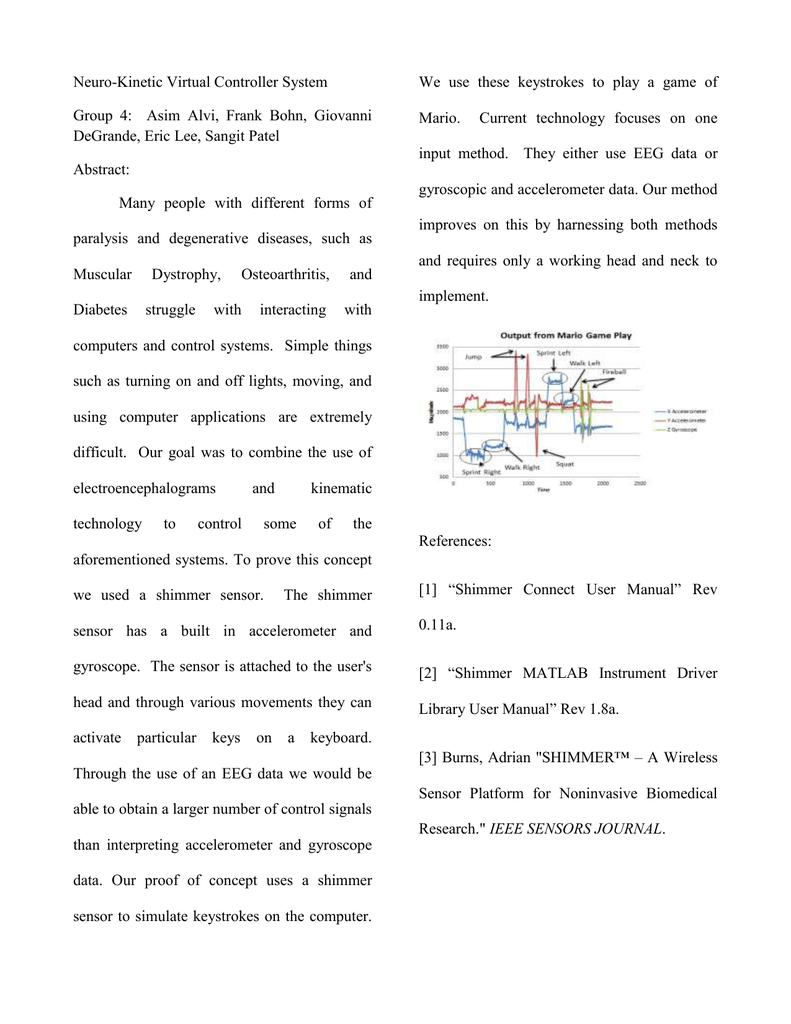 Neuro-Kinetic Virtual Controller System
We use these keystrokes to play a game of
Group 4: Asim Alvi, Frank Bohn, Giovanni
DeGrande, Eric Lee, Sangit Patel
Mario.
Current technology focuses on one
input method. They either use EEG data or
Abstract:
Many people with different forms of
paralysis and degenerative diseases, such as
Muscular
Dystrophy,
Diabetes
struggle
Osteoarthritis,
with
interacting
and
with
gyroscopic and accelerometer data. Our method
improves on this by harnessing both methods
and requires only a working head and neck to
implement.
computers and control systems. Simple things
such as turning on and off lights, moving, and
using computer applications are extremely
difficult. Our goal was to combine the use of
electroencephalograms
technology
to
control
and
kinematic
some
of
the
References:
aforementioned systems. To prove this concept
we used a shimmer sensor.
The shimmer
[1] "Shimmer Connect User Manual" Rev
sensor has a built in accelerometer and
0.11a.
gyroscope. The sensor is attached to the user's
[2] "Shimmer MATLAB Instrument Driver
head and through various movements they can
Library User Manual" Rev 1.8a.
activate
particular
keys
on
a
keyboard.
[3] Burns, Adrian "SHIMMER™ – A Wireless
Through the use of an EEG data we would be
Sensor Platform for Noninvasive Biomedical
able to obtain a larger number of control signals
Research." IEEE SENSORS JOURNAL.
than interpreting accelerometer and gyroscope
data. Our proof of concept uses a shimmer
sensor to simulate keystrokes on the computer.