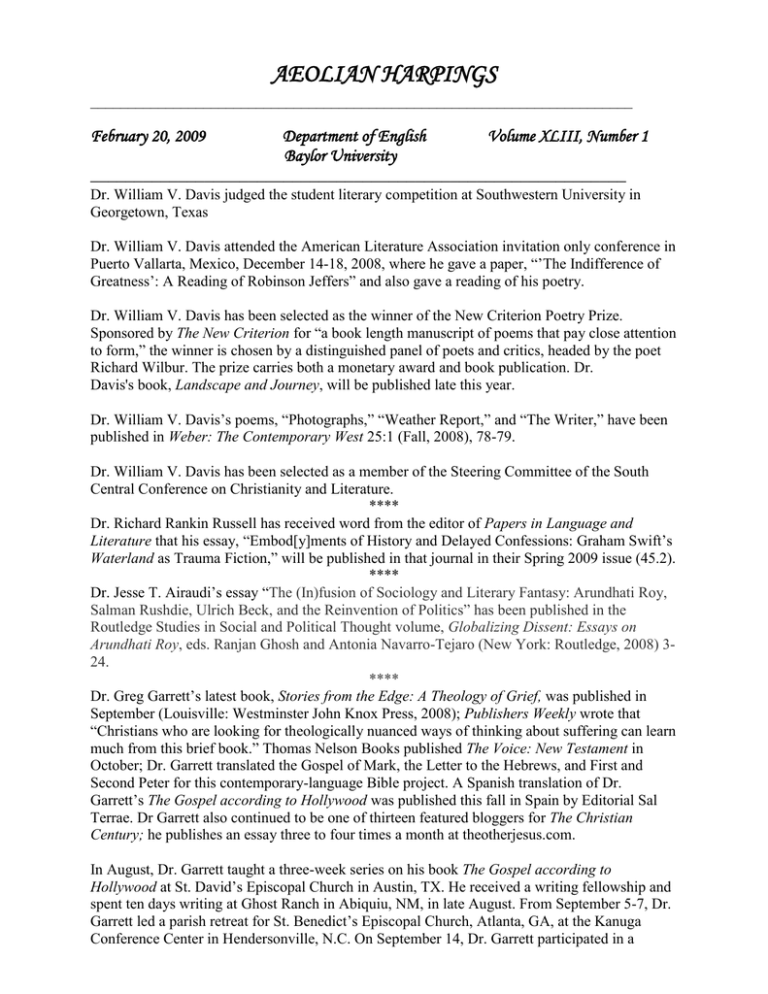 AEOLIAN HARPINGS
________________________________________________________________________
February 20, 2009
Department of English
Volume XLIII, Number 1
Baylor University
_____________________________________________________________
Dr. William V. Davis judged the student literary competition at Southwestern University in
Georgetown, Texas
Dr. William V. Davis attended the American Literature Association invitation only conference in
Puerto Vallarta, Mexico, December 14-18, 2008, where he gave a paper, "'The Indifference of
Greatness': A Reading of Robinson Jeffers" and also gave a reading of his poetry.
Dr. William V. Davis has been selected as the winner of the New Criterion Poetry Prize.
Sponsored by The New Criterion for "a book length manuscript of poems that pay close attention
to form," the winner is chosen by a distinguished panel of poets and critics, headed by the poet
Richard Wilbur. The prize carries both a monetary award and book publication. Dr.
Davis's book, Landscape and Journey, will be published late this year.
Dr. William V. Davis's poems, "Photographs," "Weather Report," and "The Writer," have been
published in Weber: The Contemporary West 25:1 (Fall, 2008), 78-79.
Dr. William V. Davis has been selected as a member of the Steering Committee of the South
Central Conference on Christianity and Literature.
****
Dr. Richard Rankin Russell has received word from the editor of Papers in Language and
Literature that his essay, "Embod[y]ments of History and Delayed Confessions: Graham Swift's
Waterland as Trauma Fiction," will be published in that journal in their Spring 2009 issue (45.2).
****
Dr. Jesse T. Airaudi's essay "The (In)fusion of Sociology and Literary Fantasy: Arundhati Roy,
Salman Rushdie, Ulrich Beck, and the Reinvention of Politics" has been published in the
Routledge Studies in Social and Political Thought volume, Globalizing Dissent: Essays on
Arundhati Roy, eds. Ranjan Ghosh and Antonia Navarro-Tejaro (New York: Routledge, 2008) 324.
****
Dr. Greg Garrett's latest book, Stories from the Edge: A Theology of Grief, was published in
September (Louisville: Westminster John Knox Press, 2008); Publishers Weekly wrote that
"Christians who are looking for theologically nuanced ways of thinking about suffering can learn
much from this brief book." Thomas Nelson Books published The Voice: New Testament in
October; Dr. Garrett translated the Gospel of Mark, the Letter to the Hebrews, and First and
Second Peter for this contemporary-language Bible project. A Spanish translation of Dr.
Garrett's The Gospel according to Hollywood was published this fall in Spain by Editorial Sal
Terrae. Dr Garrett also continued to be one of thirteen featured bloggers for The Christian
Century; he publishes an essay three to four times a month at theotherjesus.com.
In August, Dr. Garrett taught a three-week series on his book The Gospel according to
Hollywood at St. David's Episcopal Church in Austin, TX. He received a writing fellowship and
spent ten days writing at Ghost Ranch in Abiquiu, NM, in late August. From September 5-7, Dr.
Garrett led a parish retreat for St. Benedict's Episcopal Church, Atlanta, GA, at the Kanuga
Conference Center in Hendersonville, N.C. On September 14, Dr. Garrett participated in a
discussion and book signing for Stories from the Edge at BookPeople in Austin. On September
15, he spoke on Stories from the Edge at the Austin Presbyterian Theological Seminary in
Austin. On September 28, he signed books at St. David's Bookstore in Austin, Texas, and on
September 29, he gave a talk about The Voice Bible translation project at the Episcopal
Theological Seminary of the Southwest in Austin.
In October, Dr. Garrett was a Fellow at the Cathedral College at the National Cathedral in
Washington, D.C.; he completed a book of memoir, worked on several nonfiction projects, and
delivered a Fellow's Lecture on his forthcoming book on 21st Century Christianity, The Other
Jesus. On October 28th, Dr. Garrett spoke on Stories from the Edge for a seminary class at the
Austin Presbyterian Theological Seminary. On October 31st, Dr. Garrett did a book signing at
Cokesbury Books in Austin, Texas.
On November 9, Dr. Garrett preached at Holy Trinity Episcopal Church in Dickinson, Texas. On
November 16, Dr. Garrett gave presentations on his books Stories from the Edge and The Gospel
according to Hollywood at Trinity Episcopal Church in Houston, Texas. On November 22, Dr.
Garrett presented a paper, "Evil in Contemporary American Film: Deep Darkness and
Eschatological Hope," at the annual conference of the Society of Biblical Literature in Boston.
Dr. Garrett received a writing fellowship and spent a week writing at Ghost Ranch in Abiquiu,
NM, at year's end.
During the late summer and fall, Dr. Garrett was interviewed by/a media guest on/his work
reviewed or discussed by the Austin [TX] American Statesman, Information (Copenhagen,
Denmark), Religion/Ethics Newsweekly
(http://www.pbs.org/wnet/religionandethics/week1207/feature.html), Read the Spirit
(readthespirit.com), Something Beautiful (podcast), Listenup TV (Canada), and Deus no gibi
(deusnogibi.com.br, Brazil), and the taped interview segments on his writing aired on BBC
Radio's "Good Morning Sunday."
****
Kathleen "McGinty" Miller presented a paper at the MMLA in Minneapolis this past weekend,
entitled "Robert Browning and the Women: Fame and Frustration" for the permanent session on
English Literature from 1800 to 1900. She presented under the name Kathleen McGinty because
she'll be getting her PhD under that name.
****
Anna M. Blanch presented a paper, "Children and the Ill-Used Judicial System in E.Nesbit's
Railway Children and the Magic City," in the "Children's Literature and the Legal System"
session at the Modern Language Association Annual Conference in San Francisco, California on
29 December 2008.
****
Peter Epps has recently had brief articles on Shelley's "To Wordsworth," Coleridge's "France:
An Ode" and "Pantisocracy," and Charlotte Smith's "Elegiac Sonnets" accepted for the
forthcoming Facts on File "Companion to Literary Romanticism", edited by Andrew Maunder
(University of Hertsfordshire).
****
On January 10th, Peter Epps gave a public poetry reading at the University of Mary HardinBaylor Writers' Festival. The annual Festival, which Baylor instructor Donna Walker-Nixon was
instrumental in establishing, provides workshops and master classes on poetry as well as
readings. This year's George Nixon Memorial Lecture was given by Jean Murray Walker, poet
in residence at University of Delaware and former poetry editor of "Christianity and Literature";
she discussed the continuing role of metaphor in a society increasingly dependent on information
technologies.
****
On February 6th, Peter Epps presented a paper entitled "'My spirit I to Love compose':
Coleridge's Prayers and Non-Prayers, and Their Answers" at the 2009 Federation Rhetoric
Symposium, hosted at Texas A&M University at Commerce by the The Federation of North
Texas Area Universities. The paper comprised elements of his dissertation research on
Coleridge, and attempted to draw attention to Coleridge's little-studied "A Nightly Prayer"
(composed in 1831) by way of comparison to the similarly neglected poem "The Pains of Sleep."
****
Adrienne Akins had an article, "'Each of us tell it as we see it': Memory and Storytelling in
Roberta Fernández's Intaglio," accepted for publication in Critique: Studies in Contemporary
Fiction.
Adrienne Akins also had an essay, "'Does a Moral Vision of the Thirties Deserve a Nobel
Prize?': Steinbeck and the Postmodern Problem of Progress," accepted as a chapter for the
collection Ambivalent American: The Political Companion to John Steinbeck, forthcoming with
the University Press of Kentucky.
****
CONFERENCES-CALLS FOR PAPERS
Pine Manor College in Chestnut Hill, Massachusetts presents the "2009 Solstice Summer
Writers' Conference". The conference will be held June 22-26, 2009. Rolling admissions begin
January 1, 2009. For more information, go to www.pmc.edu.solstice, or see the pamphlet on file
in CS 106.
****
ANNOUNCEMENTS
Wadsworth/Cengage Publishing will present an English Book Fair on Wednesday, March 4,
2009, from 11:00- 2:00 p.m. in the 4th floor lounge. Lunch will be provided. For more
information, contact Richard Colangelo at richard.colangelo@cengage.com, or see the flyer on
file in CS 106.
****
CAREER OPPORTUNITIES
Diablo Valley College in California is looking for a tenure track English Assistant Professor for
the fall 2009-2010 semester. Applications, supplemental questionnaires and information may be
downloaded from their District's website at www.4cd.edu, or contact the Office of the Vice
President of Instruction, Diablo Valley College, 321 Gold Club Road, Pleasant Hill, CA 94523,
925-685-1230, ext. 1929. Applicants must also submit a cover letter explaining interest in the
position, and briefly describing how you meet the desirable qualities listed; a resume, including
information about preparation and experience relevant to the assignment; unofficial college
transcripts; and an equivalency form (if needed). The deadline for this position is March 5, 2009
by 4:30 p.m. For more information, see the brochure on file in CS 106.
Echoes of the Aeolian Harp
Dr. Pat Wortman will present a paper entitled "Culinary Image as Symbol in the Fiction of C.S.
Lewis" at the Conference on Christianity and Literature, Region IV Meeting, held on October 34, at Hardin-Simmons University and Abilene Christian University in Abilene. Those attending
from the department in addition to Dr. Wortman are Dr. James Barcus and Dr. Robert Collmer,
CCL secretary. Dr. Wortman indicates that there will be space in his car for an additional rider.
From Aeolian Harpings 20:6 (1 October 1980).