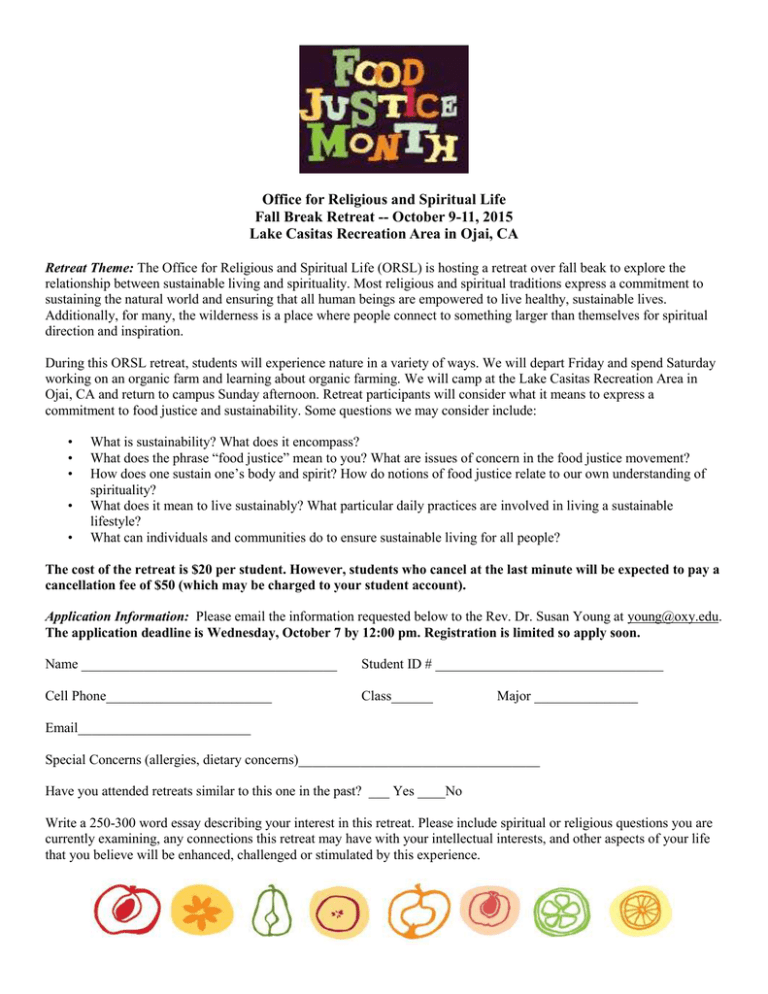 Office for Religious and Spiritual Life
Fall Break Retreat -- October 9-11, 2015
Lake Casitas Recreation Area in Ojai, CA
Retreat Theme: The Office for Religious and Spiritual Life (ORSL) is hosting a retreat over fall beak to explore the
relationship between sustainable living and spirituality. Most religious and spiritual traditions express a commitment to
sustaining the natural world and ensuring that all human beings are empowered to live healthy, sustainable lives.
Additionally, for many, the wilderness is a place where people connect to something larger than themselves for spiritual
direction and inspiration.
During this ORSL retreat, students will experience nature in a variety of ways. We will depart Friday and spend Saturday
working on an organic farm and learning about organic farming. We will camp at the Lake Casitas Recreation Area in
Ojai, CA and return to campus Sunday afternoon. Retreat participants will consider what it means to express a
commitment to food justice and sustainability. Some questions we may consider include:
•
•
•
•
•
What is sustainability? What does it encompass?
What does the phrase "food justice" mean to you? What are issues of concern in the food justice movement?
How does one sustain one's body and spirit? How do notions of food justice relate to our own understanding of
spirituality?
What does it mean to live sustainably? What particular daily practices are involved in living a sustainable
lifestyle?
What can individuals and communities do to ensure sustainable living for all people?
The cost of the retreat is $20 per student. However, students who cancel at the last minute will be expected to pay a
cancellation fee of $50 (which may be charged to your student account).
Application Information: Please email the information requested below to the Rev. Dr. Susan Young at young@oxy.edu.
The application deadline is Wednesday, October 7 by 12:00 pm. Registration is limited so apply soon.
Name _____________________________________
Student ID # _________________________________
Cell Phone________________________
Class______
Major _______________
Email_________________________
Special Concerns (allergies, dietary concerns)___________________________________
Have you attended retreats similar to this one in the past? ___ Yes ____No
Write a 250-300 word essay describing your interest in this retreat. Please include spiritual or religious questions you are
currently examining, any connections this retreat may have with your intellectual interests, and other aspects of your life
that you believe will be enhanced, challenged or stimulated by this experience.