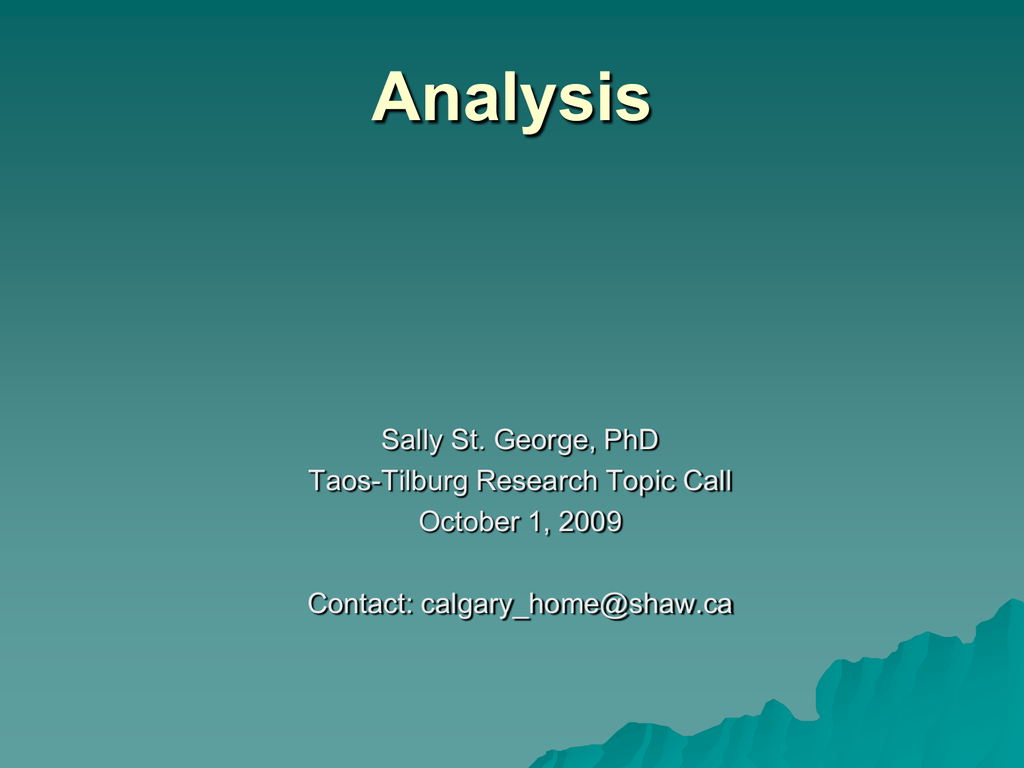 Analysis
Sally St. George, PhD
Taos-Tilburg Research Topic Call
October 1, 2009
Contact: [email protected]
Analysis
 The
means by which you make sense
of all of the information you have
gathered
A
process of transformation/social
construction
 Imagine
the button exercise
Analysis is….
 directed
toward answering your
question of inquiry—I urge you to
keep that as your guiding light
 an
exercise in collating, combining,
interrogating, reducing many pieces
of information into a coherent set of
ideas
Determine what you are looking
for…

relationships?

explanations?

patterns?
Guiding Principles

You don't need to reinvent the wheel, however
the best researchers add new content to our
knowledge base and stretch methods – it is
beneficial to study analysis methods so you
understand what they have been designed to
produce.

Analysis is best when it is made transparent.
Keep track of what you do all along the way.

Support your decisions with the literature and
show where you departed from the literature.
Guiding Principles Continued



Make sure your analysis processes are in
line with your theoretical orientation.
Talk to yourself and others—keep a record
of your thoughts and ideas along the way.
Keep your findings close to the data—
don't go beyond what your data allows.