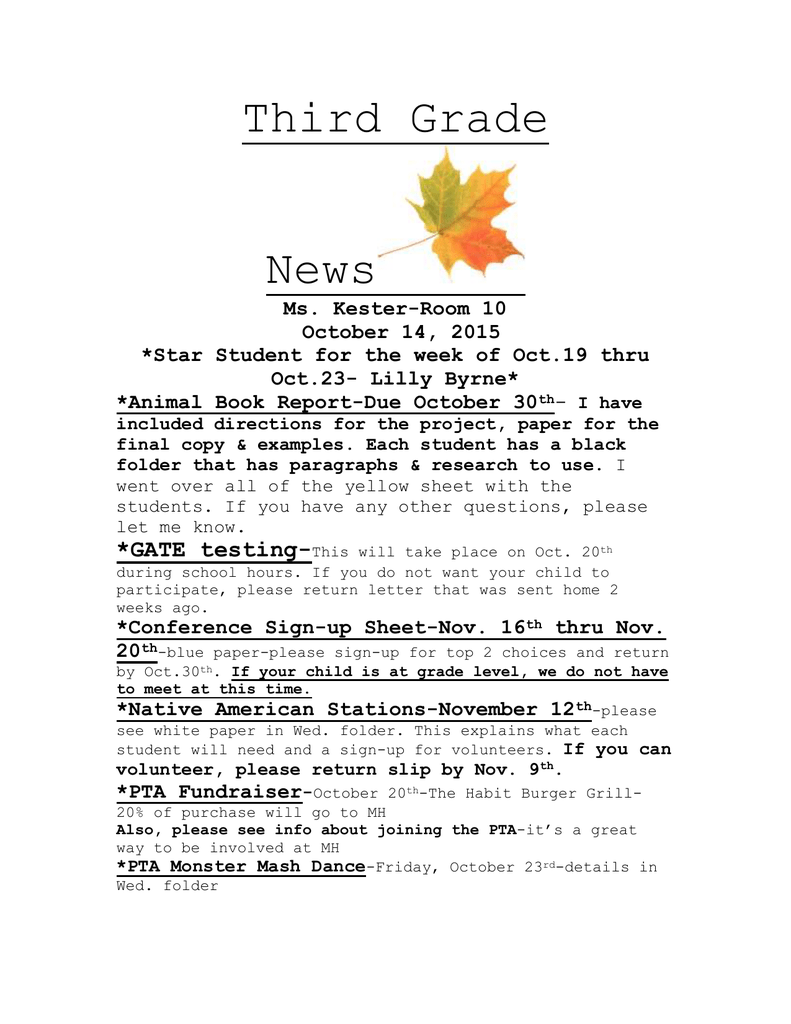 Third Grade
News
Ms. Kester-Room 10
October 14, 2015
*Star Student for the week of Oct.19 thru
Oct.23- Lilly Byrne*
*Animal Book Report-Due October 30th- I have
included directions for the project, paper for the
final copy & examples. Each student has a black
folder that has paragraphs & research to use. I
went over all of the yellow sheet with the
students. If you have any other questions, please
let me know.
*GATE testing-This
will take place on Oct. 20th
during school hours. If you do not want your child to
participate, please return letter that was sent home 2
weeks ago.
*Conference Sign-up Sheet-Nov. 16th thru Nov.
20th-blue paper-please sign-up for top 2 choices and return
by Oct.30th. If your child is at grade level, we do not have
to meet at this time.
*Native American Stations-November 12th-please
see white paper in Wed. folder. This explains what each
student will need and a sign-up for volunteers. If you can
volunteer, please return slip by Nov. 9th.
*PTA Fundraiser-October 20th-The Habit Burger Grill20% of purchase will go to MH
Also, please see info about joining the PTA-it's a great
way to be involved at MH
*PTA Monster Mash Dance-Friday, October 23rd-details in
Wed. folder
*Super Minimum Day-October 30th-All students
come at 8:22 & leave at 11:48.
Reminders
*Wednesday Folders are due back every Thursday
*Homework-please return math page & reading page DAILY! Spelling
page is due on Friday!
*PE days are Monday & Wednesday (wear appropriate shoes &
clothing)
*Tasty Tuesday ice cream sale-every Tuesday after school!
All choices are $1.00 each.
*Wish List items still needed:
*Colored
computer paper
*old magazines
*Candy/snacks for Friday treat
*printer ink (HP15 & 78)
*black dry erase markers
*prizes for treasure box ($1.00 items from Dollar Store or
Target)
*copy paper with border design
Have A Great
Week!