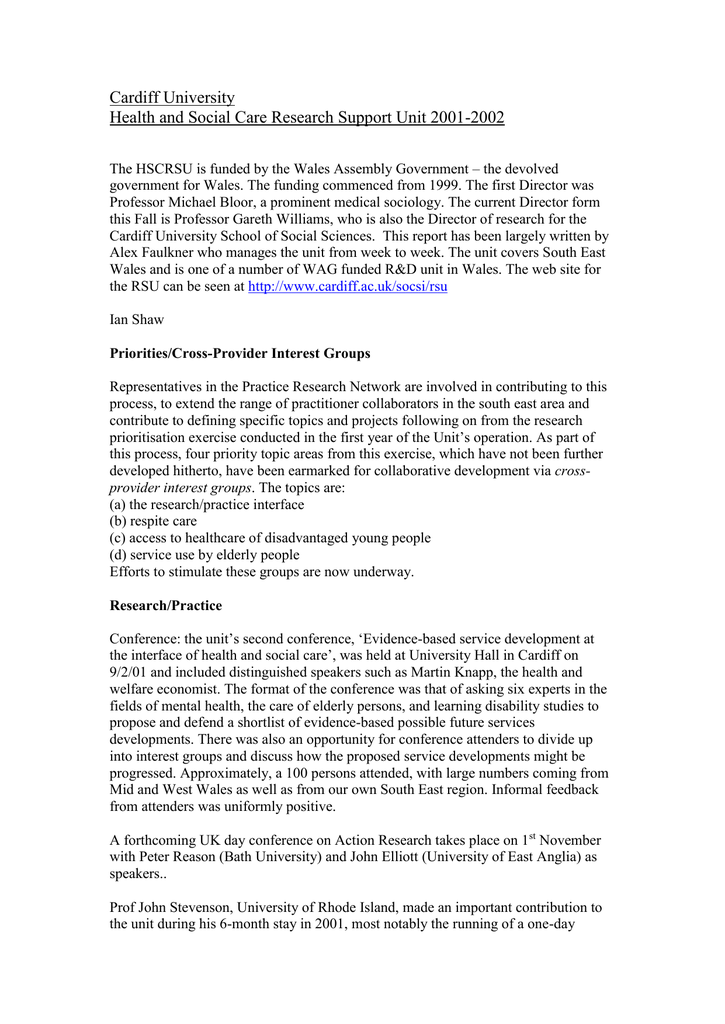 Cardiff University
Health and Social Care Research Support Unit 2001-2002
The HSCRSU is funded by the Wales Assembly Government – the devolved
government for Wales. The funding commenced from 1999. The first Director was
Professor Michael Bloor, a prominent medical sociology. The current Director form
this Fall is Professor Gareth Williams, who is also the Director of research for the
Cardiff University School of Social Sciences. This report has been largely written by
Alex Faulkner who manages the unit from week to week. The unit covers South East
Wales and is one of a number of WAG funded R&D unit in Wales. The web site for
the RSU can be seen at http://www.cardiff.ac.uk/socsi/rsu
Ian Shaw
Priorities/Cross-Provider Interest Groups
Representatives in the Practice Research Network are involved in contributing to this
process, to extend the range of practitioner collaborators in the south east area and
contribute to defining specific topics and projects following on from the research
prioritisation exercise conducted in the first year of the Unit's operation. As part of
this process, four priority topic areas from this exercise, which have not been further
developed hitherto, have been earmarked for collaborative development via crossprovider interest groups. The topics are:
(a) the research/practice interface
(b) respite care
(c) access to healthcare of disadvantaged young people
(d) service use by elderly people
Efforts to stimulate these groups are now underway.
Research/Practice
Conference: the unit's second conference, 'Evidence-based service development at
the interface of health and social care', was held at University Hall in Cardiff on
9/2/01 and included distinguished speakers such as Martin Knapp, the health and
welfare economist. The format of the conference was that of asking six experts in the
fields of mental health, the care of elderly persons, and learning disability studies to
propose and defend a shortlist of evidence-based possible future services
developments. There was also an opportunity for conference attenders to divide up
into interest groups and discuss how the proposed service developments might be
progressed. Approximately, a 100 persons attended, with large numbers coming from
Mid and West Wales as well as from our own South East region. Informal feedback
from attenders was uniformly positive.
A forthcoming UK day conference on Action Research takes place on 1st November
with Peter Reason (Bath University) and John Elliott (University of East Anglia) as
speakers..
Prof John Stevenson, University of Rhode Island, made an important contribution to
the unit during his 6-month stay in 2001, most notably the running of a one-day
'Master Class in Evaluation Research' jointly sponsored by the unit and Cardiff
Social Services Department's Practitioners Research Interest Group, and the
completion of a rigorous internal evaluation of the unit's work.
Capacity-building; Dissemination/Awareness
Progress on research capacity building, with the award of the ESRC CASE1
studentship and the assistance the unit gave in the creation of new research posts in
Gwent Health Authority and Newport SSD.
Current Awareness Service. many electronic users are routinely circulating issues to
large numbers of agency colleagues, and that many users would otherwise not be
consulting other research database services. We estimate that the likely circulation
figure is more than 500. Issues now include contributions from practitioners and unit
staff.
Research Appreciation short courses have taken place for practitioners – quantitative
and qualitative methods; framing research questions – research design; critical
appraisal; research ethics; grant application.
Examples of areas in which responsive support has been provided
Quality of informed consent in cancer trials. Methodological advice and referral to
social science specialist. Manager, Wales Cancer Trials Network.
Employment initiatives for mental health services users. Advice on research
consultancy arrangements. Cardiff & Vale Mental Health Development Project.
Social services inspection surveys. Advice to Social Services Inspectorate of Wales,
on practitioner research, satisfaction surveys, questionnaire design, quantitative and
qualitative methods.
SureStart programmes –representation of parents' views in planning and monitoring.
Higher education, voluntary agency and social services collaborators.
Examples of successful collaborative research projects
These projects arose directly from links with practitioners in our Practice Research
Network.
A review of key worker systems for children with disabilities and development of
information guides for parents, children and professionals.
Barnardos); HSCRSU; Cardiff & Community NHS Trust; Cardiff SSD; Childrens
Centre, UWCM; plus collaborators from the Cardiff & the Vale Parents Federation,
the health visiting service and Cardiff Education Department.
Rapid review of research literature and current practice of schemes to promote
stability and continuity for looked after children: Collaboration between Cardiff
1
CASE is a collaborative studentship for a PhD that involves a partnership between the university and
an external organisation.
Social Services, HSCRSU, Social Work @ Social Sciences Cardiff and, Public Health
Medicine, with advice from voluntary agency. To be publicised at a joint
HSCRSU/School conference targeting practitioners, managers and policy developers.
Participatory evaluation project to assess an advocacy service for older people in
residential homes in Monmouthshire. The project has run through a Steering Network
of twelve older people, some living in the community and some who are resident in
homes for the elderly.
Networks
This more intangible aspect of the unit's work is of course significant. For example,
this includes contact with the Chairs of the multidisciplinary Local Health Groups
(which will take responsibility for much healthcare commissioning) in Wales. We are
also about to open discussions for additional CASE studentship applciations
General comments
It is our impression that the unit's efforts over a number of different fields (training,
the Helpline, information support, collaborative projects) are bearing fruit in respect
of research capacity-building. Some of the individuals contacted in the early in the life
of the unit are now re-contacting us and are referring on colleagues to us.
The following extract from John Stevenson's evaluation is of interest:
Some users felt, 'a sense of direct influence on the development of research activities'
('I submitted half a dozen suggestions in the Research Prioritisation Exercise, and
two have gone on to be funded projects'). The personalised nature of the help received
was appreciated as well as the capacity-building approach ('Now I plan to do more
refined searches on my own'). The practical orientation of the advice was also found
helpful ('It helped us to think through what we wanted out of it, and led us to
completely change the organisation of the questions').
John Stevenson found evidence of indirect, as well as direct, benefits:
'....although it is easy to find success stories in which consultation led to useful results
such as research bids, better informed advocacy for policies, and better informed
supervision of practice, it also apparent that many contacts did not lead in a direct line
to a predictable outcome of this sort. Bids failed, personnel left their posts, and
priorities changed. In those cases, however, there was often an indirect benefit: more
confidence in the ability to make use of research help in the future, another bid later
on a related topic, generally increased interest in the available evidence to back up
practice'.
The WAG funding for the units has been extended on a piecemeal basis for a further
two years from the original three years. The future shape of health and social care
R&D in Wales is yet to be decided. The Wales Assembly is agreeing its future
research strategy.