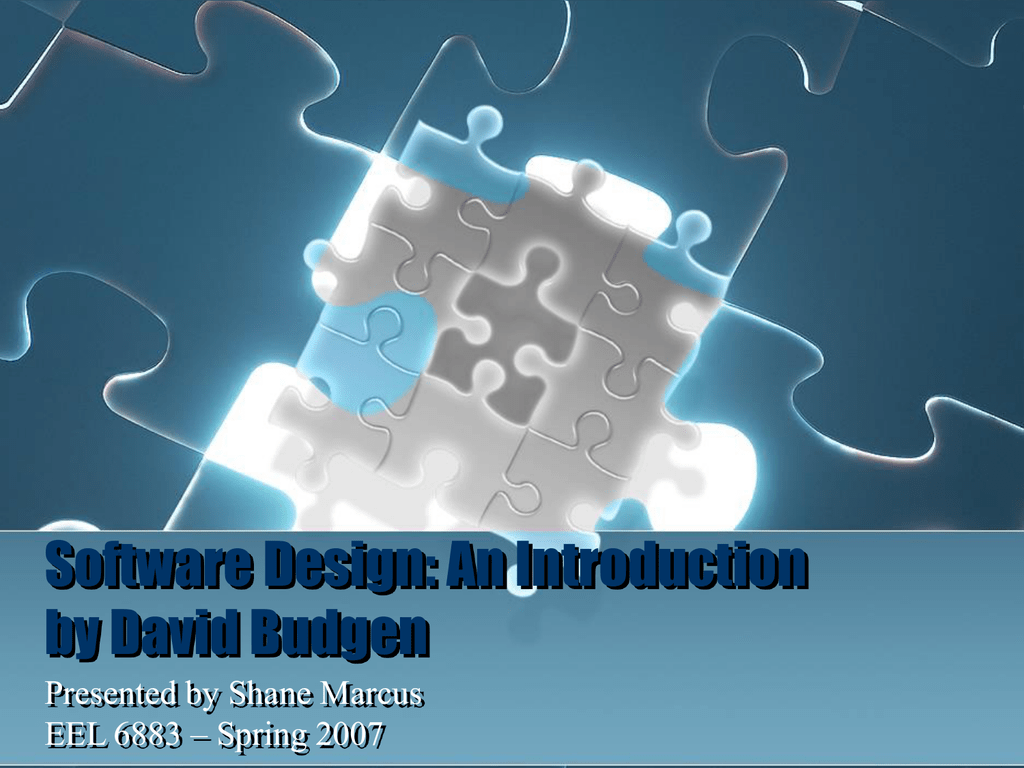 Software Design: An Introduction
by David Budgen
Presented by Shane Marcus
EEL 6883 – Spring 2007
References
"Software Design: An Introduction" by
David Budgen, Software Engineering
Volume 1: The Development Process
[Thayer and Christensen], Pages 209-220
 http://atlas.kennesaw.edu/~dbraun/csis4650
/A&D/UML_tutorial/index.htm

Overview
Role of Software Design
 Describing Designs
 Software Design Practices and Design
Methods
 Some Software Design Methods

Role of Software Design

Question…


Answer…


"What exactly is the purpose of Design?
"To produce a workable (implementable)
solution to a given problem."
Fitness for Purpose

The Key Measure of the Appropriateness of
Any Solution
Design – Problem-solving Approach

Is There Only One Solution to a Problem?
Rarely…Almost Never
 Moving House Example


Is There a Systematic Approach to Design?

No, a Designer Must Create Each System
 Identify

Stake Holders (Customer, Users, etc.)
 Devise

the Properties Required
a Structure That Possesses the Properties
What Can a Designer Use in This Effort?
Design – Main Characteristics

Main Characteristics Found in Almost All
Design Problems
No Single "Right" Solution
 Many Factors and Constraints to be Balanced
in Choosing a Solution
 No One Measure of "Quality"
 No Particular Process That Can Ensure That
We Can Even Identify an Acceptable Solution

Software Design Process
Designer Formulates and Develops an
Abstract Design Model Representative of
the Solution
 Why is This Process Not Understood as
Well as Other Forms of Design?

The Complexity of Software
 The Problem of Conformity
 The (Apparent) Ease of Changeability
 The Invisibility of Software

Gaps in Domain Knowledge

Software Design Method
Used When a Designer Lacks Experience or is
Unfamiliar With the Problem to be Solved
 Limited to Forms of Design Practice That Can
be Prescribed in a Procedural Manner


These Methods Provide…
A Representation Part
 A Process Part
 A Set of Heuristics

Design Constraints
Designing Software is Rarely an
Unconstrained Process
 Examples of Constraints

Programming Language to be Used
 Execution Environment or Operating System
 Performance Expectations
 User Interface Needs

Design in the Software
Development Cycle
Constraints Affect the Design Process and
the Form of the Product
 Set of User Needs to be Met

Fitness of Purpose
 Requirements Elicitation and Analysis

 Leads
to Identifying Inconsistencies Between the
Requirements and the Solution

Designer Must "Think Ahead"

Short Term Use, Long Maintenance Effort,
Stability of the Solution Space, etc.
Design Qualities

Fitness of Purpose Doesn't Provide an
Absolute Measure of Quality


Correct and Within Constraints May Not be
Enough to Achieve Fitness of Purpose
Quality Factor "ilities"
Reliability
 Efficiency
 Maintainability
 Usability

Assessing Design Quality
A Systematic Form of Measurement is
Difficult to Achieve
 Favorable Assessment Techniques

Design Walk-through Meetings
 Reviews
 Refactoring (XP)


How Often?
Describing Designs
Recording the Design Model: Design
Viewpoints
 Design Representation Forms
 Some Examples of Design Representations

Design Viewpoints

Behavior


Functional


Describing What the System Does
Structural


Describing the Causal Links Between External Events
and System Activities During Execution
Describing the Interdependencies of the Constructional
Components
Data Modelling

Describing the Relationships that Exist Between the
Data Objects Used
Design Representation

Forms of Design Representation
Textual
 Diagrammatical
 Mathematical


Examples
State Charts
 Data Flow Diagram (DFD)
 Entity Relationship Diagram (ERD)

Current Design Representations

UML Diagrams
Class
 Use Case
 Collaboration
 Sequence
 Statechart
 Component
 Activity

* http://atlas.kennesaw.edu/~dbraun/csis4650/A&D/UML_tutorial/index.htm
Software Design Practices and
Design Methods


Major Problem with Teaching Software Design is Scale
Roles for Software Design Methods


Establishing Common Goals and Styles
Generating "Consistent" Documentation




Assist With Future Maintenance
Recapture the Original Design Model
Helping Make Some Features of a Problem More Explicit
Constraints That Limit Their Usefulness


The Process Part of a Method Provides Relatively Little Detailed
Guidance as to How a Problem Should be Solved
The Need to Use a Procedural Form Leads to Practices That
Conflict with the Behavior Observed in Experienced Designers
Design Strategies

Top-down


Compositional


Identifies a Set of "Entities" That Can be Modeled and
Then Assembled to Create a Model for the Complete
Solution
Organizational


Separate a Large Problem into Smaller Ones
Use Where Development Organization and
Management Structures Impose Constraints Upon the
Design Process
Template

Used Where Some General Paradigm Describes a
Reasonably Large Domain of Problems
Software Design Methods
Jackson Structured Programming (JSP)
 Structured Systems Analysis and Structured
Design
 Jackson System Development (JSD)
 Object Oriented Design (OOD)

Final Thoughts

The Paper was Stale Given the Progress
That Software Design has Gone Through
the Last 10 Years


A More Recent Paper Linking the First
Generation Design Methods with the Current
Design Methods
Fitness of Purpose is a Good Concept for
Use in Guiding a Software Project
Questions?