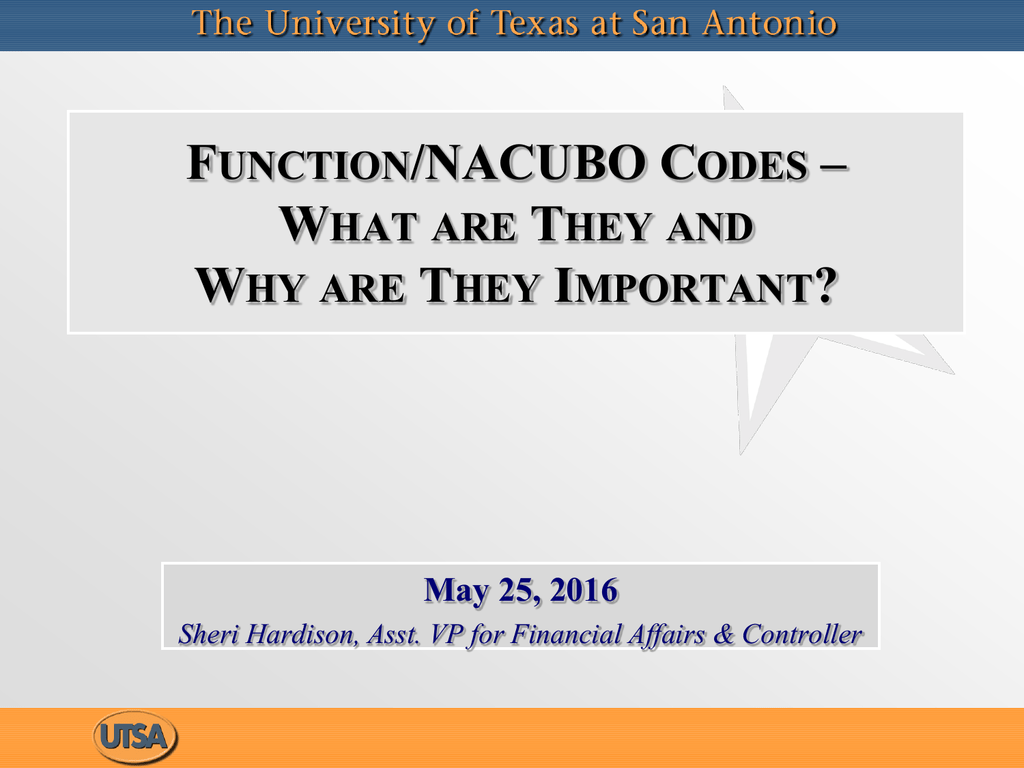 FUNCTION/NACUBO CODES –
WHAT ARE THEY AND
WHY ARE THEY IMPORTANT?
May 25, 2016
Sheri Hardison, Asst. VP for Financial Affairs & Controller
What is a "NACUBO" code?
•
The National Association of College and University Business Officers
(NACUBO) published the accounting literature standardizing the use of
functional codes in higher education  NACUBO codes
•
Functional Classification of Expenses
• Required presentation in annual financial reporting
• How is a University/government entity/non-profit spending its money?
• How much money goes to programs versus administration?
•
Defined in the FARM (Financial Accounting and Reporting Manual –
Section ¶703 and Appendix F for Activity Look-Up Table)
•
Updated by the NACUBO Accounting Principles Council
NACUBO Code Guidelines
• NACUBO classification is based upon the primary purpose of the cost
center
• In PeopleSoft – set and controlled by the Speedtype/Speedchart
• Classification is not set by individual transactions
• Determines the expense category for financial reporting
– Operating Expenditures on the Statement of Revenues, Expenses and Changes in
Net Position (SCRENP)
– Other schedules of the AFR
– IPEDS (Integrated Postsecondary Education Data System)
– Other financial reports
UTShare/PeopleSoft NACUBO Codes
• Known as Function Codes in PeopleSoft
• Listing
•
•
•
•
•
•
•
•
•
Instruction - 100
Research - 200
Public Service – 300
Academic Support – 400
Auxiliary Enterprises - 500
Student Services - 600
Institutional Support - 700
Operations and Maintenance of Plant - 800
Scholarships and Fellowships – 997
• Others were created that we do not use
What Function?
• Mathematics department
• INSTRUCTION
• Study abroad
• INSTRUCTION
• Dean's Office
• ACADEMIC SUPPORT
• Institute of Texan Cultures
• ACADEMIC SUPPORT
• Provost Office
• INSTITUTIONAL
SUPPORT
Instruction
• Expenses for activities that are part of an instruction program
• Example of use – Instructional costs per Student FTE
• All kinds of courses/instruction - credit/non-credit, vocational,
remedial
• All types of sessions
• Sub-classes
–
–
–
–
–
General academic instruction
Vocational/technical instruction
Community education
Preparatory/remedial instruction
Instructional information technology
• Dean's Offices excluded – primary activity is administration
Academic Support
• Expenses to provide support services to the institution's primary
programs – Instruction * Research * Public Service
• Sub-classes
–
–
–
–
–
–
–
–
Libraries
Museums & galleries
Educational media services
Ancillary support (e.g. demonstration program associated with an
instruction program)
Academic administration
Academic personnel development
Course and curriculum development
Academic support information technology
What Function?
• Institute for Cyber Security
• RESEARCH
• Research IT Support
• RESEARCH
• Vice President of Research
• INSTITUTIONAL SUPPORT
• Office of Community Outreach
• PUBLIC SERVICE
• Small Business Development Center • PUBLIC SERVICE
• Vice President Community Service
• INSTITUTIONAL SUPPORT
• Research Service Centers
• ACADEMIC SUPPORT
• Grants and Contracts Financial
Services
• INSTITUTIONAL SUPPORT
Research
• Expenses for activities specifically organized to produce research
• Example of use – Texas Higher Education Coordinating Board
reporting (with some adjustments)
• Externally funded or not
• Must be separately budgeted
• Sub-classes
– Institutes and Research Centers
– Individual and Project Research
– Research Information Technology
Public Service
• Expenses for activities established to provide non-instructional
services to individuals and groups external to the institution
• Includes community service programs and cooperative extension
services
• Includes conferences, institutes, radio and television, consulting and
similar non-instructional services to particular community sectors
• Sub-classes
–
–
–
–
Community service
Cooperative extension service
Public broadcasting services
Public service information technology
What Function?
• Office of Financial Aid
• STUDENT SERVICES
• Student Orientation
• STUDENT SERVICES
• Athletics
• AUXILIARY
• Student Life
• STUDENT SERVICES
• Housing
• AUXILIARY
• Parking
• AUXILIARY
• Student Advising
• ACADEMIC SUPPORT
Student Services
• Expenses incurred with the primary purpose of contributing to the
students' emotional and physical well-being
• Contributes to intellectual, cultural, and social development outside the
context of formal instruction
• Includes student activities, cultural events, student organizations
• Sub-classes
–
–
–
–
–
–
–
–
Student services administration
Social and cultural development
Counseling and career guidance
Financial aid administration
Student admissions
Student records
Student health services
Student services information technology
Auxiliary Enterprises
• Expenses related to operation of auxiliary enterprises
• Auxiliary Enterprise exists to provide good or service to students,
faculty and staff and charges a fee related to that good or service
• Managed to operate over time as a self-supporting activity
• Our Auxiliary Enterprises
–
–
–
–
–
–
–
–
Athletics
Housing
Food services
Bookstore
Parking & traffic
Student Health Center
Student activities
Other
What Function?
• Accounting Services
• INST. SUPPORT
• President's Office
• INST. SUPPORT
• University Development
• INST. SUPPORT
• Provost – VP of Academic Affairs
• INST. SUPPORT
• VP Student Affairs
• INST. SUPPORT
• Office of Information Tech.
• INST. SUPPORT/ACAD.
SUPPORT (60/40)
• Police
• English department office
renovation
• OPER/MAINT. OF PLANT
• OPER/MAINT. OF PLANT
Institutional Support
• Expenses incurred for the central and executive-level activities
concerned with the management and long-range planning for the
entire institution
• Example of use – Administrative Cost Ratio
• Sub-classes
–
–
–
–
–
Executive management (President and all VPs)
Fiscal operations
General administration
Public relations/development
Administrative information technology
Operations and Maintenance of Plant
• Expenses for the administration, supervision, operation,
maintenance, preservation, and protection of the institution's
physical plant
• Example of use – Facilities and Administrative rate charged to
sponsored projects
• Sub-classes
–
–
–
–
–
–
–
–
Physical plant administration
Building maintenance
Custodial service
Utilities
Landscape and grounds maintenance
Major repairs and renovations
Security and safety
Logistical services
Other Expenses
• Scholarships and Fellowships
– Includes expenses for scholarships and fellowships in the form of grants
that neither require the student to perform service to the institution as
consideration for the grant, nor require the student to repay the amount of
the grant to the funding source.
– Most scholarships are reported as a reduction again tuition and fee
revenue; only some remain in expense
• Depreciation and amortization
– Recognition of the allocation of the cost of capital assets over the useful
life of the asset.
Questions?