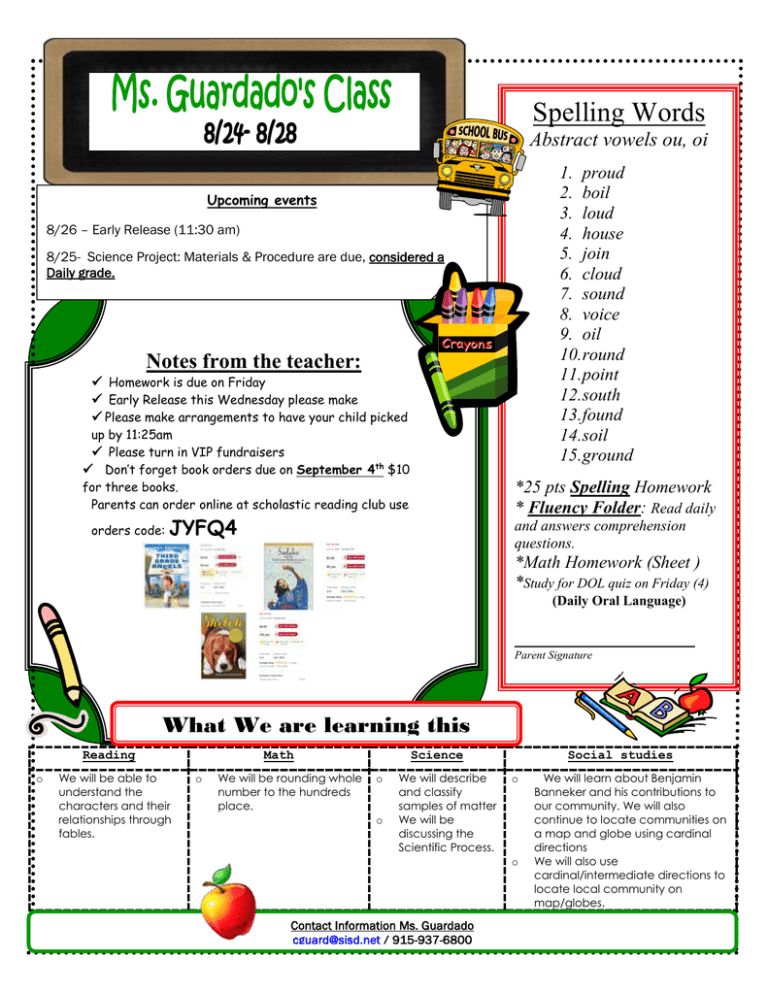 Spelling Words
Abstract vowels ou, oi
1. proud
2. boil
3. loud
4. house
5. join
6. cloud
7. sound
8. voice
9. oil
10.round
11.point
12.south
13.found
14.soil
15.ground
Upcoming events
8/26 – Early Release (11:30 am)
8/25- Science Project: Materials & Procedure are due, considered a
Daily grade.
Notes from the teacher:
 Homework is due on Friday
 Early Release this Wednesday please make
 Please make arrangements to have your child picked
up by 11:25am
 Please turn in VIP fundraisers
 Don't forget book orders due on September 4th $10
for three books.
Parents can order online at scholastic reading club use
orders code:
JYFQ4
*25 pts Spelling Homework
* Fluency Folder: Read daily
and answers comprehension
questions.
*Math Homework (Sheet )
*Study for DOL quiz on Friday (4)
(Daily Oral Language)
Parent Signature
Reading
o
What We are learning this
Math
Science
week:
We will be able to
understand the
characters and their
relationships through
fables.
o
We will be rounding whole
number to the hundreds
place.
o
o
We will describe
and classify
samples of matter
We will be
discussing the
Scientific Process.
Social studies
o
o
Contact Information Ms. Guardado
cguard@sisd.net / 915-937-6800
We will learn about Benjamin
Banneker and his contributions to
our community. We will also
continue to locate communities on
a map and globe using cardinal
directions
We will also use
cardinal/intermediate directions to
locate local community on
map/globes.