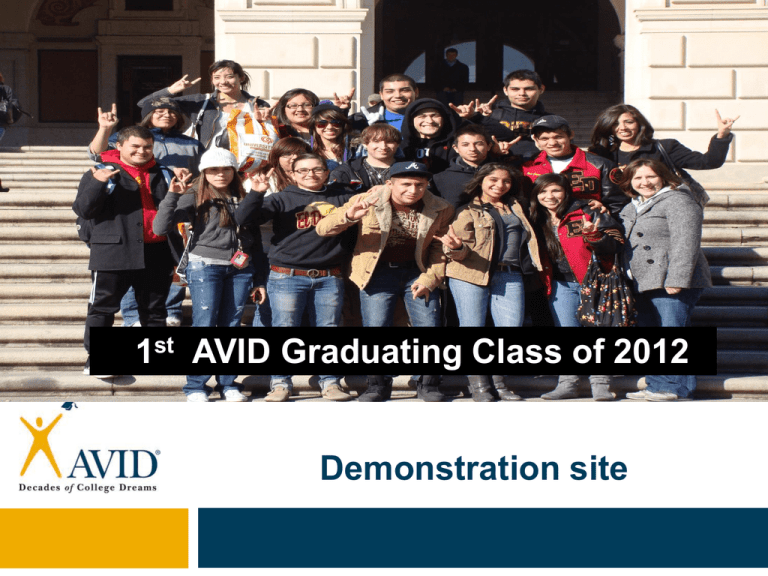 1st AVID Graduating Class of 2012
Demonstration site
The Mission of AVID
AVID's mission is to close the
achievement gap by preparing
all students for college
readiness and success in a
global society.
Definition of a demonstration school
An AVID Demonstration School exhibits a college-going
culture that is evident throughout the campus through
rigor and high expectations for all students. A
demonstration site models the 11 Essentials at a high
level and with great fidelity to the AVID Program. The
core AVID Program is exemplary with excellent tutorials
and quality implementation of the AVID curriculum.
There is evidence of the AVID impact schoolwide,
particularly with the infusion of AVID methodologies in
the content areas that goes beyond binders and Cornell
notes.
What it means to be a demosite?
Characteristics








School Pride
Tutorials
WICOR
College going culture
Focus on students and
parents
Strong site team
Impact on entire
community
AVID Elective
AVID Implementation

2007-08: 18 Students
7 site team members
1 college tutor

2012-13: 165 students
18 site team members
4 college tutors
5 peer tutors (still
recruiting)
Goals




10% of the student
body in AVID
25% of staff trained
in AVID through
Path or Summer
Institute
WICOR schoolwide
College readiness
culture
Alejandra Fematt,
El Dorado Graduate, Class of 2011
Mayra Bayona,
El Dorado Graduate, Class of 2012
BECOME AN AVID BELIEVER!!!