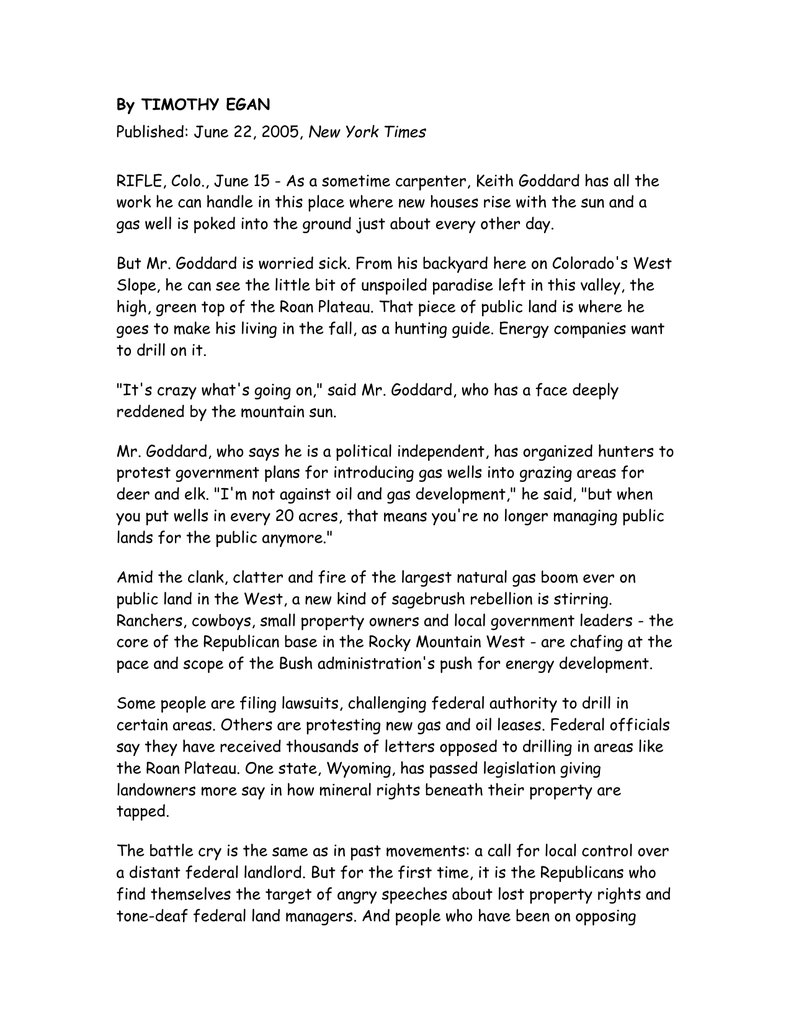 By TIMOTHY EGAN
Published: June 22, 2005, New York Times
RIFLE, Colo., June 15 - As a sometime carpenter, Keith Goddard has all the
work he can handle in this place where new houses rise with the sun and a
gas well is poked into the ground just about every other day.
But Mr. Goddard is worried sick. From his backyard here on Colorado's West
Slope, he can see the little bit of unspoiled paradise left in this valley, the
high, green top of the Roan Plateau. That piece of public land is where he
goes to make his living in the fall, as a hunting guide. Energy companies want
to drill on it.
"It's crazy what's going on," said Mr. Goddard, who has a face deeply
reddened by the mountain sun.
Mr. Goddard, who says he is a political independent, has organized hunters to
protest government plans for introducing gas wells into grazing areas for
deer and elk. "I'm not against oil and gas development," he said, "but when
you put wells in every 20 acres, that means you're no longer managing public
lands for the public anymore."
Amid the clank, clatter and fire of the largest natural gas boom ever on
public land in the West, a new kind of sagebrush rebellion is stirring.
Ranchers, cowboys, small property owners and local government leaders - the
core of the Republican base in the Rocky Mountain West - are chafing at the
pace and scope of the Bush administration's push for energy development.
Some people are filing lawsuits, challenging federal authority to drill in
certain areas. Others are protesting new gas and oil leases. Federal officials
say they have received thousands of letters opposed to drilling in areas like
the Roan Plateau. One state, Wyoming, has passed legislation giving
landowners more say in how mineral rights beneath their property are
tapped.
The battle cry is the same as in past movements: a call for local control over
a distant federal landlord. But for the first time, it is the Republicans who
find themselves the target of angry speeches about lost property rights and
tone-deaf federal land managers. And people who have been on opposing
sides of the major land battles in the West - mainly property owners and
ranchers versus environmentalists - are now allies.
"The word from Washington is drill, drill, drill, and now they've basically
destroyed our ranch," said Tweeti Blancett, a coordinator for George Bush's
presidential campaign in San Juan County, N.M. "We've been in a firestorm
down here. A lot of Republicans are upset."
The 32,000 acres of public land that Ms. Blancett and her husband, Linn,
have long used for grazing cattle is now riddled with gas wells and pipelines.
Petroleum byproducts have poisoned the water, she said, killing animals and
causing the fertility rate to plummet.
The couple has hired Karen Budd-Falen, one of the best-known lawyers in
fights over federal land policies. They have sued to try to force the federal
Bureau of Land Management to clean up the land. Ms. Budd-Falen got her
start working against environmental restrictions with the Mountain States
Legal Foundation, an intellectual incubator for such property rights
stalwarts as James Watt, the former interior secretary under President
Ronald Reagan.
A prominent Republican from Cheyenne, Wyo., Ms. Budd-Falen said the
drilling boom had turned the political world upside down in the West, home
to the sagebrush rebellion of the 1970's and other later battles against
federal government restrictions on development of public land. Now property
owners, ranchers and home builders are worried about overdevelopment.
"I'm amazed at the number of calls we're getting from landowners who are
really frustrated with what's going on," Ms. Budd-Falen said.
The fight has drawn in what is called the world's biggest Boy Scout ranch,
the Philmont in northeast New Mexico; ranchers from Montana's Front
Range and Wyoming's high desert; and retirees who have bought into the
West's real estate boom only to find gas derricks blocking their mountain
views.
For the Bush administration, the dispute poses a conundrum. The president
has made oil and gas drilling a priority on federal lands. Last year, the
Bureau of Land Management issued 6,052 permits to drill oil and gas wells,
triple the number from 10 years ago. Nearly 40 million acres of public land
outside Alaska now have oil and gas leases on them.