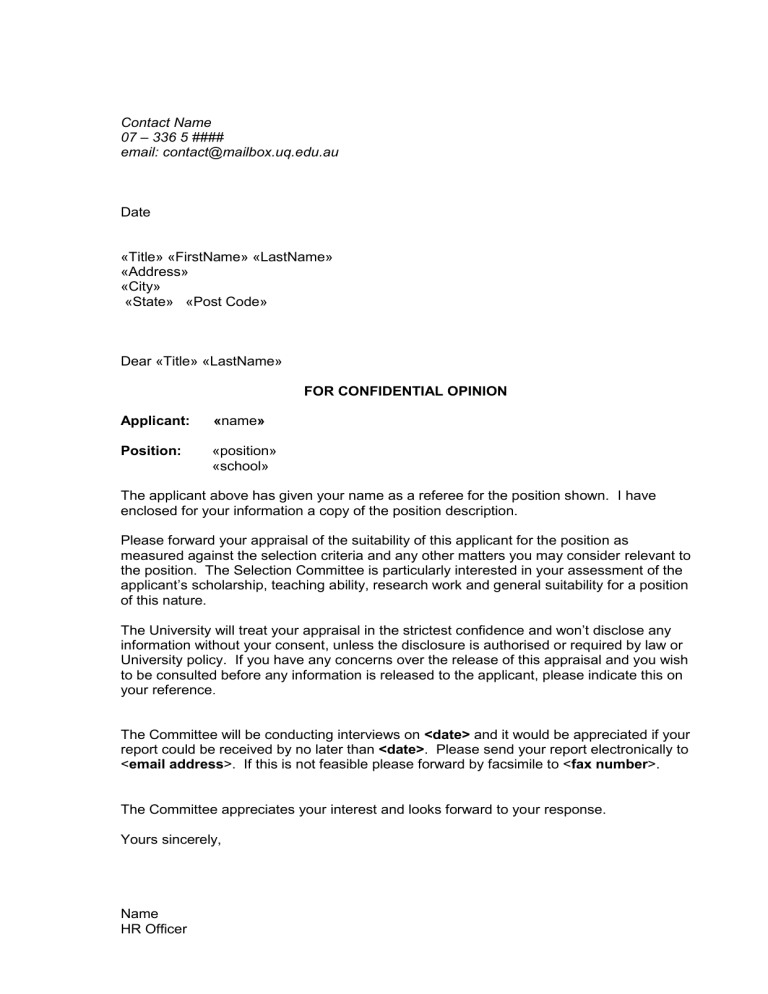 Contact Name
07 – 336 5 #### email: contact@mailbox.uq.edu.au
Date
«Title» «FirstName» «LastName»
«Address»
«City»
«State» «Post Code»
Dear «Title» «LastName»
FOR CONFIDENTIAL OPINION
Applicant: « name »
Position: «position»
«school»
The applicant above has given your name as a referee for the position shown. I have enclosed for your information a copy of the position description.
Please forward your appraisal of the suitability of this applicant for the position as measured against the selection criteria and any other matters you may consider relevant to the position. The Selection Committee is particularly interested in your assessment of the applicant's scholarship, teaching ability, research work and general suitability for a position of this nature.
The University will treat your appraisal in the strictest confidence and won't disclose any information without your consent, unless the disclosure is authorised or required by law or
University policy. If you have any concerns over the release of this appraisal and you wish to be consulted before any information is released to the applicant, please indicate this on your reference .
The Committee will be conducting interviews on <date> and it would be appreciated if your report could be received by no later than <date> . Please send your report electronically to
< email address >. If this is not feasible please forward by facsimile to < fax number >.
The Committee appreciates your interest and looks forward to your response.
Yours sincerely,
Name
HR Officer
Faculty of
Attachments:
1. Position Description
2