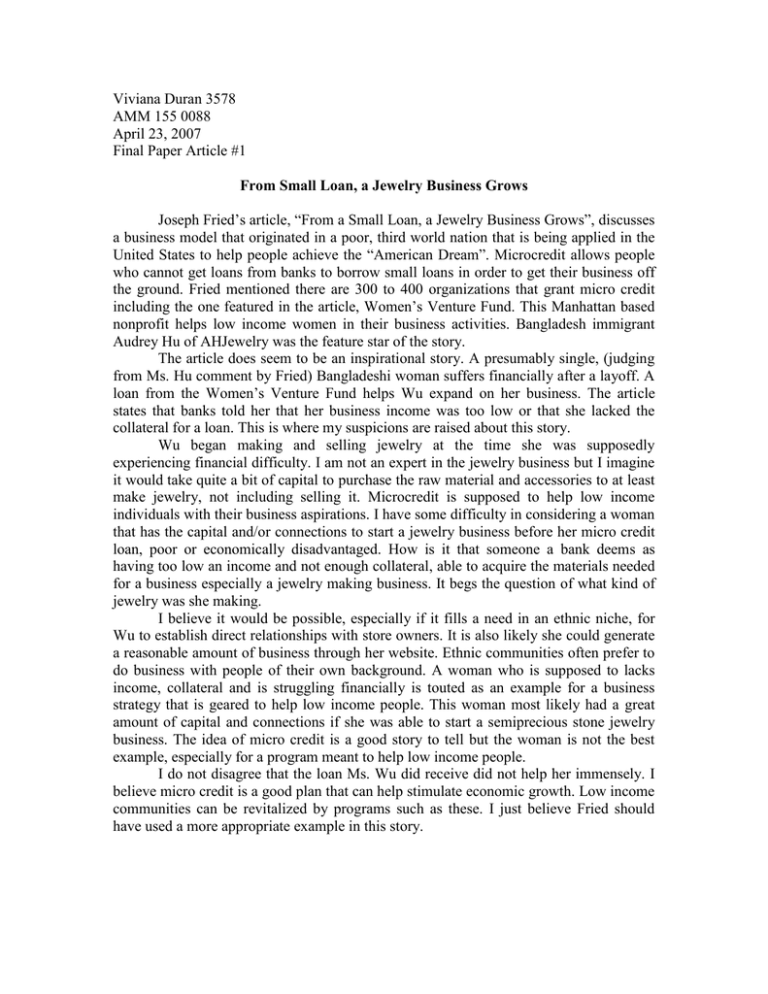 Viviana Duran 3578
AMM 155 0088
April 23, 2007
Final Paper Article #1
From Small Loan, a Jewelry Business Grows
Joseph Fried's article, "From a Small Loan, a Jewelry Business Grows", discusses
a business model that originated in a poor, third world nation that is being applied in the
United States to help people achieve the "American Dream". Microcredit allows people
who cannot get loans from banks to borrow small loans in order to get their business off
the ground. Fried mentioned there are 300 to 400 organizations that grant micro credit
including the one featured in the article, Women's Venture Fund. This Manhattan based
nonprofit helps low income women in their business activities. Bangladesh immigrant
Audrey Hu of AHJewelry was the feature star of the story.
The article does seem to be an inspirational story. A presumably single, (judging
from Ms. Hu comment by Fried) Bangladeshi woman suffers financially after a layoff. A
loan from the Women's Venture Fund helps Wu expand on her business. The article
states that banks told her that her business income was too low or that she lacked the
collateral for a loan. This is where my suspicions are raised about this story.
Wu began making and selling jewelry at the time she was supposedly
experiencing financial difficulty. I am not an expert in the jewelry business but I imagine
it would take quite a bit of capital to purchase the raw material and accessories to at least
make jewelry, not including selling it. Microcredit is supposed to help low income
individuals with their business aspirations. I have some difficulty in considering a woman
that has the capital and/or connections to start a jewelry business before her micro credit
loan, poor or economically disadvantaged. How is it that someone a bank deems as
having too low an income and not enough collateral, able to acquire the materials needed
for a business especially a jewelry making business. It begs the question of what kind of
jewelry was she making.
I believe it would be possible, especially if it fills a need in an ethnic niche, for
Wu to establish direct relationships with store owners. It is also likely she could generate
a reasonable amount of business through her website. Ethnic communities often prefer to
do business with people of their own background. A woman who is supposed to lacks
income, collateral and is struggling financially is touted as an example for a business
strategy that is geared to help low income people. This woman most likely had a great
amount of capital and connections if she was able to start a semiprecious stone jewelry
business. The idea of micro credit is a good story to tell but the woman is not the best
example, especially for a program meant to help low income people.
I do not disagree that the loan Ms. Wu did receive did not help her immensely. I
believe micro credit is a good plan that can help stimulate economic growth. Low income
communities can be revitalized by programs such as these. I just believe Fried should
have used a more appropriate example in this story.