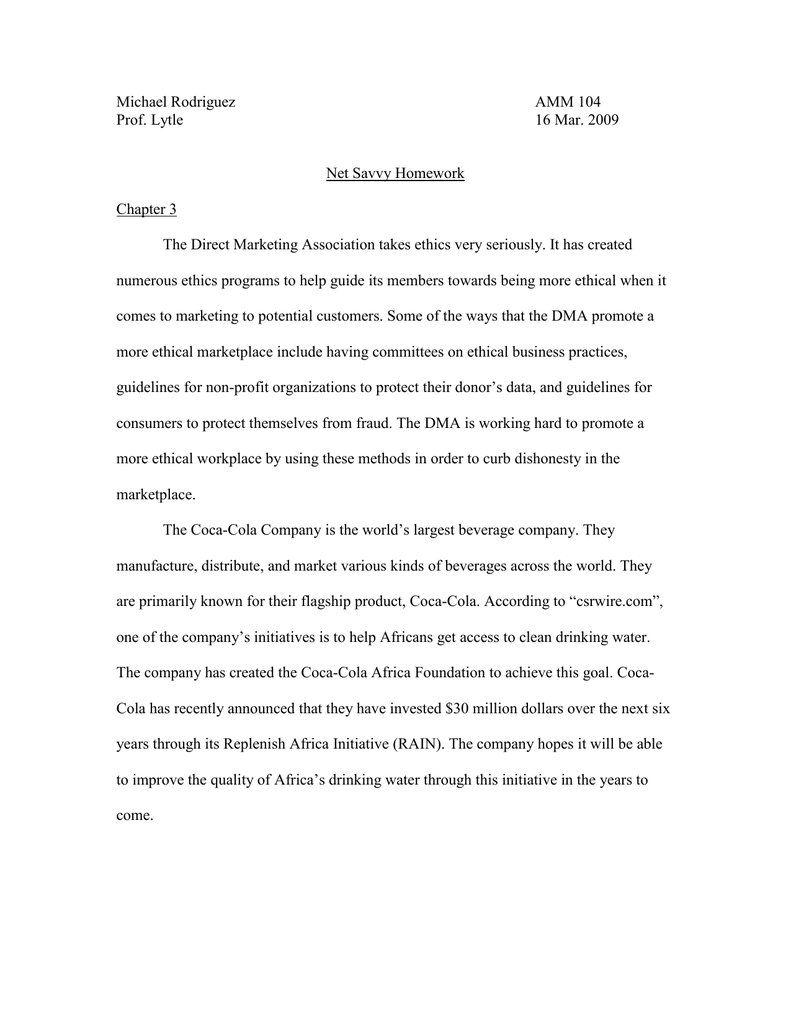 Michael Rodriguez
Prof. Lytle
AMM 104
16 Mar. 2009
Net Savvy Homework
Chapter 3
The Direct Marketing Association takes ethics very seriously. It has created
numerous ethics programs to help guide its members towards being more ethical when it
comes to marketing to potential customers. Some of the ways that the DMA promote a
more ethical marketplace include having committees on ethical business practices,
guidelines for non-profit organizations to protect their donor's data, and guidelines for
consumers to protect themselves from fraud. The DMA is working hard to promote a
more ethical workplace by using these methods in order to curb dishonesty in the
marketplace.
The Coca-Cola Company is the world's largest beverage company. They
manufacture, distribute, and market various kinds of beverages across the world. They
are primarily known for their flagship product, Coca-Cola. According to "csrwire.com",
one of the company's initiatives is to help Africans get access to clean drinking water.
The company has created the Coca-Cola Africa Foundation to achieve this goal. CocaCola has recently announced that they have invested $30 million dollars over the next six
years through its Replenish Africa Initiative (RAIN). The company hopes it will be able
to improve the quality of Africa's drinking water through this initiative in the years to
come.
Chapter 4
One current consumer trend is that consumers are choosing environmentally safe
household products over unsafe ones because they don't contain harmful chemicals
which can hurt people and the environment. Seventh Generation is a leader when it
comes to environmentally safe household products. Their products are made from natural
resources and they are nontoxic. Seventh Generation realizes that consumers want safer
household products because they are nontoxic and environmentally friendly. The
company also realizes consumers need these products because they help to promote good
health. With all of this in mind, the company has been successful in addressing the wants
and needs of its consumers by providing environmentally safe household products that
help to promote good health for everyone in the end.
When I go online, I must give up some personal information like my name and
address in order to make purchases online. Thanks to the privacy survival guide from
privacyrights.org, I know that I can take some actions to protect my privacy from
dishonest individuals. One action that I'm going to take to is I'm going to register my
phone number in the governments' national "Do Not Call" registry. This will prevent
unscrupulous telemarketers from obtaining my personal information for their own
personal gain. Another action that I'm going to take is to avoid entering various contests.
In reality, many of these contests are scams that are meant to get you on a telemarketer's
mailing list which leads into harassing calls from these people. By not entering these
contests, I avoid their intrusive calls. Finally, the last action I will take is to protect my
SSN. My SSN is vital since it is connected to so much of my personal information. If
someone steals it, there goes my identity. To make sure this doesn't happen, I will leave
my SSN card at home and memorize the number when I need to. As long as I do that, I
will be able to protect my SSN from fraudulent use. As long as I do all of these things, I
will be able to safeguard my privacy in the end.