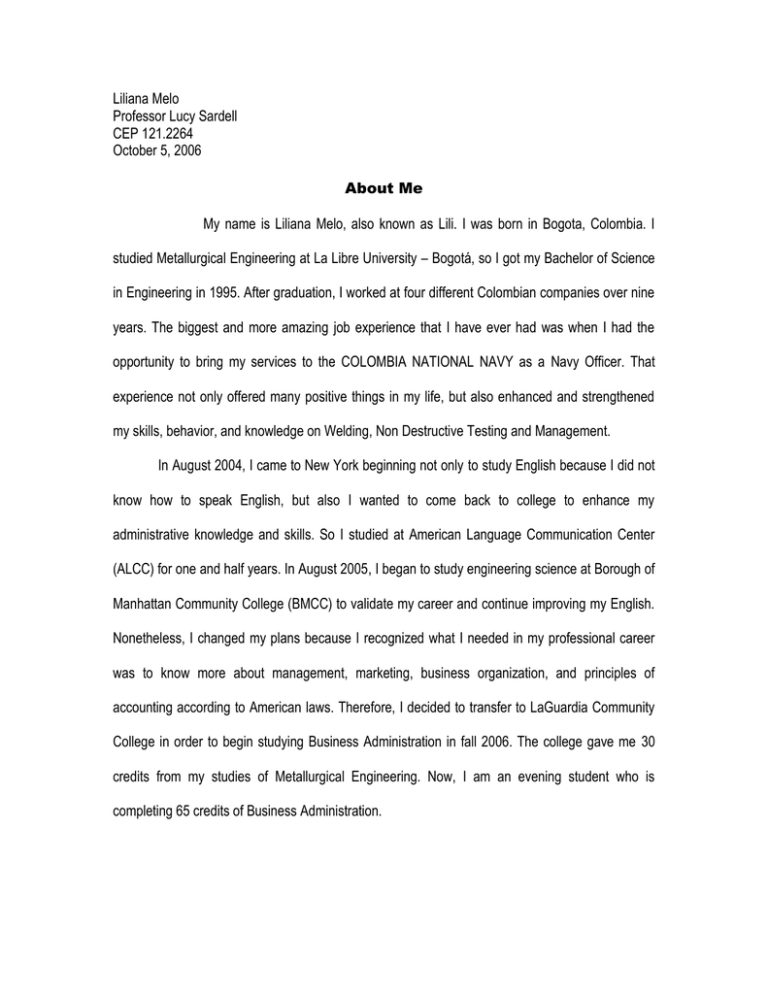 Liliana Melo
Professor Lucy Sardell
CEP 121.2264
October 5, 2006
About Me
My name is Liliana Melo, also known as Lili. I was born in Bogota, Colombia. I
studied Metallurgical Engineering at La Libre University – Bogotá, so I got my Bachelor of Science
in Engineering in 1995. After graduation, I worked at four different Colombian companies over nine
years. The biggest and more amazing job experience that I have ever had was when I had the
opportunity to bring my services to the COLOMBIA NATIONAL NAVY as a Navy Officer. That
experience not only offered many positive things in my life, but also enhanced and strengthened
my skills, behavior, and knowledge on Welding, Non Destructive Testing and Management.
In August 2004, I came to New York beginning not only to study English because I did not
know how to speak English, but also I wanted to come back to college to enhance my
administrative knowledge and skills. So I studied at American Language Communication Center
(ALCC) for one and half years. In August 2005, I began to study engineering science at Borough of
Manhattan Community College (BMCC) to validate my career and continue improving my English.
Nonetheless, I changed my plans because I recognized what I needed in my professional career
was to know more about management, marketing, business organization, and principles of
accounting according to American laws. Therefore, I decided to transfer to LaGuardia Community
College in order to begin studying Business Administration in fall 2006. The college gave me 30
credits from my studies of Metallurgical Engineering. Now, I am an evening student who is
completing 65 credits of Business Administration.
While college is in session I don't have time to stay with my hobbies. I usually like to listen
to music and go to the movies. However, my primary interest is, of course, reading because I can
enlarge my vocabulary. I love to read books written by Gabriel Garcia Marquez and Paulo Coelho. I
like to do sport activities like swimming, walking, doing spinning, and bowling. When I have some
minutes, I fill out crosswords, Suduko and jigsaws because they are very good ways to keep the
brain active. Finally, I like gardening during spring time as an outdoor activity.
During my academic and professional career, I have received academic awards and
scholarships due to my dedication to work, devotion, and loyalty toward people and myself.
Perhaps, working in the Colombia National Navy was one of the biggest accomplishments of my
professional career because it was very difficult to work and prove your skills and knowledge
because the Navy was a place established for men primarily. So I needed to work doubly and hard
in order to find professional respect and creative ideas. During my time in the Navy, I had the
opportunity to work as project manager of institutional projects so I could design, build, and
implement a Welding School in "COTECMAR" (2003) and a Metrology Laboratory in "COTECMAR"
(2004). When I finished these projects, I felt proud of myself because they were projects that not
only would help people to get new knowledge and technology, but also the Institution would grow
technologically and academically. The other thing that I feel satisfaction is to have prepared and
instructed courses on Nondestructive Testing; Welding Codes as AWS, API, and ASME Section V
and IX, and I have taught rules, technical standards or statutory regulations and requirements
specific to the type of survey in accordance with ABS, Lloyd´s Register, Bureau Veritas y
Germanischer Lloyd´s. Through these academic activities, I could help many welding and
inspection workers to work in a better way and understand their jobs and responsibilities in the
marine industry. As a result, I received the "Almirante Padilla" Naval Merit Order in 2004 because I
demonstrated outstanding military spirit, discipline, comradeship, dedication to work, good results
under instruction, Command Staff capabilities, scientific research, and eminent services.
To me, studying Business Administration is a new path to walk in my life because it will
help me to strengthen my knowledge and management skills to acquire the financial management
of a small business and organizations, methods of evaluating entrepreneurial opportunities, and
training in how to manage a small business in order to open my own business in engineering
services in the future. Also, I hope to lead to an Associate in Science (AS) degree, and to continue
my education to complete not only a second bachelor degree, but also a master degree in
Business Management. Likewise, I would like to become acquainted with the various functional
areas of business such as management, marketing, business law and accounting; and to fortify my
management skills: conceptual skills, human relation skills, and technical skills, in order to continue
growing personally and professionally.
As I said in the beginning, I was born in Bogotá, Colombia and I have lived in NYC for two
years. I am a metallurgical engineer from La Libre University (Colombia), and I have worked in my
career for almost 9 years in Colombia. Now, I am student of Business Administration at LaGuardia
Community College because I want to improve my management skills, administrative knowledge
and English in order to apply my career in this country since it is very important for me to continue
studying and working … it is part of my life. By studying Business Administration, I will able to
complement my technical skills from Metallurgic Engineering and my management skill from
Management Business; so in the future, I will be able to open my own business in engineering
services and bring my experience to the education.