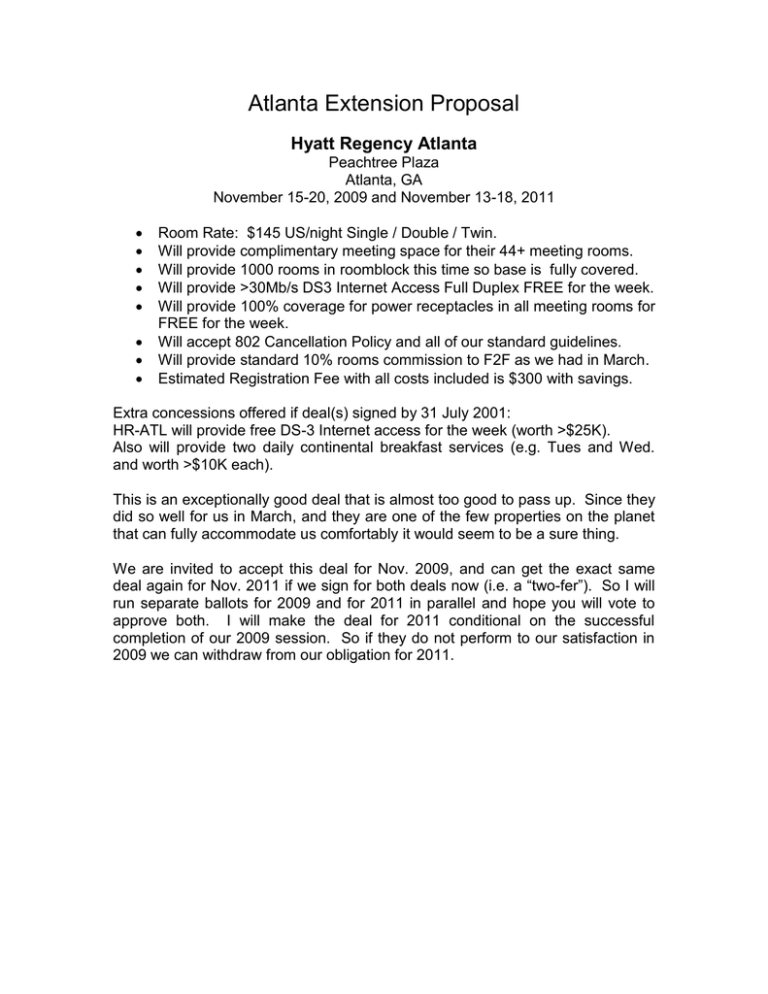 Atlanta Extension Proposal
Hyatt Regency Atlanta
Peachtree Plaza
Atlanta, GA
November 15-20, 2009 and November 13-18, 2011








Room Rate: $145 US/night Single / Double / Twin.
Will provide complimentary meeting space for their 44+ meeting rooms.
Will provide 1000 rooms in roomblock this time so base is fully covered.
Will provide >30Mb/s DS3 Internet Access Full Duplex FREE for the week.
Will provide 100% coverage for power receptacles in all meeting rooms for
FREE for the week.
Will accept 802 Cancellation Policy and all of our standard guidelines.
Will provide standard 10% rooms commission to F2F as we had in March.
Estimated Registration Fee with all costs included is $300 with savings.
Extra concessions offered if deal(s) signed by 31 July 2001:
HR-ATL will provide free DS-3 Internet access for the week (worth >$25K).
Also will provide two daily continental breakfast services (e.g. Tues and Wed.
and worth >$10K each).
This is an exceptionally good deal that is almost too good to pass up. Since they
did so well for us in March, and they are one of the few properties on the planet
that can fully accommodate us comfortably it would seem to be a sure thing.
We are invited to accept this deal for Nov. 2009, and can get the exact same
deal again for Nov. 2011 if we sign for both deals now (i.e. a "two-fer"). So I will
run separate ballots for 2009 and for 2011 in parallel and hope you will vote to
approve both. I will make the deal for 2011 conditional on the successful
completion of our 2009 session. So if they do not perform to our satisfaction in
2009 we can withdraw from our obligation for 2011.