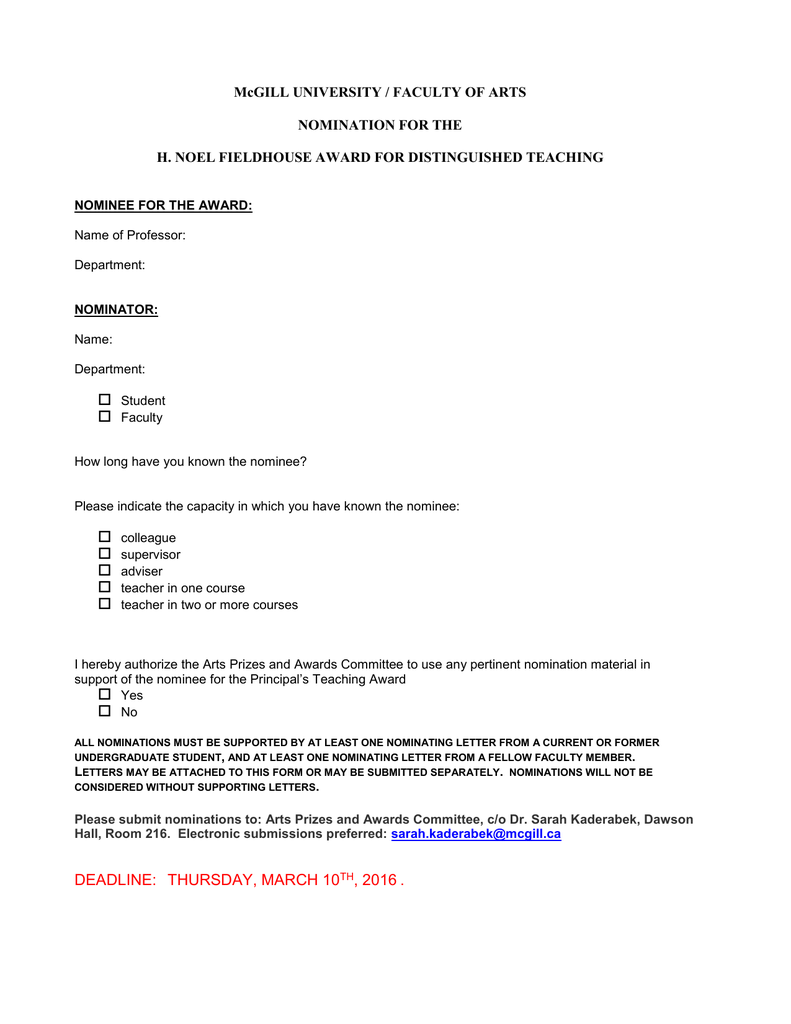 McGILL UNIVERSITY / FACULTY OF ARTS
NOMINATION FOR THE
H. NOEL FIELDHOUSE AWARD FOR DISTINGUISHED TEACHING
NOMINEE FOR THE AWARD:
Name of Professor:
Department:
NOMINATOR:
Name:
Department:
 Student
 Faculty
How long have you known the nominee?
Please indicate the capacity in which you have known the nominee:





colleague
supervisor
adviser
teacher in one course
teacher in two or more courses
I hereby authorize the Arts Prizes and Awards Committee to use any pertinent nomination material in
support of the nominee for the Principal's Teaching Award
 Yes
 No
ALL NOMINATIONS MUST BE SUPPORTED BY AT LEAST ONE NOMINATING LETTER FROM A CURRENT OR FORMER
UNDERGRADUATE STUDENT, AND AT LEAST ONE NOMINATING LETTER FROM A FELLOW FACULTY MEMBER.
LETTERS MAY BE ATTACHED TO THIS FORM OR MAY BE SUBMITTED SEPARATELY. NOMINATIONS WILL NOT BE
CONSIDERED WITHOUT SUPPORTING LETTERS.
Please submit nominations to: Arts Prizes and Awards Committee, c/o Dr. Sarah Kaderabek, Dawson
Hall, Room 216. Electronic submissions preferred: [email protected]
DEADLINE: THURSDAY, MARCH 10TH, 2016 .