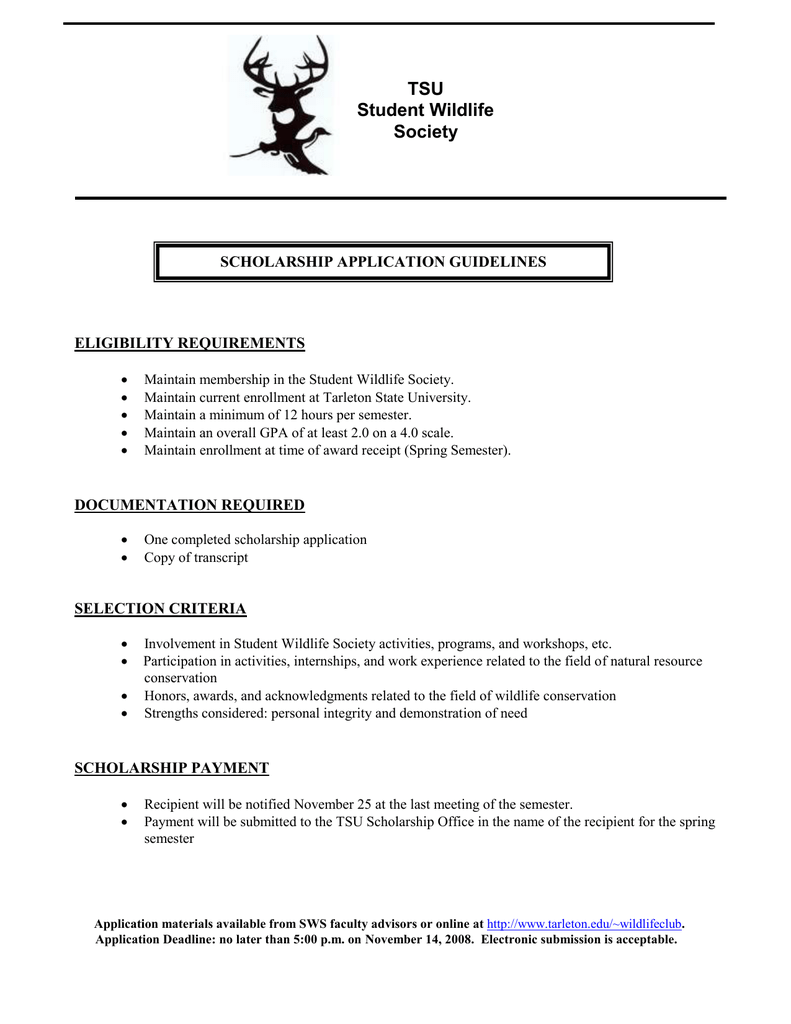 TSU
Student Wildlife
Society
SCHOLARSHIP APPLICATION GUIDELINES
ELIGIBILITY REQUIREMENTS





Maintain membership in the Student Wildlife Society.
Maintain current enrollment at Tarleton State University.
Maintain a minimum of 12 hours per semester.
Maintain an overall GPA of at least 2.0 on a 4.0 scale.
Maintain enrollment at time of award receipt (Spring Semester).
DOCUMENTATION REQUIRED


One completed scholarship application
Copy of transcript
SELECTION CRITERIA




Involvement in Student Wildlife Society activities, programs, and workshops, etc.
Participation in activities, internships, and work experience related to the field of natural resource
conservation
Honors, awards, and acknowledgments related to the field of wildlife conservation
Strengths considered: personal integrity and demonstration of need
SCHOLARSHIP PAYMENT


Recipient will be notified November 25 at the last meeting of the semester.
Payment will be submitted to the TSU Scholarship Office in the name of the recipient for the spring
semester
Application materials available from SWS faculty advisors or online at http://www.tarleton.edu/~wildlifeclub.
Application Deadline: no later than 5:00 p.m. on November 14, 2008. Electronic submission is acceptable.