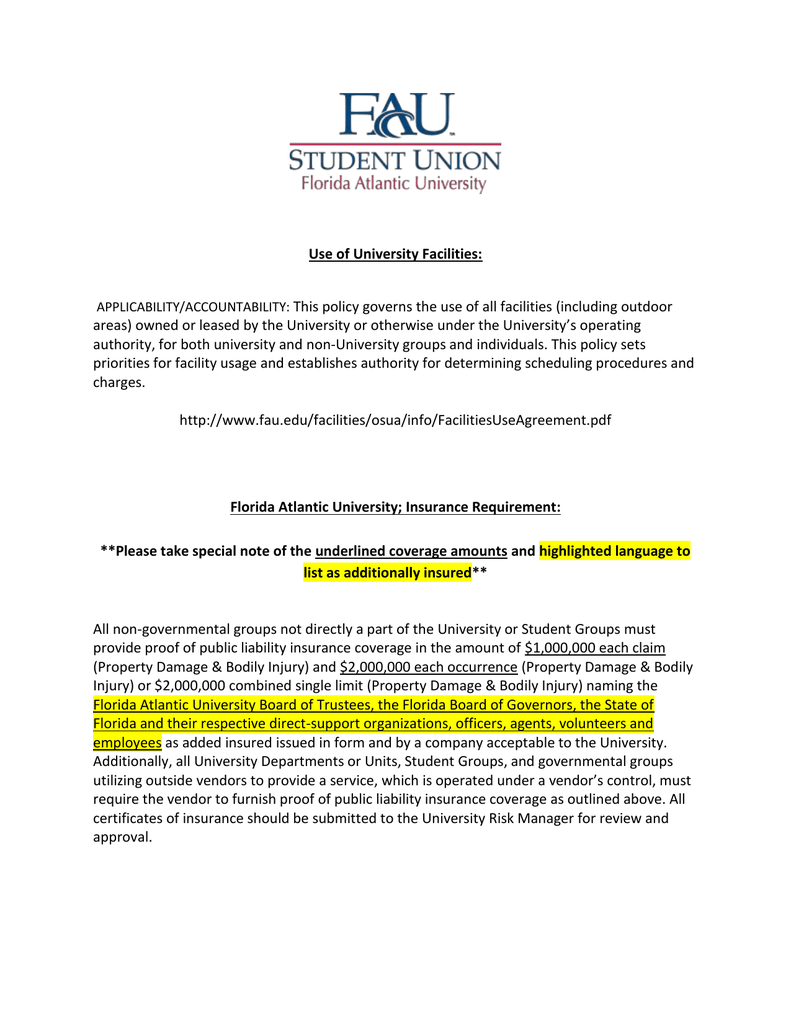 Use of University Facilities:
APPLICABILITY/ACCOUNTABILITY: This policy governs the use of all facilities (including outdoor
areas) owned or leased by the University or otherwise under the University's operating
authority, for both university and non-University groups and individuals. This policy sets
priorities for facility usage and establishes authority for determining scheduling procedures and
charges.
http://www.fau.edu/facilities/osua/info/FacilitiesUseAgreement.pdf
Florida Atlantic University; Insurance Requirement:
**Please take special note of the underlined coverage amounts and highlighted language to
list as additionally insured**
All non-governmental groups not directly a part of the University or Student Groups must
provide proof of public liability insurance coverage in the amount of $1,000,000 each claim
(Property Damage & Bodily Injury) and $2,000,000 each occurrence (Property Damage & Bodily
Injury) or $2,000,000 combined single limit (Property Damage & Bodily Injury) naming the
Florida Atlantic University Board of Trustees, the Florida Board of Governors, the State of
Florida and their respective direct-support organizations, officers, agents, volunteers and
employees as added insured issued in form and by a company acceptable to the University.
Additionally, all University Departments or Units, Student Groups, and governmental groups
utilizing outside vendors to provide a service, which is operated under a vendor's control, must
require the vendor to furnish proof of public liability insurance coverage as outlined above. All
certificates of insurance should be submitted to the University Risk Manager for review and
approval.