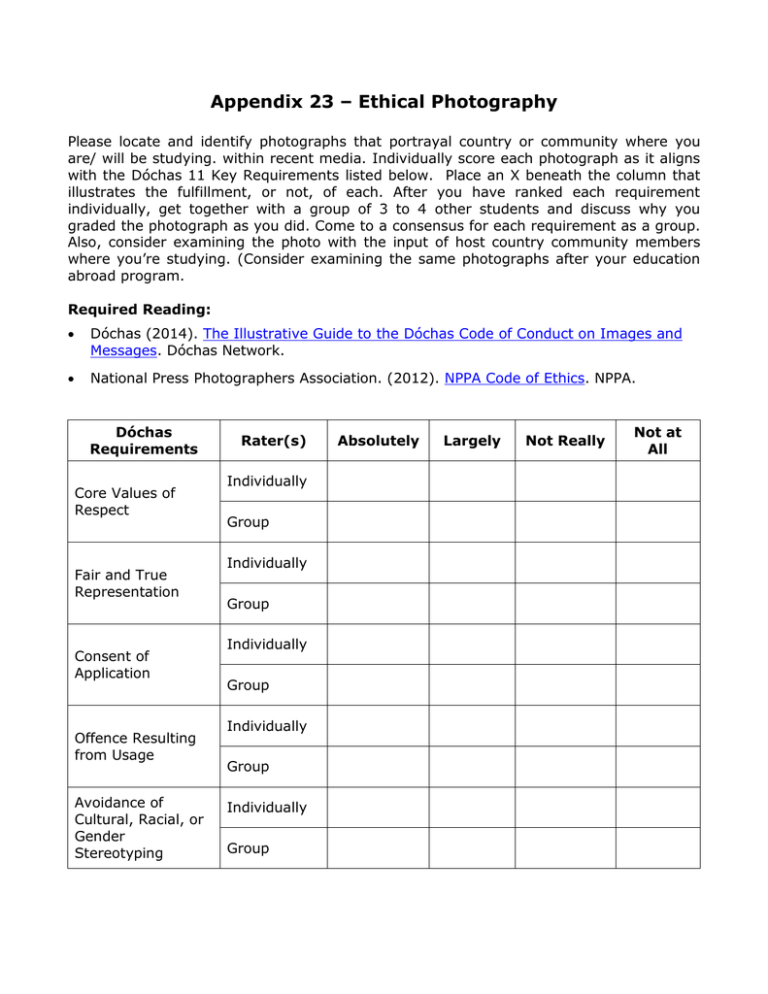 Appendix 23 – Ethical Photography
Please locate and identify photographs that portrayal country or community where you
are/ will be studying. within recent media. Individually score each photograph as it aligns
with the Dóchas 11 Key Requirements listed below. Place an X beneath the column that
illustrates the fulfillment, or not, of each. After you have ranked each requirement
individually, get together with a group of 3 to 4 other students and discuss why you
graded the photograph as you did. Come to a consensus for each requirement as a group.
Also, consider examining the photo with the input of host country community members
where you're studying. (Consider examining the same photographs after your education
abroad program.
Required Reading:

Dóchas (2014). The Illustrative Guide to the Dóchas Code of Conduct on Images and
Messages. Dóchas Network.

National Press Photographers Association. (2012). NPPA Code of Ethics. NPPA.
Dóchas
Requirements
Core Values of
Respect
Fair and True
Representation
Consent of
Application
Offence Resulting
from Usage
Avoidance of
Cultural, Racial, or
Gender
Stereotyping
Rater(s)
Individually
Group
Individually
Group
Individually
Group
Individually
Group
Individually
Group
Absolutely
Largely
Not Really
Not at
All
Dóchas
Requirements
Rater(s)
Appropriate image
to use for you or
your Family
Individually
Active Role of
People in their own
Development
Individually
Accurate Portrayal
of the Situation
Largely
Not Really
Not at
All
Group
Group
Individually
Group
Avoidance of
Stereotypes about
Volunteers
Individually
All Important
Aspects of
Community Life
Presented
Individually
Development of
Interdependence
and Encourage
Long-Term
Engagement
Absolutely
Group
Group
Individually
Group
Optional Reading:

Child Rights International Network. (2009). The use of images of children in the media.
CRIN.

Comhlámh. (2012). Guidelines for the Use of Social Media in Volunteering. Dublin:
Comhlámh.

Dóchas. (2006). Code Of Conduct On Images And Messages. Dublin: Dóchas Network.

Good Intentions. (2015). Advertising images tell you a lot about an aid agency. USAID
Center for International Disaster Information.

Savage, S. (2014). How Matters/5 pulse-checks before clicking 'publish' on #globaldev
communications. How-matters.org.