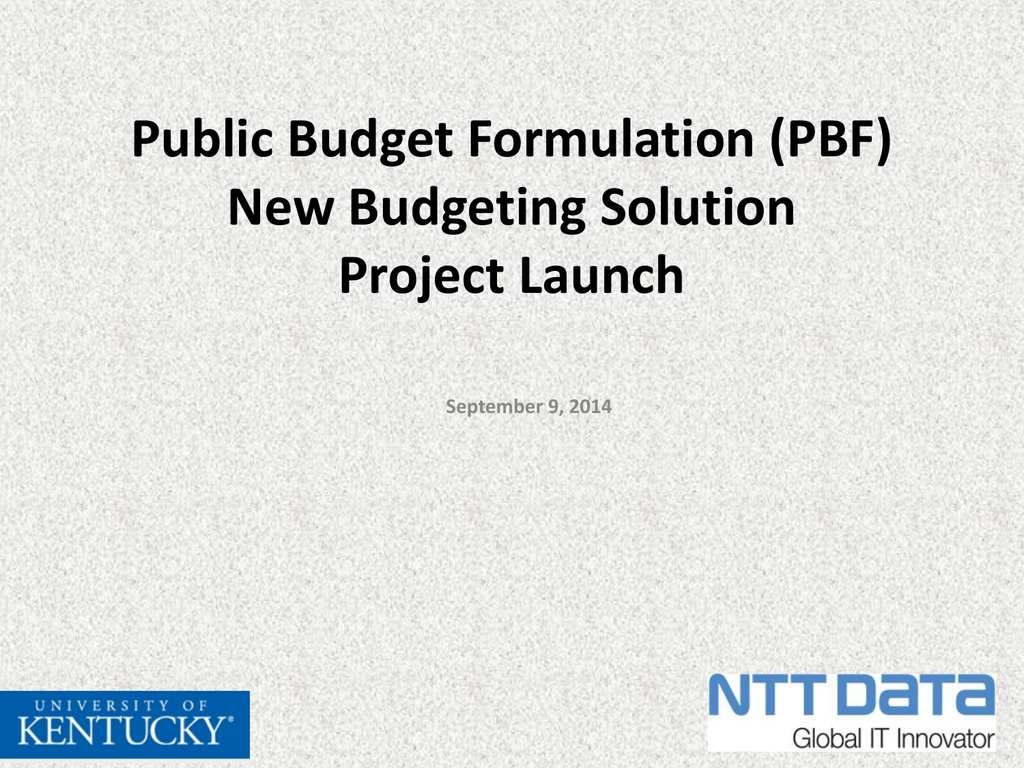 Public Budget Formulation (PBF)
New Budgeting Solution
Project Launch
September 9, 2014
Background
 Why Implement: SAP support for Business
Planning and Simulation (BPS) ends in December
2017 and we needs a new budget solution.
 Why Public Budget Formulation (PBF):
• PBF was created by SAP specifically for public sector
and higher education budgeting solution.
 Timeline Duration Estimate: 9 – 12 months
Project Approach
 Follow the standard SAP implementation process
– 5 distinct phases
• Planning – involves information gathering; preparing
project plans/procedures, tools; installing the
software etc.
• Blueprint – documenting the design and budget
process
• Realization – developing, configuring and testing
product
• Final Preparation – cut-over to production. Involves
integration testing, end product training
• Go-Live – production
Project Organization
 Consulting Company – NTT Data Enterprises
Services
 Project Executive – Angie Martin
 Teams:
• Work group – provides knowledge of the PBF
product
• Project team – provides knowledge of the budget
process
• University Business Officers – provide input
(overview of forms), feedback and testing
Work Group Members
Project Team Members
Angie Martin
Jonathan Burns
Roxanne McLetchie
Susan Campbell
Louise Hensley
Kristen Cheser
Keith LaVey
Angie Martin
James Hyte
Roxanne McLetchie
Chuck Hulem
Chris Shotwell
Brandon Hausaier
Jonathan Thompson
Francesca Fortunati
Lisa Wilson
Kaushal Kurasa
Yayati
Considerations







Scenario building capabilities (forecasting)
Workflow approval process
Provide audit trails
Improved ways for budgeting
Reporting
Performance
Linkage to financial model
Summary
 Project began August 26th, 2014
 Currently in planning/blueprinting phase –
discussing budget process with consultants,
discussing unique situations with individual
units, researching and exploring system
capabilities.