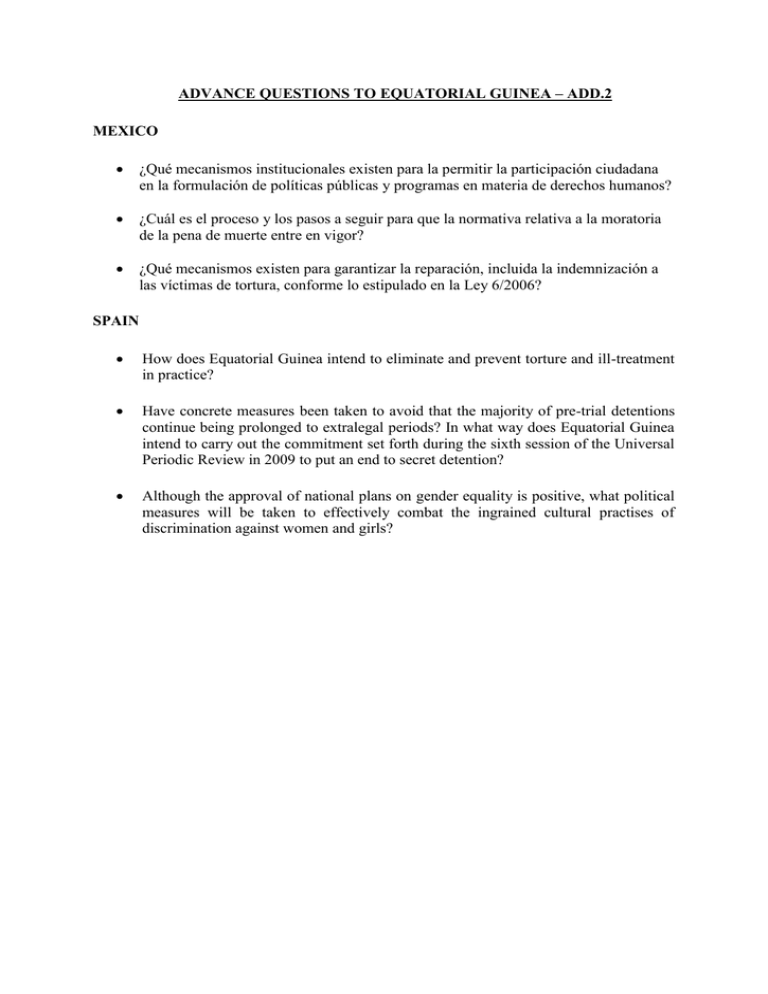 ADVANCE QUESTIONS TO EQUATORIAL GUINEA – ADD.2
MEXICO

¿Qué mecanismos institucionales existen para la permitir la participación ciudadana
en la formulación de políticas públicas y programas en materia de derechos humanos?

¿Cuál es el proceso y los pasos a seguir para que la normativa relativa a la moratoria
de la pena de muerte entre en vigor?

¿Qué mecanismos existen para garantizar la reparación, incluida la indemnización a
las víctimas de tortura, conforme lo estipulado en la Ley 6/2006?
SPAIN

How does Equatorial Guinea intend to eliminate and prevent torture and ill-treatment
in practice?

Have concrete measures been taken to avoid that the majority of pre-trial detentions
continue being prolonged to extralegal periods? In what way does Equatorial Guinea
intend to carry out the commitment set forth during the sixth session of the Universal
Periodic Review in 2009 to put an end to secret detention?

Although the approval of national plans on gender equality is positive, what political
measures will be taken to effectively combat the ingrained cultural practises of
discrimination against women and girls?